Seven die in boat accident in Binh Phuoc Province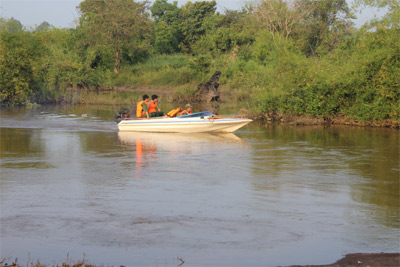 Searching for the victims.
Local border police and related agencies on October 24 were still searching for the remaining survivor of a motorboat accident that occurred on October 23 in the southern province of Binh Phuoc, while bodies of six passengers had been recovered.
According to initial information, 40 local residents of Loc An Commune of Loc Ninh District in Binh Phuoc Province left their hometown for Cambodia for business.
The boat was carrying 40 workers who returned after one day working along the Mang River, but the motorboat overturned when it was about 50 meters from the riverbank.
The accident was allegedly caused by the deteriorated condition of the boat and the river's raging torrent. Of the 40 workers, 33 survived by clinging on to tree branches along the riverbank and managed to swim ashore while seven people were swept away.
In related news, a collision occurred between two ships approximately two nautical miles northeast off the coast of Quang Ngai, announced the Da Nang Coastal Radio Station. The collision occurred between Dai Loc Ship and BD 96 443 Ship of Binh Dinh Province at 4.30 on October 24. Three of seven fishermen were rescued while four are still reported missing.
Men jailed for master-minding public disorder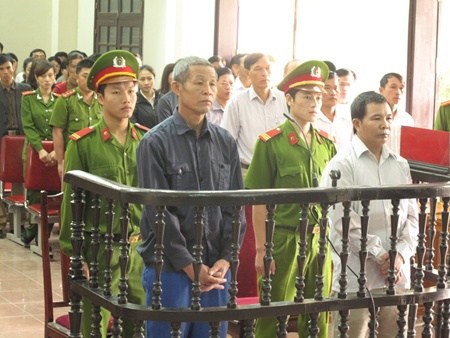 The People's Court of central Nghe An Province yesterday jailed two men from Nghi Phuong commune, Nghi Loc district, for "causing public disorder."
Ngo Van Khoi, 53, was sentenced to seven months in prison, while 43-year-old Nguyen Van Hai was given six months. The jail terms began from June 27, 2013.
According to the Nghe An provincial People's Procuracy, from May 22-23, Khoi and Hai incited others to detain and assault on-duty policemen from Nghi Loc district and Nghe An province, as well as destroy the property of officers and the State.
They also called on others to surround the house of Dau Van Son, the communal official in charge of military affairs in Nghi Phuong, before vandalising the property and threatening his family.
The incident began on May 22 when Priest Dang Huu Nam of Binh Thuan parish, Nghi Thuan Commune, gathered hundreds of Catholics at Trai Gao church to pray for eight people about to stand trial at an appeals court in Vinh City, having been charged with conducting subversive activities.
The incident is reported to have begun when parishioners attacked five policemen sent to monitor the situation, allegedly beating them and detaining three for over two hours.
Hundreds of parishioners also vented their anger towards Dau Van Son, destroying much of his property and setting fire to live chickens in response to a heightened police presence.
According to the Nghe An investigation agency, the three policemen who were assaulted on May 23 suffered serious injuries, while Son's family were faced with more than VND94 million (US$4,450) worth of damage to their abode. Son's wife and four-year-old daughter were also reported to have suffered serious psychological trauma following the incident.
The actions of Khoi and Hai caused serious consequences for security, social order and safety in Nghi Phuong commune and across Nghe An Province, the court heard.
At the trial, both confessed to the public disorder charge.
There will be a further trial for the charges of "illegal detainment", "deliberately causing injuries" and "deliberately vandalising property".
Mine explosion kills student in Quang Binh
A mine explosion in the central Province of Quang Binh on October 23 morning, killed one student and injured another.
Teacher Ngo Thi Anh Dao, head teacher of Class 8A of Le Hoa Secondary School, said at around 8:25 am, during a break, many teachers heard a big explosion in the back yard of the school. When they reached the yard they were shocked to see two students lying on the ground, covered in their own blood; at the same time other students were running from the scene.
Investigation agencies are continuing to examine the case.
The teachers immediately took the students to hospital, but tragically one of them, named Hoang Tuan Vu, from Class 8A, died soon after his arrival at Tuyen Hoa District's General Hospital. The other victim, Dinh Phuong Nam, from the same class, was sent to a better-equipped hospital to treat his serious injuries.
According to Vu's family, Tuan had multiple injuries to his face and arms, as if he'd been struck by flying debris.
Initial investigation shows that, during the break, Vu took the mine detonator, which he'd brought from home, out to the back yard in order to show it to Nam. Then suddenly, while he was just holding the detonator in his hand, the mine exploded.
People dump soil in front of company to protest environmental violations
Dozens of people in Hai Duong City Province's Chi Linh Town dumped soil and gravel in front of a local company in protest of their environmental violations.
Pham Duc Binh, an official from Thien Loc Ltd. Co., which specialises in producing fibrous cement sheets, said on October 14 that around 40 people in Pha Lai Ward, Chi Linh Town, went to the company to set up tents. They also piled more than 10 cubic metres of soil land stone in front of the company's gate, causing operational difficulties.
According to local residents dust from the company has seriously affects surrounding households. In recent years, up to 34 people living around the firm died of various cancers. People asked local authorities to stop the company or instruct them to make other products to avoid health risks. However, the company recently resumed operations.
Vu Anh Hoa, whose wife died of cancer and now has to take care of the three children, said, "We do not have the right to stop the company's operations, but their process must be environmentally-friendly. The company discharges their untreated waste into the environment. You can smell it and it is affecting our lives. We want to sell our houses to go live in another place, but we can't because no one wants to buy a house around here."
Phuong Van Mon, Vice Chairman of Pha Lai Ward said local authorities had requested the company to halt operations for assessment of the environmental impacts, but the firm asked the local People's Committee's approval to go on with its pilot production line from October 14 to October 25.
Local authorities have made proposals to higher levels of government to deal with people's actions and advised them to take action.
The company, previously managed by Dong Anh Investment Construction and Building Materials JSC, but later by Thien Loc Ltd. Co.
Four fishermen missing in ship collision
Four fishermen were missing after a cargo vessel from Hai Phong City crashed into their fishing boat from Binh Dinh Province in the sea off central Quang Ngai Province early this morning.
Seven other fishermen thrown into the sea were rescued by the crew of the cargo vessel.
The Quang Ngai Military Command has sent rescue teams to look for the missing fishermen.
Ministry inquires into pregnancy deaths
The Ministry of Health has told health departments in northern Ha Nam and central Thanh Hoa provinces to investigate recent deaths of pregnant women and their babies in the areas.
The departments were asked to send their reports to the ministry before October 30.
According to the media, Nguyen Thi Xuan, 40, of Thanh Hoa Province's Thieu Hoa District, was hospitalised at the district hospital when she began labour last Friday. Yet, the woman and her child in the womb died on the same day from unknown causes.
The ministry also received a letter of denunciation from Nguyen Thi Lanh, of Ha Nam Province. In the letter, Lanh asked to explain the cause of the death of her daughter, Nguyen Thi Lieu, a 34-year-old pregnant woman, on July 30.
Phu Yen police seize smuggled pangolin
About 49 pangolins were seized while being illegally transported in an ambulance on National Highway 1 through Dong Hoa District in central Phu Yen Province.
The provincial Forest Management Department reported on Tuesday that Le Van Truong, 26, the driver, failed to show legal documents to prove the origin of the pangolins.
The driver from central Nghe An Province's Vinh City admitted that he was hired to transport the endangered animals from HCM City to the northern region.
He said he didn't know who owned the vehicle or the animals.
This is the largest animal smuggling case uncovered in the province.
Vietnam draws experience from Israel's water technology
A Vietnamese delegation led by Deputy Minister of Agriculture and Rural Development Hoang Van Thang is in Israel attending the Water Technology and Environment Control Exhibition & Conference (WATEC 2013).
The 3-day event starting on October 22 has drawn more than 160 businesses delegations, policy markers, and leading researcher from many countries and territories around the world.
Deputy Minister Thang highly valued Israel's technological applications in developing agriculture through its successful models of cooperatives and household farms.
Thang said the Government of Vietnam has recently approved a plan for restructuring the agricultural sector to increase crop productivity, improve product quality and competitiveness, and reduce production costs for sustainable growth.
Vietnam is studying Israel's irrigation network to apply in the growing of coffee, tea, pepper, fruits and vegetables in drought-prone Central Highland areas, he added.
Beside the conference, there is an exhibition showcasing latest technologies for agricultural production and water treatment in the world.
UK helps Vietnam overcome UXO consequences
The UK Government has committed to continuing to support Vietnam in dealing with the consequences of unexploded ordnance (UXO) left over from the war beyond 2014.
The commitment was made by UK Minister of State for International Development Alan Duncan at an October 21 working session with a Vietnamese delegation from the National Action Programme on Settling Consequences of Unexploded Ordnance (known as Programme 504) led by Deputy Minister of Labour, War Invalids and Social Affairs Nguyen Trong Dam.
Duncan affirmed that his country will continue helping Vietnamese UXO victims as well as assisting in clearing bombs and mines, collecting information about the contamination, and raising the community's awareness of UXO.
The Vietnamese side proposed signing a Memorandum of Understanding on cooperation in this field to create a basis for further expanding joint activities in the time ahead.
Vietnam also asked the UK to back the establishment of a group of sponsors for the settlement of UXO consequences, as well as canvass support from other countries and international organisations, especially the United Nations and World Bank, for Vietnam to deal with the issue.
Over the past five years, the UK Government has helped with bomb and mine clearance in Vietnam through the Mines Advisory Group (MAG), a humanitarian non-governmental group which has operated in Vietnam since 1999, mainly in the central region. At present, MAG is still the biggest NGO operating in this field in Vietnam
The UK's current action programme on supporting bomb and mine clearance in Vietnam, including a US$4.8 million project implemented by MAG in central Quang Tri province, will end on March 31, 2014.
The next programme is scheduled to last between two and three years.
Vietnam attends WHO's RCM Meeting
Minister of Health Professor Nguyen Thi Kim Tien has led a Vietnamese delegation to the 64th Western Pacific session of the World Health Organisation (WHO) Regional Committee Meeting (RCM) and related meetings in Manila, the Philippines from 21-25 October.
The event involves health officials and experts from 28 out of 33 member nations and Western Pacific territories.
In her key-note speech as Chair of the 63rd RCM session hosted by Vietnam in 2012, Minister Tien emphasized the importance of promoting solidarity and coordination between countries at international forums and mobilizing all resources to deal with regional challenges on the way to achieving common goals.
She also spoke highly of the health achievements recorded since the previous RCM in preventing infectious diseases and non-communicable diseases (NCDs), eradicating polio, measles, responding to disasters, improving community health care and developing the medical system.
On Vietnam's healthcare development strategy, Minister Tien said the health sector will focus on covering all the people healthcare insurance, reforming health financing, intensifying the management of hospitals and drug use, and preventing NCDs in order to achieve the Millennium Development Goals (MDGs) on health care by 2015.
The health sector is set to expand the local medical network and improve the quality of primary healthcare so that everyone can have access to high-quality health services, Tien stressed.
At the 64th RCM, Dr Shin Young-soo from the Republic of Korea (RoK), WHO Regional Director for the Western Pacific for the 2009-2013 term was re-elected Director for the next term.
ASEAN states join field disaster response drill in Hanoi
Relevant forces from ten ASEAN member countries and observers from China , Japan , the Republic of Korea , Australia , New Zealand , the US and UN bodies took part in a field disaster response simulation exercise in Hanoi 's Ba Vi mountain area on October 23.
Deputy Prime Minister Hoang Trung Hai, ASEAN Secretary-General Le Luong Minh, Defence Minister Phung Quang Thanh and Minister of Agriculture and Rural Development Cao Duc Phat attended the event, which was part of the ongoing 2013 ASEAN Disaster Emergency Response Simulation Exercise (ARDEX-13).
The drill, co-organised by the Government of Vietnam and the ASEAN Coordinating Centre for Humanitarian Assistance on disaster management (AHA Centre), aims to assess standard procedures for organizing disaster emergency response activities in the region.
The exercise uses the scenario of Super Typhoon 'Neptune', which make a landfall in the northern delta provinces of Vietnam, damaging dyke systems, causing a large scale inundation and claiming thousands of lives. The typhoon leaves tens of thousands people in need of emergency assistance as their homes are collapsed and flooded.
To deal with the situation, the Vietnamese Government instructs relevant forces to take urgent rescue measures, issues a state of emergency, and then asks for regional and international assistance via the AHA Centre.
Vietnam, together with the AHA Centre and ASEAN countries' forces, sets up a multi-national monitoring centre in charge of organizing disaster rescue, humanitarian assistance and health care activities for areas in the western part of Hanoi.
On October 24, all participants will evaluate the implementation of procedures and mechanisms during the exercise.
The lessons in organisation, direction, and coordination during ARDEX-13 will be compiled to improve the ASEAN Standby Arrangements and Standard Operating Procedures (SASOP) and actual joint response to disasters.
National regulation on energy efficiency buildings makes debut
The Ministry of Construction and the International Finance Corporation (IFC) introduced the National Technical Regulation on Energy Efficiency Buildings, coded QCVN 09:2013/BXD, in Hanoi on October 23.
According to Nguyen Trung Hoa, Director of the ministry's Department of Science, Technology and Environment, the regulation sets compulsory technical requirements for designing, constructing or repairing civil buildings such as offices, hotels, hospitals, schools, apartment blocks, or trade and service facilities with floor space of 2,500 square metres or more.
If the regulation is well applied, energy consumption will be reduced by about 20 – 25 percent from the current level, he said.
Autif Sayyed, IFC's Regional Green Building specialist for the East Asia-Pacific Region, considered the regulation as an important legal step towards efficient energy use.
With this regulation put in place, Vietnam would consume energy in a more effective way and contribute to the global target of climate change resilience, he added.
The regulation was developed with the participation of experts from IFC, the US Agency for International Development, and the Danish Energy Agency.
Vietnam is among the first countries in Southeast Asia which have introduced such regulation.
Expanding women's role in ICT and media
Labour, Invalids, and Social Affairs Minister Pham Thi Hai Chuyen has told a high-level information and communications technology (ICT) forum Vietnamese media agencies should be applauded for promoting the advancement and empowerment of women and people with disabilities.
The Hanoi forum, hosted by Vietnam Television (VTV) on October 23–24, is part of the Asia-Pacific Broadcasting Union General Assembly & Associated Meetings (ABU GA 50). It attracted ABU members, representatives from the International Telecommunication Union (ITU), VTV and VOV staff, and delegates from a range of domestic and international media organisations.
Minister Chuyen said mass media has popularised the image of the modern dynamic woman empowered and respected within the home, the workplace, and the wider community.
She said Vietnam has focused on advancing the status of women, realising gender equality, and ensuring people with disabilities—especially those with ethnic minority backgrounds—receive the support they require.
She highlighted Vietnamese women's contributions to ICT and media development. Statistics suggest women comprise 30 percent of media workers and 26 percent of ICT university, college, and training centre instructors.
ABU Secretary General Javad Mottaghi underscored the Union's efforts to encourage women and the disabled to participate in ICT and media work. ABU's partners, including VTV and VOV, have supported this campaign. The Hanoi forum allows delegates to learn from each other's experiences and debate future directions for expanding women's roles and defending the rights of the disabled, he said.
ITU Telecommunication Development Bureau Director Brahima Sanou said the forum can inspire women and the disabled to explore opportunities in ICT and media work.
Sanou hopes that by 2015 at least two million women will be working in the media sector, assisted by a digital fund to help with the cost burdens of training.
Other delegates highlighted the gender equality achievements of ABU members including Australia, Singapore, Malaysia, and Vietnam.
The two-day forum will conclude with the adoption of a "Hanoi Declaration", creating a platform for cultivating networks, partnerships, policies, and funding supporting women and the disabled working in ICT and the media.
Regional broadcasting union opens annual forum
The 50th General Assembly and Associated Meetings of Asia-Pacific Broadcasting Union (ABU) are taking place in Hanoi with more than 700 international domestic professionals in attendance.
Themed "Serving our audience in the digital era, marking a "perspective shift" from technology to audience", the annual event focuses on how broadcasters can meet the needs of audiences in the digital age.
The week-long event, hosted by Vietnam Television (VTV), will feature discussions on the most pressing issues facing a changing media landscape and the high-level forum series "Women with the wave: Information and Communication Technology and Media Inclusion of Women, Girls and Persons with disabilities."
Sidelines activities include an ABU TV Song Festival and an ABU Prize ceremony for the best broadcasting products.
Established in 1964, ABU is to support member countries in developing the broadcasting industry, exchanging programmes, and providing technical consultations, services and training. It now has 255 members in 63 countries and territories, including associate members in Europe and North America.
Vietnam Television and Radio the Voice of Vietnam (VOV) became ABU's members from 1976.
This is the second time VTV has hosted such event following the first in 2005.
Approaches to new rural development in Vietnam
Appropriate approaches to help Vietnam better its new rural development policies were discussed at an international conference held in Hanoi on October 22.
The event was held by the Ministry of Agriculture and Rural Development, the UN Food and Agricultural Organisation (FAO), and the Vietnam Rural Development Science Association (PHANO).
Nguyen Minh Tien, Deputy Director of the Economic Cooperation and Rural Development Department under the ministry, said that over the past three years of implementation, the new rural development programme has gained important achievements and attracted the attention and participation of the community.
However, he also emphasized the need to update and reform policies that match reality to see sustainable development.
FAO Vietnam representative BaeJongha affirmed that the organisation supports Vietnam in coordinating and implementing the national target programme on building new rural areas, with the focus on providing the country with high-level technical consultation on rural development, as well as building the capacity of producers in rural areas and Government officials.
Honorary Professor of the US Corneil University Randy Barker stressed the consideration of the relationship between agricultural and non-agricultural production, especially in the Mekong Delta.
He also noted the important role of water source management in Vietnam and highlighted the need to have an intervention in policies to help farmers benefit more in the agricultural production chain.
Meanwhile, Professor Kim Jungho from the Republic of Korea's Kyengpoo University shared lessons from the New Community Movement or SaemaulUndong for rural development in the country in the 1970s. The movement helped increase the income of farming households as well as improve the living environment and production facilities in rural areas.
Aluminum content in infant formula within safe limits: FSA
In a reply to Food Safety Authority of Vietnam, the Food Standards Agency (FSA) said aluminum levels found recently in infant formula are safe for consumption as they are within permissible limits.
Earlier, the Vietnam Food Administration (VFA) had received information of traces of aluminum in milk in some leading UK products, and had been quick to contact FSA and the European Food Safety Authority over the matter.
In a reply letter to VFA, FSA said information of high levels of aluminum in Aptamil products made in UK were not from official reports of any health agencies. The presence of aluminum in infant formula was evaluated by the European Food Safety Authority (EFSAO) and the Joint FAO/WHO Expert Committee on Food Additives (JECFA) when they conducted assessment of the possible risk to human health from the presence of aluminum in food in 2008 and 2012.
The major route of exposure to aluminum for the general population is through food, both as a consequence of the natural occurrence of aluminum in food (e.g. fruit, vegetables, cereals, seeds and meat), and the use of aluminum and aluminum compounds in food processing, packaging and storage, and not least the use of aluminum compounds as food additives, according to EFSA.
Furthermore, the level of aluminum will be higher if children are fed with soy-bean nutrition products, according to JECFA.
The UK's Ministry of Health announced that all formula products available in the country are safe for babies' health. Accordingly, there is no need to regulate the limits of aluminum content in food for infant formula.
VFA and the National Institute for Food Control took samples of Aptamil milk originating from England, for testing. Test results showed aluminum levels ranging from 3 to 3.44 mg per kilo.
HCM City: new rural area building narrows urban-rural gap
The new rural area building programme has positively impacted the process of industrialisation and modernisation in the countryside in Ho Chi Minh City, helping narrow the development gap between urban and rural areas.
The assessment was made at a working session between the Economics and Budget Board under the municipal People's Council and the municipal Department of Agriculture and Rural Development on October 23.
The structural shift in agriculture is on the right track, demonstrated by clear changes for the better in rural areas, said Nguyen Van Lam, the board's deputy head.
Reports presented at the session said monthly per capita income in the city's rural areas increased from 1.9 million VND (89.3 USD), equivalent to just 66 percent of the level in urban areas in 2010, to 2.727 million VND (128 USD) last year, equivalent to 80 percent of urban areas' figure.
At the end of 2012, the rate of poor households dropped to 2.12 percent from 5.5 percent recorded in 2010.
According to Nguyen Phuoc Trung, Deputy Director of the Department of Agriculture and Rural Areas, the new rural building programme has enabled the city to initially form a modern agricultural sector and boost the development of industry and rural services.
The average GDP growth rate of the agro-forestry-fishery sector reached 5.9 percent during the 2011-2013 period, with hi-tech and large-scale agricultural production expanding, he added. Average output value from one hectare of culivation land has increased from 158 million VND in 2010 to 239 million VND in 2012.
The city has set the target of raising annual output value from one hectare of culivation land to 450 million VND in 2015 and 800 million VND in 2020, while the ratio of poor households according to the latest national standards of 16 million VND in yearly income is projected to be reduced by 2-3 percent per year.
To reach the targets, the city has mapped out a range of solutions, focusing on the development of infrastructure and bio-technology, mechanisation and international cooperation in scientific research.
Pham Van Dong, head of the municipal People's Council's Economics and Budget Board, laid stress on improving the quality of rural labour forces in order to fulfill targets set for 2015 and bring practical results for the programme.-
Activities planned to commemorate road dead victims
The National Transportation Safety Committee ( NTSC ) has planned a host of activities in response to the World Day of Remembrance for Road Traffic Victims on November 17.
A requiem for those who died in traffic accidents will be held at Bai Dinh Pagoda in the northern province of Ninh Binh on that day.
Communication campaigns on traffic safety will be conducted at schools across the country on November 11 while Radio The Voice of Vietnam will devote the entire day on November 17 for programmes about traffic safety.
From November 11 – 15, the NTSC will send its officials to visit families of dead victims, particularly those in difficult circumstances, in Hanoi, Ho Chi Minh City, and Thai Nguyen, Bac Kan, Khanh Hoa, Ninh Thuan, Long An and Tien Giang provinces.
Provincial transportation safety committees are also set to organise remembrance activities during this time.
The World Day of Remembrance for Road Traffic Victims is held on the third Sunday of November each year.
Road safety experience in Asia-Pacific shared
Domestic and foreign researchers gathered at a recent workshop in Hanoi to share experience in ensuring traffic safety in the Asia-Pacific region.
The October 22 workshop was organised by the National Transportation Safety Committee (NTSC), the University of Transport , and the Republic of Korea 's Transportation Safety Authority (KOTSA)
Head of the University's Consulting Centre for Transport Development Le Thu Huyen cited the poor behaviour of commuters and awareness on traffic safety along with outdated transport infrastructure and road traffic signals as reasons behind traffic accidents.
She suggested designing a long-term comprehensive roadmap to reduce the number of road casualties.
A survey conducted by KOTSA showed that the rate of road fatalities in developing countries is high as a result of the rapid urbanisation and the increasing number of registered means of transport. It suggested that it is necessary to upgrade traffic infrastructure and launch educational campaigns on traffic regulations to ensure traffic safety in a sustainable manner.
Vietnam 's national strategy on road traffic safety till 2020 with a vision to 2030 emphasised the responsibility of the whole political system, the entire people and the society in ensuring traffic safety and reducing accidents.
During the 2012-2020 period, the strategy targets to reduce the number of road death by 5-10 percent each year, and ease traffic congestions in big cities such as Hanoi and Ho Chi Minh City.
All students nationwide must be educated about traffic regulations, while 85 percent of traffic participants are provided with traffic regulations and information.
Relevant agencies continue implementing policies on the management of operations and business of vehicles while upgrading technical infrastructure and key highways.
Dak Lak plugs into renewable energy sources
Central Highland province of Dak Lak possesses huge renewable energy sources. Over the past time, the province has effectively exploited and used these potentials and contributed to regional and local energy security. Report by the Vietnam Business Forum.
Dak Lak is considered to have rich hydropower potential. According to the statistics of the Department of Industry and Trade, the province has put into use 12 small hydropower plants with a combined capacity of 73.14MW.
Hydropower plants supply the local grid and support the national grid when necessary. Power sources from these plants also help reduce the overload of some 110-KV transformer stations and ensure stable operation of the power system.
Like hydropower, Dak Lak also has great potential for solar power production. In 2002, in a joint project between NRW Company (Germany) and Ho Chi Minh City - Solarlab Physics Institute's branch under the Ministry of Natural Resources and Environment, an experimental solar power application model was deployed in Cham village, Ea H'leo district.
This is the first mountainous village to use solar power in Vietnam, accessed by all the 180 households. In the coming time, a big solar power project will be invested and deployed in Dak Lak.
To tap wind power potential in the province, Hanoi-based Infrastructure Investment and Urban Business Joint Stock Company installed two wind measurement poles in Ea Khal commune, Ea H'leo district.
Besides, the Binh Thuan Wind Power Corporation, based in Binh Thuan province, erected wind measurement turbine towers in the campus of Thanh Vu cassava starch factory in Ea H'leo commune, Ea H'leo district. Abundant wind energy potentials in Dak Lak will open up great opportunities for building wind-to-power plants in the province in the future.
Regarding biogas sources, in the framework of biogas programme along with animal husbandry, Dak Lak has trained 21 technicians and 22 builders. Beside the 3,947 projects funded by the national biogas project, people in the province also self-invested to build 6,000 biogas works, bringing the total biogas projects to over 10,000. Furthermore, the Dak Lak starch processing plant has put to use its biogas system to supply energy for drying 100 percent of starch.
As an agriculture-based province, with farming area accounting for 91.8 percent of total land area, of which forestland is about 47 percent, perennial tree area is approximately 20 percent, and paddy area is about 5.5 percent. Abundant biomass energy from logs, rice husk, bagasse, wood chips, sawdust, and agricultural by-products is diversifying biomass sources with huge reserves but application and exploitation of energy sources remains modest.
Sugar Joint Stock Company 333 has upgraded its processing capacity to 2,500 tonnes of sugarcane a day. The factory also invested a new energy system with a steamer of 60 tonnes and a turbine complex of 3,000KW, bringing the total power generating capacity of the factory to 4.5MW.
The potentiality of renewable energy sources in the province of Dak Lak is still very large. According to the project of evaluating the reality and building economical and efficient energy using programmes in Dak Lak province in 2011-2015, with a vision to 2020, Dak Lak strives to increase the proportion of power sourced from new energy and renewable energy to 25 percent of total power consumption in the province by 2015, equivalent to 112MW (out of 444 MW planned for 2015 in the province.)
Vo Thanh, Director of the Department of Industry and Trade, said Dac Lak will focus on investing and utilising renewable energy sources efficiently, protecting the environment and ensuring energy security for socioeconomic development demand.
Southern economic hub urged to treat waste water
Ho Chi Minh City needs to issue policies encouraging private investment in recycling waste water as a move to protect the environment as well as the city's fresh water resources, experts have said.
According to the municipal Department of Natural Resources and Environment, Ho Chi Minh City releases about 500,000cu.m of industrial waste water and 1.2 million cu.m of waste water from households and other sources a day.
The untreated waste water is released directly into rivers and canals, badly polluting the environment. Experts warned that the southern hub would have to pay a high price if urgent action is not taken to protect its precious natural resources.
Speaking at a recent seminar, Associate Professor Nguyen Phuoc Dan of the Ho Chi Minh City University of Technology said the potential for recycling the city's waste water for reuse is very large.
The recycled waste water can be used for washing streets, irrigating parks and street-side trees and gardens, flushing the toilet, washing clothes and other purposes, he said, adding recycled waste water should be promoted as a very useful product.
If the city can recycle 1 million cu.m of waste water a day, it can save about 10 billion VND (476,000 USD) a day, participants said at the seminar.
They said the city can also reduce its dependency on water from the Tri An and Dau Tieng reservoirs and reduce ground water pollution.
Ho Chi Minh City now uses fresh water from the Dong Nai and Sai Gon rivers, Tri An and Dau Tieng reservoirs, rainwater and groundwater. The exploitation of fresh water from the Dong Nai River and Tri An Reservoir for use in the southern hub has increased from 33cu.m per second to 51cu.m per second over the past 10 years, according to the city's Water and Environment Technology Association.
During this period, the exploitation of fresh water from the Sai Gon River and Dau Tieng Reservoir has also increased from 21cu.m to 33cu.m per second. The megacity's demand for clean water will continue increasing in the future because of its steadily increasing population, experts noted at the seminar.
They also said they have drafted four sets of criteria for recycled waste water for different uses including landscaping, industrial production, construction and daily urban use.-
Rare animal cared for at Cat Tien National Park
The Cat Tien Rescue Centre for Endangered Wild Animals is taking care of a number of individuals of rare animal species listed in the Vietnam's Red Book.
They include 34 bears, eight yellow-cheeked gibbons, and two white-cheeked gibbons.
Established in 2005, the centre is located at the Cat Tien National Park in the southern province of Dong Nai. It is responsible for receiving endangered wildlife animals being pouched or illegally caged.
After its inception, the centre was technically supported by the UK-based Monkey World Ape Rescue Centre and the Taiwan's Pingtung Rescue Centre for Endangered Wild Animals.
The two foreign organisations also offered financial assistance for four local officers to study abroad and learn more experiences from overseas experts and researchers.
In the coming time, the local centre will do more research on biological habits and physiology to better its work of preserving individuals of rare animal species.
It also plans to open training courses for local vets to improve their proficiency in the field.-
Source: VEF/VNA/VNS/VOV/SGT/SGGP/Dantri