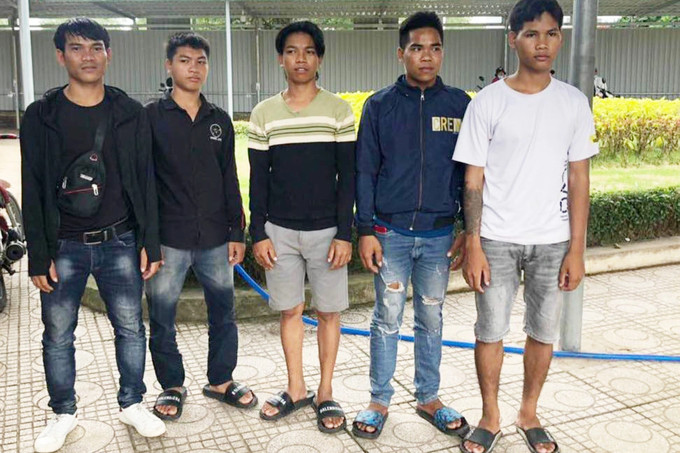 Five of the seven victims

Gia Lai Provincial Border Guard announced on July 7 that they had safely brought home seven men aged between 16-28 from Cambodia to Gia Lai Province through Moc Bai Border Gate.
The men were cheated by a human trafficking ring led by Tran Quang Quyet, 21, who took the men to work at a casino in Cambodia.
Gia Lai Provincial Border Guard also said that they had started legal proceedings against Tran Quang Quyet for allegedly trafficking seven local Jrai ethnic people to Cambodia. Local authorities have also completed the procedures to hand over the case to the Ministry of Public Security's Investigative Police Agency for further investigation.
A preliminary investigation revealed that at the start of the year Tran Quang Quyet, 21, residing in neighbouring Kon Tum province, was initially tricked into entering Cambodia to work for a company, and by June he owed the firm over VND100 million (USD4,348).
He received a proposal from two Vietnamese women in Cambodia that he would be paid USD700 for each person he could bring into Cambodia.
On June 19 - 20, Quyet persuaded seven men from La O Commune in Gia Lai to work in Tay Ninh Province which borders Cambodia and from there the men were illegally transported into the neighbouring country.
Source: Dtinews