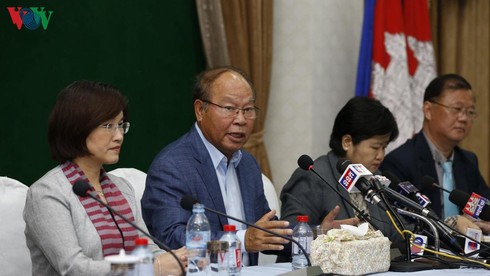 At a meeting of the Cambodian Ministry of Health
Following a discovered COVID-19 case involving a 65-year old British woman on board the Viking Cruise Journey, Cambodian authorities swiftly moved to put all passengers and crew members into quarantine to undergo strict surveillance and testing for the COVID-19.
Vu Quang Minh, Vietnamese Ambassador to Cambodia, stated that the cruise ship is currently anchored off the coast of Kampong Cham province in Cambodia.
At present, the Vietnamese Embassy in Cambodia are closely monitoring the situation and have subsequently sent a working group to support all Vietnamese citizens aboard the quarantined cruise ship.
Originally, the Viking Cruise Journey had departed from Ho Chi Minh City on March 5 and arrived in Phnom Penh on March 7.
With the vessel currently anchored in Kampong Cham province, there are a total of 64 people on board, including 30 passengers and 34 crew members.
Previously, as a direct result of the country notifying Cambodian authorities of the presence on the cruise ship of a passenger who had been on the same flight with Vietnam's 17th COVID-19 patient, the Cambodian health sector has taken samples from COVID-19 suspected people for testing and an individual was tested positive for SARs-CoV 2 virus.
As a result, the infected patient has been put into isolation in order to undergo treatment in Kampong Cham province. VOV

The Ministry of Health has confirmed that a 29-year old Vietnamese woman in the central city of Da Nang tested positive for COVID-19, raising the total number of infection cases in Vietnam to 35 on March 11.  

Vietnam has officially entered the second phase of the fight against COVID-19 since the 17th case was detected two days ago, and this phase is even more difficult than the first one, but the country is ready to respond to any circumstance.