PM Dung praises Military Zone 7
Prime Minister Nguyen Tan Dung has urged Military Zone 7 to continue working hard on its range of assigned tasks so as to deserve the trust of the HCM City authorities and people.
Working with the Party Committee of Military Zone 7 High Command in HCM City yesterday (Aug 22), PM Dung hailed them for ensuring national security and defence; and social safety and order, which have contributed to local socio-economic development.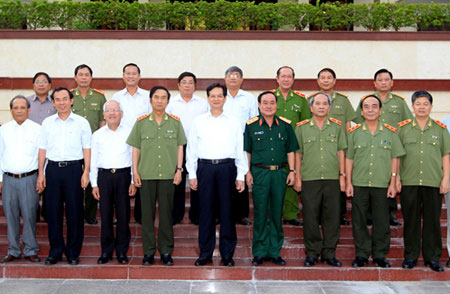 Prime Minister Nguyen Tan Dung (M) poses with the Party Committee of Military Zone 7 High Command in HCM City.
He directed cities and provinces to work closely with Military Zone 7 to safeguard national security and facilitate economic growth.
The Party Committee and the entire High Command should uphold the tradition of solidarity and self-reliance, build a firm defence area and continue strengthening collective power so as not to fall into a passive situation, he said.
At the same time, he required them to stand ready to help in case of flooding, and search and rescue missions as well. Military Zone 7 staff have always fulfilled their duty to safeguard political security and social order in the zone.
They have also offered military and defence advice to local authorities, started a campaign "Studying and following late President Ho Chi Minh's moral examples" and given their active response to Party building activities.
Vietnamese community in Russia receive praise
The governor of Russia's Volgograd province, Sergey Bozhenov, has spoken highly of the contributions made by the Vietnamese community in the province at a recent working session with Vietnamese Ambassador Pham Xuan Son.
The official agreed with a proposal from his guest - who is on a three-day visit from August 22-25 - that Vietnam and Volgograd should put forth measures to raise their trade value from the current level of 9 million USD.
He said the province always welcomes foreign investors including those from Vietnam.
He also agreed that trade promotion conferences should take place between Vietnam and Russia in order to fulfil the target of raising their two-way trade to 7 billion USD by 2015.
For his part, Ambassador Son asked the two countries' localities to expand economic-trade cooperation, especially strong areas such as agricultural production, tourism, ship building, oil and gas exploration and education.
While expressing thanks to local authorities for their assistance to the Vietnamese community, Son said he hopes that the province will continue supporting them in their lives there, thus aiding both the development of the locality and the Vietnam-Russia comprehensive strategic partnership.
Seychelles President to make official Viet Nam visit
President of the Republic of Seychelles James Alix Michel will pay an official visit to Viet Nam from August 28-29.
The visit will be made at the invitation of President Truong Tan Sang, according to the Ministry of Foreign Affairs.
Party asks Bac Ninh to become industrialised
General Secretary of the Communist Party of Viet Nam (CPV) Nguyen Phu Trong has called on Bac Ninh Province to step up industrialisation and urbanisation so as to become an industrialised locality by 2015 and a centrally-governed city in the next decade as planned.
Working with key local officials in the northern province yesterday (Aug 22) to review its socio-economic development and Party build-up, Party leader Trong praised the province for its across-the-board successes.
From 2011-2013, the local economy grew by an average of 16.1 percent per year, exceeding its target.
Its industrial scale ranked fifth and second in the country and the northern region respectively. Foreign direct investment hit US$5.6 billion with 407 projects. Infrastructure, especially in rural areas, has been ramped up to serve production and improve local lives. Cultural and social welfare fields have also seen significant achievements.
Trong said while developing the sustainability of the local economy, Bac Ninh must heed social issues, including environmental protection, employment and local well-being.
In order to develop high-quality farming and industry, the province must overhaul production, especially the processing and marketing stages, he said.
Located north of Ha Noi, Bac Ninh should link closely with the capital city and develop tourism and services on the back of its potential and strengths.
Switching to the Party build-up, the leader suggested the locality develops a strong political system by renewing its way of working and persistently implementing the Resolution on Party build-up set at the fourth session of the CPV Central Committee.
The same day, he visited the companies Samsung Electronics Viet Nam and DABACO, and the national standard Phuong Anh nursery school.
Japan shares experience in organising local government
Japan has shared its knowledge of running local governmental organisations at a two-day workshop held yesterday, Aug 22, by the National Assembly and the Japan International Co-operation Agency in Ha Noi.
Viet Nam has faced difficulties stemming from the fact that governmental representation at ward, commune, district and provincial levels often has overlapping responsibilities, stated National Assembly Office deputy head Nguyen Si Dung at the workshop.
The country is trying its best to reform the running of these bodies and lessons learned from Japan about their model would be invaluable, he added.
During the workshop, Japanese experts, including leaders from Maniwa City in central Okayama Prefecture and district leaders from Kyoto City, exchanged their experiences in organising local government and decentralising administration and management in Japan.
The event was attended by members of the Committee for the 1992 Constitution Revision Draft and National Assembly deputies.
Deputy PM receives RoK ambassador
Deputy Prime Minister Nguyen Thien Nhan on August 22 received the Republic of Korea (RoK) ambassador Jun Dae Joo who paid a courtesy visit to the Deputy PM upon assuming his new tasks in Vietnam.
At the meeting, Nhan and the Korean diplomat exchanged information about Korean President Park Geun-hye's State-level visit to Vietnam in September and Deputy PM Nhan's visit to the RoK in the coming time.
They also compared notes on a number of economic and investment cooperation projects between the two nations.
VNN/VOV/VNS/VNA