VietNamNet Bridge – Shares continued to climb on both stock exchanges last week but analysts are giving warnings of a likely correction in the near future.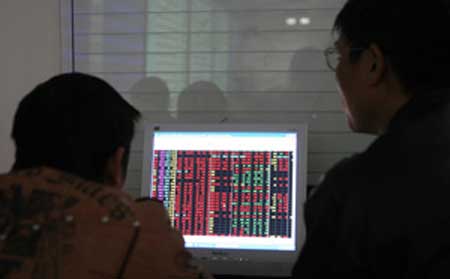 Investors monitor market fluctuations at the office of ACB Securities Co.

"Currently, the two indices are approaching resistance zones to decide the market's mid-term trend, at 493 points for the VN-Index and 64 points for the HNX-Index," Bao Viet Securities Co analyst Nguyen Xuan Binh wrote in a report.
Binh said many technical resistance indicators converge at these zones, making corrections inevitable.
"The correction is necessary to test demand and for stocks to form new price levels, especially blue chips after an overheated rally," he said.
Despite volume and value showing signs of growth on both exchanges, demand was declining and sell pressures rising, added FPT Securities Co analyst Le Thi Bich Hang.
"The scenario of shares falling early in each session but rising by the end of the session was repeated in the first days of last week," Hang said. "However, heavy profit-taking pressures finally drove the VN-Index down substantially on Thursday."
On the HCM City Stock Exchange last week, the VN-Index failed to pass the 500-point threshold but managed a cumulative gain over the course of the week of 3.28 per cent, closing on Friday at 483.43 points.
Trades were active, with an average of 87.2 million shares changing hands daily, an increase of 38.3 per cent over the previous week's volume, while the average daily value of trades topped VND1.3 trillion (US$62.7 million).
On the Ha Noi Stock Exchange, the HNX-Index also gained 2.24 per cent over the previous week's close, concluding Friday's session at nearly 63 points. The average daily value of trades remained a modest VND579.2 billion ($27.7 million) although the volume of trades increased 15 per cent over the prior week to a daily average of 73.2 million shares.
Strong foreign buys continued to be a bright spot, helping strengthen domestic investor pyschology. Total net buys of foreign investors on both bourses reached VND950 billion ($45.5 million), with the HCM City market accounting for VND788 billion (37.7 million) of the total.
Blue chips were again favourite of foreign investors, who bought VND75.6 billion ($3.6 million) worth of shares in food processor Masan Group (MSN), VND69.5 billion ($3.3 million) in steelmaker Hoa Phat Group (HPG) and over VND60 billion ($28.7 million) each in Phu My Fertilisers (DPM) and Vietinbank (CTG).
The VN30-Index tracking the 30 leading shares by market capitalisation and liquidity was up 3.43 per cent to close at 566.09 points.
Logistics company Gemadept (GMD) witnessed the highest growth with a gain of 27 per cent during the week. While the company didn't release any data last week, an increase in profit was expected from its Vinh Hao Mineral Water Codeal with Masan Consumer (MSF).
Under the deal, MSF, a subsidairy of Masan Group (MSN), will buy a 24.9-per-cent stake in Vinh Hao from Gemadept at a price of VND85,000 (about $4) a share. GMD currently holds 29 per cent of Vinh Hao, which it acquired at just VND16,500 ($0.80) a share. The sale would therefore net GMD an expected gain of about VND161 billion ($7.7 million).
Both Masan Consumer and Vinh Hao are traded on the over-the-counter (OTC) market.
Source: VNS