Shoes from China bearing Vietnam origin labels under investigation

Customs officers of Haiphong City have discovered a batch of sport shoes shipped from the Port of Xiamen in China to Vietnam bearing "Made in Vietnam" labels, Thanh Nien newspaper reported.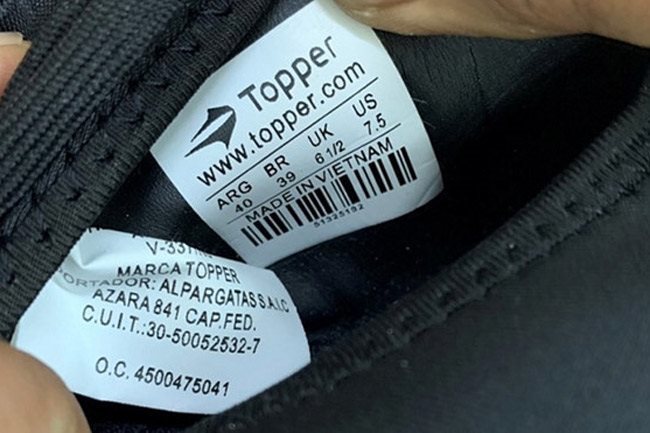 A shoe is seen attached with "Made In Vietnam" label in this file photo. Customs officers of Haiphong City have discovered a batch of sport shoes shipped from China to Vietnam bearing "Made in Vietnam" labels - PHOTO: TNO
Earlier in May, Lac Lac Company in Hanoi City conducted temporary import procedures for a container from the Port of Xiamen in China at the Customs Sub-Department under the Haiphong Customs Department. The goods inside the container were declared to be sport shoes.
After checking the customs file for the shipment, the Customs Sub-Department discovered the Vietnam origin labels, though the goods were shipped from China.
On June 28, the sub-department and the customs control team inspected the shipment and found all the shoes inside were labeled "Topper" and "Made in Vietnam."
The sub-department has transferred the case with all the information to the Haiphong Customs Department for a thorough investigation.
In related news, Phan Thi Thanh Xuan, vice chairwoman of the Vietnam Leather, Footwear and Handbag Association, told VietnamPlus that the European Union-Vietnam Free Trade Agreement (EVFTA) is expected to drive the local footwear market up and boost Vietnam's footwear exports to the European Union market.
To meet the origin requirements set by the European Union and smooth the path for footwear exports to the market, it is necessary to warn footwear enterprises not to get involved in origin fraud or fraudulent trade practices, Xuan said.
Breaking the rules of the EVFTA and practicing origin fraud will hurt not only the offenders but also the whole business community operating in the footwear sector, she added.
As such, Xuan said that domestic footwear exporters should follow export requirements, especially those on origin labeling, for sustainable exports in the future, apart from tightening control over their products before export to prevent foreign firms from attaching "Made in Vietnam" labels to their products to ship them to the EU market.
She also proposed State management agencies closely inspect export volumes and the declared information for imports and exports to promptly prevent origin fraud cases. SGT

Regulations on country of origin labeling in Vietnam have raised public concern as the legal system does not regulate the kinds of import items that can bear "Made in Vietnam" labels.  

Electronic products from Asanzo Vietnam, known as an electronics manufacturer supplying high-quality Vietnamese products in the local market, have been discovered to be Chinese goods being sold as Vietnamese products.