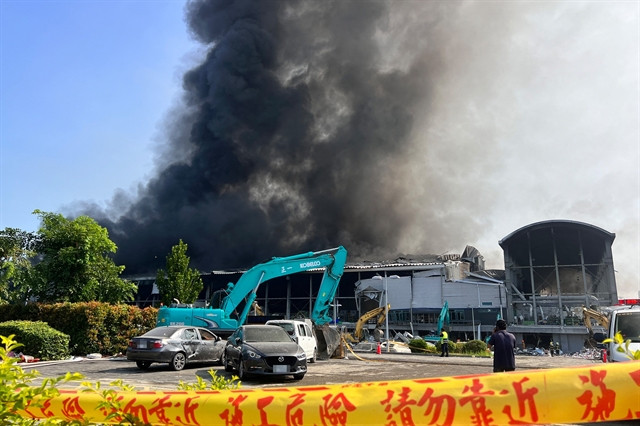 The scene of the fire. — AFP/VNA Photo
Sixteen Vietnamese workers who sustained injuries in a factory blaze in Taiwan (China) are safe, with local officials and agencies stepping in to offer support and ensure their well-being.
By 1pm on Saturday, local authorities confirmed that 16 Vietnamese workers had been injured in a blaze in Taiwan (China), as reported by the Labour Management Board of the Việt Nam Economic and Cultural Office in Taiwan. Out of the 16 workers, three sustained serious injuries, four had moderate injuries and nine had minor injuries; three of whom have been released from the hospital.
All Vietnamese workers are now accounted for and safe.
In response, local officials have provided initial compensation to those affected by the fire. Workers with severe injuries were given a grant of NT$100,000 (approximately US$3,113), those with moderate injuries received NT$10,000 (around $311.3), and those with minor injuries were given NT$5,000 (roughly $155.6).
Taiwan's Ministry of Labour has called upon Taiwanese brokerage firms and employers to ensure stable living conditions for these workers. They've also directed the brokerage firms to assist workers in switching employers if needed.
The Labour Management Board is set to continue its collaboration with Taiwanese officials, employers, and HR agents to uphold the legal rights of these workers.
A fire, followed by an explosion, broke out in a factory located in Pingtung County, Taiwan (China) at 5.31pm on Friday. The factory was known to employ 106 Vietnamese workers through two Taiwanese brokerage firms.
In the aftermath of the fire, Taiwanese authorities reported six fatalities (comprising three firefighters and three staff members), 98 injured individuals, and five missing persons. — VNS