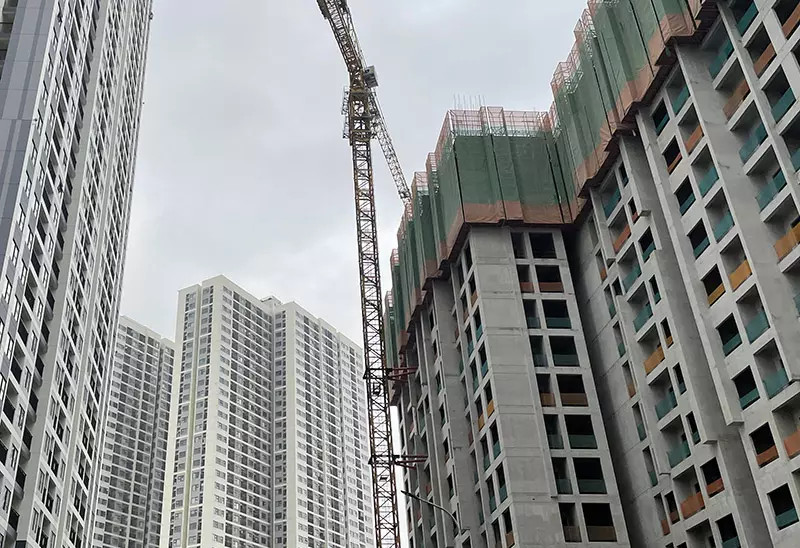 In 2011-2020, only 248 social housing projects providing 100,000 apartments were developed, which meant that only 41.4 percent of the plan was implemented.
The state audit on the social housing development program in Hanoi found that of 15 social housing projects, two have not been implemented, seven have not got approval for investment, one has had no report about implementation, two have been stopped, and three have received approval to shift to commercial housing.
In HCM City, despite great efforts, only 15,000 apartments were implemented in 2016-2020.
The demand for social housing is high, while there are still many problems in the market segment. Vietnam's housing price index is 20 times higher than the average income of the society, which makes it difficult for families and individuals to buy houses. In developed countries, the index is just 6-7 times higher than the average income.
Analysts estimate that it would take a worker aged 30 or lower, who has income of VND15 million a month and can save VND6 million after paying for basic needs in large cities of Hanoi or HCM City, at least 20 years to have VND1.5 billion to buy social housing. Meanwhile, a worker with an income of VND20-30 million a month, will have to save money for 10-15 years.
Nguyen Vinh Quynh from Minh Bach Law Firm said that social housing prices are still too high compared with the ability to pay by beneficiaries of the social housing policy as stipulated in the 2014 Housing Law.
The average social housing selling price is VND15 million per square meter, and up to VND21-25 million in some areas, only suitable to mid- or high-income earners.
Since there is a shortage, social housing prices in the market have been increasing. Meanwhile, current laws set limitations on the transfer time. So, many people circumvent laws to buy housing.
Vuong Quoc Toan, Chair of Lan Hung Real Estate, said that people borrowing money to buy social housing are low-income earners, while commercial banks only provide loans to people in urban areas, not in rural areas or suburbs of cities.
As such, banks are acting contrary to the welfare policy. Therefore, it's necessary to reconsider the lending policies and provide loans to all income earners, with no restrictions.
Nguyen Vinh Quynh from Minh Bach Law Firm noted that not many real estate developers want to develop social housing projects. It takes five years on average to implement a social housing project and the maximum annual profit they can expect is just 2 percent, a very low level for real estate business.
Focus on the poor
Nguyen Anh Que from Hanoi Real Estate Club said social housing projects should be developed in first-class urban areas, not in second- and third-class areas because no one wants to live in these areas. And it would be better to lease social housing to people in first-class, not second- and third-class urban areas.
He said that leasing fees are unreasonable, which explains why people would rather buy a house rather than lease.
Quynh of Minh Bach Law Firm said it was necessary to clearly stipulate in legal documents the types of land reserved for social housing development, and to allow businesses to lease or buy social housing for their workers.
Under current laws, only families and individuals can buy or lease social housing, not institutions or legal entities. This has caused difficulties for both preferential beneficiaries and project developers.
Anh Tu