Social News 23/2
PM okays expansion of road to Cambodia, Health insurance buyers to benefit from fee hikes, HCM City leader pledges full support for residents, businesses, Cameras to curb stone-pelting, HCMC Party Chief's hotline receives 1,200 calls
PM okays expansion of road to Cambodia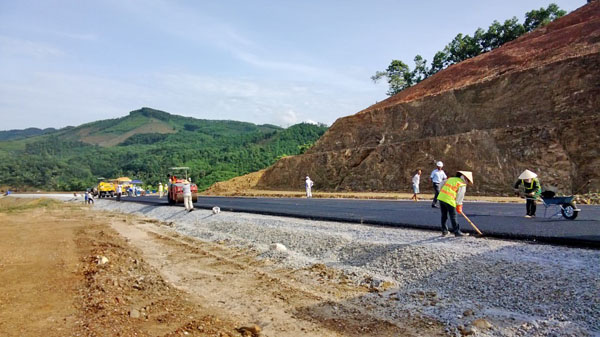 The HCMC government has got the Prime Minister's nod for a plan to call for investment to expand National Highway 22 that runs through the city and Tay Ninh Province and connects to Cambodia under the build-operate-transfer (BOT) form.
In December last year, the city government wrote to the Prime Minister seeking approval for the investment plan as National Highway 22 is a major road that connects localities in the Southern Key Economic Zone of Vietnam and some other ASEAN nations but it is narrow.
The city said National Highway 22 plays a vital role in fueling economic development in the Southern Key Economic Zone and facilitating cargo transportation from the southeastern and southwestern provinces to Cambodia and other ASEAN nations through Moc Bai border gate in Tay Ninh Province. Therefore, it is urgent to upgrade and expand the highway.
The Prime Minister told HCMC to closely work with the Ministry of Transport, Tay Ninh and relevant agencies to implement the road expansion project in accordance with the prevailing regulations.
The ministry has thrown support behind the HCMC government's proposal to find only one investor for the project. The reason is that if the project is carried out by two investors, there should be two toll stations on the 58-kilometer road. The current regulations require the minimum distance between two BOT tollgates to be 70 kilometers.
Crew rescued from flooded ship
A ship from the Da Nang-based Maritime Search and Rescue Coordination Centre No 2 (MRCC2) rescued 20 crew members from Ha Tien 01 ship in the sea 55 nautical miles off the coast of Thua Thien-Hue province yesterday.
The lower deck of the ship, which was carrying 6,400 tonnes of clinker from Nghe An to Dong Nai, flooded with water on Saturday evening.
The ship's captain called for help as the ship was sinking amidst strong winds with rain.
The rescue ship, SAR 412, was sent to take all crew members to Da Nang port safety yesterday.
Fire destroys store in Binh Duong
A fire yesterday destroyed a 1,000-square-metre automobile tyre scrap store in Binh Thang Ward, Di An Town, the southern province of Binh Duong.
The fire started at 12.30am and burned quickly as the store contained thousands of tyres.
The fire was controlled by 4pm after great effort due to the 32 degree Celsius heat.
No casualties were reported.
Cold snap to hit northern provinces
A cold spell will hit northern provinces tonight, according to the National Centre for Hydro-Meteorological Forecasting.
The area will have scattered rains from Tuesday.
Central coastal provinces will have showers and scattered strong winds.
On Tuesday, the Gulf of Tonkin will experience a north-eastern monsoon with wind speeds of 50-61kph. Northern area of the East Sea will have wind speeds of about 62-74kph.
4,000 students get career guidance
More than 4,000 high school students in Nha Trang City, the central province of Khanh Hoa yesterday joined a university enrolment consultancy and career guidance programme.
Experts from the Ministry of Education and Training and representatives from different universities and colleges across the country performed as consultants.
The programme provided the students with information about the national high school graduation exam and the university entrance exam, and information on careers in the economy, finance, banking, science and technology and foreign languages.
Health insurance buyers to benefit from fee hikes
Healthcare fee increases of some 30% from March 1 and 50% from July 1 will benefit the medically insured and will not affect patients without health insurance in the short term, according to the Ministry of Health.
Higher fees including payments for healthcare services and allowances for health workers will take effect from March 1 while rises in other fees will go into force at public health facilities from July 1 and private clinics from March 1.
As many as 1,887 technical healthcare services will see fees going up including checkups at hospitals, daily fees for inpatients, and other services which require the use of high-cost medical devices such as ultrasound, X-ray, blood testing, and surgery.
In the near future, fee rises will be applicable to patients having health insurance only, so those without insurance will not be affected.
Around 23.7 million poor people, children under six years old and social welfare beneficiaries will not be impacted by the healthcare service fee spike as they have a blanket health insurance coverage for health checkups and treatments.
Near-poor patients are subject to a 95% fee coverage by health insurance and the State budget pays 70% of the value of health insurance cards for them. Patients buying voluntary social insurance will not be much affected by fee increases as well.
Nguyen Nam Lien, head of the financial and planning department under the Ministry of Health, said healthcare service fees will be adjusted up gradually and increase the rights of health insurance card holders.
Visitors to key destinations surge at Tet
Many provinces in the southern, central and Central Highlands regions reported a strong upsurge in visitor numbers during the recent Lunar New Year holiday, or Tet, which ended last Sunday.
According to Khanh Hoa Province's Department of Culture, Sports and Tourism, Nha Trang City attracted 160,000 visitors including 36,200 foreigners from the second to the seventh day of the first lunar month (from February 9 to 14), up 10% from the same period last year.
Meanwhile, the southern seaside town of Vung Tau drew more than 430,000 tourists during Tet, a 20% year-on-year increase. Dalat City welcomed nearly 163,000 visitors in the nine-day holiday starting from February 6, and 110,000 of them stayed overnight in the resort city of Dalat in the Central Highlands province of Lam Dong.
Surging demand for tourism products and services led to price spikes during the longest holiday in Vietnam.
A report of Lam Dong Province's Department of Culture, Sports and Tourism showed hotel and catering services saw prices soaring 20-75% against normal days. Some hostels and tourism villas reported room rate increases of up to 150% and operators had registered price rises at the tax offices and informed travel companies and tourists at the beginning of the year.
Vung Tau City reported relatively stable room tariffs during the holiday but restaurants adjusted up prices by 20-35% compared to normal days.
Tran Ba Viet, head of the Culture and Information Department of Vung Tau, said the city fetched tourism revenue of around VND308 billion (US$13.7 million) at Tet, up 16.5% year-on-year.
Strong tourist arrivals caused environmental pollution at well-known attractions during the holiday.
From February 9 to 14, Vung Tau Environment Services and Urban Project Joint Stock Co. treated nearly 190 tons of garbage at two popular beaches, Bai Truoc and Bai Sau, three times higher than on normal days.
Law enforcement officers fined at least four groups of tourists and two enterprises for littering, said Viet from the culture and information department.
On online forums, citizens of Dalat City expressed discontent over the polluted attractions such as the City Square, Dalat night market and Cu Lan Village at Tet.
HCM City leader pledges full support for residents, businesses
Agencies of HCMC will provide full backing for firms and citizens by removing the difficulties they are facing, improving the business environment and further streamlining administrative procedures, the city's chairman said.
Nguyen Thanh Phong told a review meeting on activities during the Lunar New Year holiday (Tet) on February 18 that the city government would strengthen the monitoring of infrastructure projects, especially long-delayed ones.
He told departments and agencies to reduce red tape which has hindered business activity.
The HCMC government will not let bureaucracy mar the business environment and sanction those officials intentionally making life hard for businesses, he stressed.
The chairman requested departments and agencies to cut down on unnecessary meetings so that they can have more time to do important tasks and work with businesses and citizens to solve their difficulties. He said in case meetings are needed, they should be held in an efficient and time-saving manner.
The departments of planning-investment, finance, natural resources-environment, zoning-architecture and construction must take prompt action to simplify business conditions and assist firms with efficient operation. This is to fuel the city's economic growth and enhance its competitiveness.
Phong highlighted the crucial roles of department and agency leaders in realizing the above-mentioned goals, saying that they must be held responsible for any failure to realize socio-economic tasks.
Local agencies will strengthen inspections and fight trade fraud and smuggling of poor quality and counterfeit goods to support domestic production.
Phong told departments, agencies and district authorities to provide adequate, accurate and timely information for media so that citizens can be well informed of Party and State policies.
HCMC sets 12 major targets for 2016, including gross regional domestic product (GRDP) growth of 8%, total factor productivity (TFP)'s contribution to GRDP at a minimum of 35%, investment accounting for 30% of GRDP and trained workers making up 75% of the total workforce.
The city aims to create jobs for 125,000 people, reduce the jobless rate to less than 4.5% and lower the poverty rate by one percentage point.
HCM City party chief targets traffic problems
Newly-appointed Ho Chi Minh City's Party Secretary and former transport minister Dinh La Thang has committed himself to resolving the southern city's chronic traffic problems.
Thang acted on a phone call by a member of the public complaining about the traffic jams caused by the illegally-parked coaches on Nguyen Thai Binh and Le Thi Hong Gam streets in District 1. He immediately asked the local department of transport to take action.
According to the department, four transport companies in the two streets often park their coaches in front of their headquarters to wait for passengers, a situation that has caused constant congestion for many years.
The department's vice director, Tran Quang Lam, said that they immediately worked with local police to solve the problem right after hearing instructions from the secretary.
No-Parking signs have been set up and traffic police have been sent to keep the streets in order.
No-Parking signs have been set up on Nguyen Thai Binh and Le Thi Hong Gam streets in HCM City's District 1 following instruction from the new secretary.
Thang gained a reputation for fast action during his time as a transport minister. He pointed out that lax management in enforcing traffic regulations and the lack of driver safety awareness were among the main reasons for the high number of traffic accidents in Vietnam.
He has also been praised for his tough stance on corruption by transport officials.
HCM City needs VND 14 bln in 3rd phase of water environment improvement project
Chairman of the Ho Chi Minh City People's Committee Nguyen Thanh Phong yesterday led the delegation including representatives of departments and Japan International Cooperation Agency in Vietnam (JICA) surveyed the city's water environment improvement project for the third phase, aiming to implement the upcoming phases of project funded by JICA's official development assistance (ODA).
The first and second phases of municipal water environment improvement project cover 3, 440 hectares across district 1, 3, 4, 5, 6, 10, 1, Binh Tan and Tan Phu that contributed to improve efficiency of flooding, the release of water stream, resident's life environment and urban face.
Meanwhile, the third phase covering 1, 600 hectares along district 4, 7, 8 and Binh Chanh district has total investment capital of VND 13, 560 billion (75, 3 billion yen).
At the meeting, the chairman thanked JICA for its support to the municipal infrastructures, and appreciated efficiency of its projects in the previous times.
The chairman stressed: "Municipal water environment improvement project for the third phase will improve the city's environment as well as resident's life, hoping that JICA will continue to support capital in order to finish the project as soon as possible".
Cameras to curb stone-pelting
Cameras will be installed along the HCM City-Long Thanh-Dau Giay Expressway to prevent stone–pelting that damaged several cars travelling on the route, the Vietnam Expressway Corporation has said.
Nguyen Thi Hoai Phuong, of the Vietnam Expressway Services Engineering JSC, which is also the management board of the expressway, said the firm has installed fences at overpasses along the route and mobilised patrol teams to curb stone-pelting.
Phuong said eight buses were reportedly pelted with stones within a year of the route opening to traffic, causing some damage to the vehicles and affecting people's safety along the route.
Last month, a car was pelted by stones when it was passing the Long Thanh Bridge near the Long Phuoc Toll Station. The car's windshield broke and the culprit managed to flee.
Last September, a passenger bus was attacked and its window broke. Fortunately, no one was injured. Stone attacks were reported earlier too.
Most of the drivers said they were frightened of losing control and causing accidents as cars drive at high speed on the route.
The police in the southern Dong Nai Province are hunting for the culprits. Police have also stepped up surveillance and patrols along the route to detect similar cases.
The 55-km HCM City-Long Thanh-Dau Giay Expressway, with an initial construction cost of VND20.63 trillion (US$970 million), was put into operation last February.
The highway has a maximum vehicle speed of 80-120 km per hour, with eight lanes. It was funded by the Asia Development Bank, the Japan International Cooperation Agency's official development assistance, and the Vietnamese government.
The highway has helped ease traffic congestion, reduce transport cost and time and promote trade between HCM City and its vicinities.
Garlic fields fail on Ly Son Island
Farms on Ly Son Island District in Quang Ngai Province have had a poor garlic harvest this year because of disease and inclement weather.
Farmer Duong Hien in An Hai Commune said his 2,000 sq.m of garlic fields had a yield of only more than 500 kilos this year compared to nearly two tonnes every year.
But most of the harvested garlic was spoiled or looked deformed, he said.
The district farmers said that diseases and brown planthoppers had affected the plants as they began sprouting garlic bulbs, resulting in poor quality and a low harvest.
Tran Thi Dai, who owns 500 sq metres of garlic fields in An Vinh Commune, said she could not harvest any seed garlic to cultivate the next crop.
"The large garlic cracked and the small garlic could not be used for cultivation," she said.
The poor quality also caused a drop in price at a time when farmers had spent a great deal of money on their fields.
The production cost for every 1,000 sq.m of garlic field, including buying sand, seeds and fertiliser, and pumping irrigation water, was VND10 million (USVND10,056,825), according to farmers.
Traders and companies have also faced difficulties in finding garlic to buy.
Nguyen Van Dinh, director of the Ly Son Island Co., Ltd, which buys garlic directly from farmers and sells to supermarkets and other countries, said his company could not buy enough quality garlic to supply partners.
Dinh said his company bought fresh garlic at the fields, but no field had met required standards as most garlic bulbs had cracks or were too small.
"My company has signed a contract with a partner from the US, but I don't know how to get enough garlic to supply the partner," he said.
Ly Son garlic has a distinctive flavour, more delicious than other kinds of garlic, and is in high demand at home and abroad.
The district planted 325ha of garlic with a total yield of about 3,000 tonnes this year, down 43 per cent against last year, according to the district's Rural Infrastructure and Economy Bureau.
Most of the harvested garlic did not meet required standards, according to the bureau.
Nguyen Thanh, chairman of the Ly Son People's Committee, said the prolonged hot weather had attracted brown planthoppers, which carry disease. Other diseases also affected the plants.
The district's agencies gave advice to farmers on how to treat the disease-infected garlic, but farmers still could not save the garlic, he said.
Most farmers in Ly Son use traditional farming methods for garlic cultivation, which covers one-third of the district's total area.
Garlic cultivation and fishing are two major livelihoods of Ly Son residents.
Vietnamese expats welcome Lunar New Year
Vietnamese expatriates in Argentina gathered in Buenos Aires this month to celebrate the Lunar New Year, the biggest festival of the year in many Asian countries.
The international diplomatic corps and city leaders were among those in attendance.
Ambassador Nguyen Dinh Thao said the aim of the gathering was to help international friends learn more about Asian traditions. He said cultural exchanges bring people closer together and promote cooperation among countries.
A similar event took place in Qatar where Ambassador Nguyen Hoang briefed participants on Vietnam's achievements in 2015 and major plans for 2016, mentioning the success of the recent 12th National Party Congress.
Hoang said Vietnam-Quatar relations have reaped fruit in economics, trade, culture, and sports and credited the contributions of the Vietnamese people living in Qatar.
Sri Lanka, Vietnam's advantages to step up bilateral ties
Vietnam and Sri Lanka enjoy many advantages that will promote bilateral relations in the future, said Vietnam Ambassador to Sri Lanka Phan Kieu Thu during a recent live interview on the Radio Sri Lanka.
Ambassador Thu said Vietnam-Sri Lanka ties have strongly developed in recent years with two-way trade growing 30%, the fastest growth among South Asian countries.
Sri Lanka is expanding its investment in Vietnam. Its 14 current projects are worth US$77 million.
In addition to providing more information for investors, the two nations should establish direct air routes to facilitate investment, trade, and tourism. Thu said the embassy will do its utmost further expand bilateral relations.
The Vietnamese diplomat said the establishment of the ASEAN Economic Community late last year is a step forward in the regional economic integration and important to maintaining peace and stability in Southeast Asia, especially in the East Sea.
She said China's test flights on Chu Thap (Fiery Cross) Reef in Vietnam's Truong Sa archipelago and its repeated violations of Vietnam's flight management area are a serious violation of Vietnamese sovereignty.
Ambassador Thu reiterated Vietnam's stance of dealing with disputes by peaceful means based on mutual respect, international law, and the 1982 UN Convention on the Law of the Sea (UNCLOS).
She noted that the maintenance of peace and stability in the East Sea and ensuring freedom of navigation are in the interest of all countries within and outside the region.
Norway helps Thua Thien-Hue develop community football
The Norwegian Football Federation (NFF) has granted more than 29.6 billion VND (nearly 1.3 million USD) to a community-based football project in the period from 2016 to 2019 in the central province of Thua Thien-Hue .
According to Chairman of the provincial People's Committee Nguyen Van Cao, the project aims to set up football clubs with the participation of the community and bring basic football training to local children, enabling them to practise life skills.
The project targets to attract the attendance of female, ethnic minority and disadvantaged students to sport activities as well as to establish four football clubs every year during the period.
In the past ten years, the community football project has helped establish as many as 157 football clubs in Thua-Thien Hue province and Do Son district in Hai Phong city, said Pham Van Hung, Director of the provincial Department of Education and Training.
In Thua Thien-Hue alone, the project has enabled 16,000 disadvantaged students to join a lot of useful activities, he added.
On the occasion, the NFF and the Thua Thien-Hue Football Federation signed an agreement on multiplying the model in Thua Thien-Hue to other provinces and cities nationwide.
NGO rolls out new website to popularise beautiful central coast
The Central Coast Vietnam Destination Marketing Organization has created www.centralcoastvietnam.com, a user- and mobile-friendly website, to raise awareness and promote tourism of Da Nang, Quang Nam and Thua Thien-Hue, which are major tourist destinations in the central region.
While the area is renowned for its pristine beaches, natural attractions and national relics, the website also draws attention to its lesser known charms like ethnic cultures, eco-tourism destinations and gastronomic delights.
It also allows tourists to easily plan itineraries by offering information about flights, other transport and visas.
The website is now in English, and will soon be translated into Chinese, Japanese, Korean, and Vietnamese.
CCVDMO, a non-profit organisation, set out in 2012 to promote the scenically beautiful and culturally diverse central coast of Vietnam.
Programme 135 helps reduce poverty rate in Soc Trang
The poverty rate among households in the Mekong Delta province of Soc Trang was reduced to 8.88 percent by the end of last year from 24.31 percent in 2010 thanks to the Government's Programme 135.
The figure was revealed during a conference held on February 19 in Soc Trang to review the implementation of the programme in the province from 2010 to 2015.
In the past five years, the programme provided Soc Trang with 363 billion VND (about 15.8 million USD) to develop infrastructure and boost production.
The province spent about 62 billion VND (2.7 million USD) to buy seeds and production equipment for Khmer ethnic poor farmers, enabling more than 11,300 Khmer households to escape poverty.
About 283 billion VND (12.3 million USD) was allocated to develop rural infrastructure. During the period, Soc Trang constructed 355 roads, 19 irrigation facilities, 37 communal houses, 13 schools, and four medical centres.
As a result, seven out of the 44 most disadvantaged communes fulfilled the targets of the programme and 19 communes was recognised as new-style rural areas, according to Ly Binh Cang, Head of the provincial Committee for Ethnic Minority Affairs.
The rate of poor Khmer households dropped about 3.5-4 percent per year, he added.
The Government's Programme 135, launched in 1999 under the Prime Minister's Decision 135/1998/QD-TTg on July 31, 1998, aims to improve living conditions for rural residents with a particular focus on ethnic minority communities.
Last year, the programme invested in nearly 6,000 extremely disadvantaged areas including border communes and extremely disadvantaged hamlets, with a total funding of nearly 7.8 trillion VND (347.77 million USD).
As many as 2,275 disadvantaged communes in 48 provinces and cities nationwide will receive a share of the 21 trillion VND (942.5 million USD) fund from the State budget to boost socio-economic development during the 2016 to 2020 period.
Project to orient occupational education to green growth demand
A vocational training reform project has got approval from the Prime Minister with the ultimate goal of aligning occupational education and training towards the requirements of a green and sustainable economy.
The project, funded with the German Government's official development assistance (ODA), will be carried out from 2016 to 2018 under the management of the Ministry of Labour, Invalids and Social Affairs.
It is set to assist the compilation of documents guiding the implementation of the Law on Occupational Education. It will also improve the capacity of occupational education teachers and managers, helping the local education system satisfy sustainable and green growth demands.
The requirements for a green economy, which are set in the Vietnam National Green Growth Strategy, will also be added to the training curricula for some occupations like mechanics technology, electrical/electronics engineering, and mechatronics.
The project will also support the Lilama 2 Technical and Technology College to design demand-oriented training curricula, and help the General Directorate of Vocational Training, other occupational education facilities and business associations raise public awareness of vocational training.
It will be implemented at a cost of nearly 9.37 million EUR (10.4 million USD), including 9 million EUR from the German Government and over 368,000 EUR from Vietnam.
Labour exports relatively unchanged
Vietnam's labour exports dipped only marginally by 0.48% year-on-year to 8,627 workers for the month of January, reports the Overseas Labour Management Department (OLMD).
Taiwan (China) remained the top export market at 5,362 workers, trailed by Japan (2,019), Malaysia (530), Saudi Arabia (129), the Republic of Korea (RoK) (68) and Macao (32).
Based on the number of agreements signed by the Ministry of Labour, Invalids and Social Affairs (MoLISA) in 2015, labour exports are expected to surge in 2016, particularly in the RoK, Thailand and Malaysia, says the OLMD.
MoLISA also signed cooperative deals to send orderlies to Japan and Germany, which offers a chance to increase the number of qualified guest workers to the German market by 500-700 annually.
In addition, Taiwan (China) removed a ban on Vietnamese fishermen and eased restrictions for Vietnamese caregivers and domestic maids as of July 2015 that bodes well for labour exports this year.
RoK jails 7 Indonesians for killing Vietnamese supervisor
A court in the Republic of Korea (RoK) has sentenced seven Indonesian crew members of a fishing vessel to 10-25 years in prison for killing their Vietnamese colleague last year, Vietnam News Agency reported on February 19.
The defendants were found guilty of battering 34-year-old Le Quang Huy to death, before throwing his body to the sea on August 2, according to the report on the trial at the criminal court of Daegu City, about 300 kilometers from Seoul.
The killing was an act of revenge, as the Indonesian nationals had conflicts with the victim, who was tasked with supervising and coordinating work among the crew, during their four years working together, the court heard on February 17.
A file photo of three of seven Indonesian crew members of a RoK fishing ship detained at a police station for murdering their Vietnamese colleague on August 2, 2015.
While the murder took place when the ship was offshore, Korean maritime police discovered blood on the back of the ship and on one of the defendants' shirt.
Police then stepped in with a DNA test and interrogated the suspects, the news agency reported.
Registered in Busan City, the ship is operated by a crew of nine Indonesian, eight Philippine, seven Korean and 11 Vietnamese members.
The Vietnamese embassy to South Korea was notified of the case two days after it happened.
Laos reviews 10-year co-operation with Vietnam to develop border areas
A co-operation project to develop hamlet clusters in areas along the border with Vietnam during 2005-2015 produced positive results, contributing to improving locals' living conditions and promoting stability along the two countries' border.
The information was heard at a conference in Vientiane on February 19 to sum up the 10-year implementation of the project.
The project was carried out under agreements between the two countries' leaders to build the Vietnam-Laos border as a peaceful, stable and developing area.
It was implemented in 14 districts of 10 provinces in Laos, with the main focus of building clean water and irrigational systems, medical facilities and upgrading roads.
At the conference, participants also discussed and put forward a collaboration plan for the next five years.
HCMC Party Chief's hotline receives 1,200 calls
The hotline connecting citizens to Secretary of the Ho Chi Minh City Party Committee Dinh La Thang received nearly 1,200 calls and over 800 SMS messages from 9 p.m. on February 19 to 4 p.m. on February 21.
Following instructions from Mr.Thang, the Party Committee's office has recently announced the hotline's number at 0888 247 247 to get citizens' opinions and suggestions for the city's development.
Most of the calls reported problems in urban management especially traffic jam, flooding and environmental pollution; public order; administrative reform and complaints and denouncements.
The office has synthesized all these calls and SMS, reported to Mr. Thang and forwarded them to authorized agencies to solve under their authority.
District chairman denies statement on MH370 debris discovery
The chairman of a district in the south-central Vietnamese province of Khanh Hoa has rejected a false report that he had claimed a piece of debris recently found in his locality belongs to the missing Malaysia Airlines flight MH370.
Tran Kim Bao, chairman of Van Ninh District, was quoted by Tien Phong (Vanguard) newspaper as saying on February 20 that he had never mentioned "MH370" when addressing the media about the debris discovery.
A fisherman in the district on February 11 spotted a floating object when he was fishing off the province's Dai Lanh Beach. The metal piece looks like a part of an airplane, prompting local authorities to investigate to see what it really is.
According to Tien Phong, Bizlive, a Vietnamese-language website, has cited an article from Germany's DPA news agency, which quoted Bao as saying that "a piece of debris possibly belonging to the Boeing MH370 of Malaysia Airlines has been found in Vietnam."
But Bao told Tien Phong he did not say so and no such DPA report had ever contacted him for comment.
"The report is a big and nonsense lie," Bao said. "Our officials who examined the object do not have expertise so never would we dare to claim it belongs to which type of airplane."
Fisherman Le Tan Binh told Tuoi Tre (Youth) newspaper on February 18 The fisherman collected the object is made of aluminum and weighs approximately 100kg. The widest part of the metal object measures 2.1 meters and the narrowest section is 1.1 meters.
"We have asked Binh to continue take care of the object, pending order from authorized levels," Bao said.
The beach where Binh found the debris is part of the East Vietnam Sea.
There have been no significant air crashes in nearby areas in recent times, except for the mysterious Malaysia Airlines flight MH370, which disappeared on March 8, 2014, en route from Kuala Lumpur to Beijing.
The flight last made voice contact with air traffic control when it was over the East Vietnam Sea, less than an hour after takeoff.
According to the military unit of Van Ninh District, the object still looks new and is not covered with mosses.
The unit is still investigating to identify the origin of the debris.
In July 2015, DPA also falsely reported the death of Vietnamese Minister of Defense Phung Quang Thanh, and later had to apologize to the minister.
Taxi firms to cut rates as petrol prices plunge
Taxi firms in the capital city are likely to slash fares after domestic petrol prices plunged to a seven-year low on February 18, but any cut would take time to implement.
Hanoi Taxi Association Chairman, Do Quoc Binh, said the fares will be slashed by about 300 VND (a little more than one US cent) per kilometre, and it will take some 10 days for the companies to complete procedures for the cut.
He explained to Dau tu (Vietnam Investment Review) that in order to cut fares, taxi firms will have to register with the authorities, reset meters, reprint price lists and notify their customers about the change.
He calculated that these changes would cost about 500,000 VND (over 22.2 USD) per vehicle, and a firm operating 200 cars would have to pay 100 million VND for such a one-time adjustment.
Hanoi Transportation Association Bui Danh Lien said the association has set specific price levels at which transport enterprises are to adjust their charges, to facilitate the response in transport charges to petrol price fluctuations.
Companies will have to reduce charges if gasoline prices fell to around 15,000 VND (67 cents) per litre, and diesel prices fell to around 10,000 VND (44 cents) per litre.
On February 18, the retail price of petrol was cut by 961 VND to 13,752 VND (61 cents) per litre. The price of E5 RON 92 biofuel also dropped by 942 VND to 13,321 VND per litre.
However, Lien said continuous fluctuations in petrol prices and complicated administrative procedures still make it hard for transport charges to be adjusted in a timely manner.
The association has asked the municipal taxation department to permit transport companies to overprint their tickets with new prices, for a quicker and less costly adjustment.
It has also proposed allowing taxi firms to list the new prices on an easily seen external part of the cars, while waiting for permission from the authorities to reset their meters.
HCM City Department of Finance official, Nguyen Mau Phuong Quynh, said that this agency has already asked local automobile transport enterprises to register new rates in light of recent fuel price declines earlier this month.
She told the Voice of Vietnam that, as of February 18, 16 out of 49 fixed-route passenger transport firms in HCM City registered rate cuts of 3-5 percent. Three out of 14 taxi firms in Hanoi offered rate cuts of 1.2-2.4 percent.
Quynh said that local authorities have asked companies to register their fares again with February 23 being the deadline, after the latest petrol price cut.
It was estimated that route transport companies whose vehicles use diesel would have to reduce rates by 4.8 percent, and those using gasoline would have to slash rates by 4.2 percent, she added.
February 18's cut was the fourth consecutive reduction in domestic petrol prices this year, and the ninth since October 19, 2015.
The last price revision was on February 3, when the price of petrol fell by 729 VND.
VNA/VNS/VOV/SGT/SGGP/TT/TN/Dantri