Da Nang forest fire service on high alert due to heat wave
Forest fire season begins in central Da Nang city as heat wave here is prolonged and fiercer. The city forest fire service and local firemen are increasing their patrol, and monitoring to minimize the number of forest fires.
In endless forests in Son Tra nature reserve, the fuels in the ground are immense, like fallen leaves and dried branches. In such a dry condition and low humidity like now, a reckless action by human can easily ignite a raging fire. And, it can go out of control.
Locals living around the nature reserve are deeply aware of protecting forests there.
Among them is Le Viet Tien, who has joined a local rapid forest fire service team. When going into the forest, he often keeps an eye out all around the area, and quickly spots a fire if it is occurring.
He told reporters: "During national holidays we have to be more vigilant and look out for any situations. If the fire is little, we can handle it by ourselves, if not, then we will call for fire fighters."
As the forest fire season is in full swing, local rangers have increased their patrol. They always keep a close watch on bushes or the ground with thick fallen leaves.
Tran Thang, Chief of staff of Son Tra – Ngu Hanh Son Park Ranger said: "We broadcast public announcement to inform public of the heat wave, and regulations on forest protection." During their work shift, they often remind visitors to refrain from using lighters or causing fire, he added.
Da Nang is home to more than 62 thousand hectares of forest. It has defined fire prevention as the main task.
Since the beginning of the drought season, the city ranger force has increased its resources. It has stayed on high alert in order to be the first to deal with any forest fires.
Unpredictable weather patterns, and intense heat wave, in recent years, have caused some devastating wildfires.
To minimize wildfire-related damage, Da Nang also needs to revise its prevention strategies.
This includes strengthening the existing fire service resources, and sending more personnel to high-risk areas to quickly get to a fire and distinguish it.
Slavic writing, culture celebrated in HCM City, Hanoi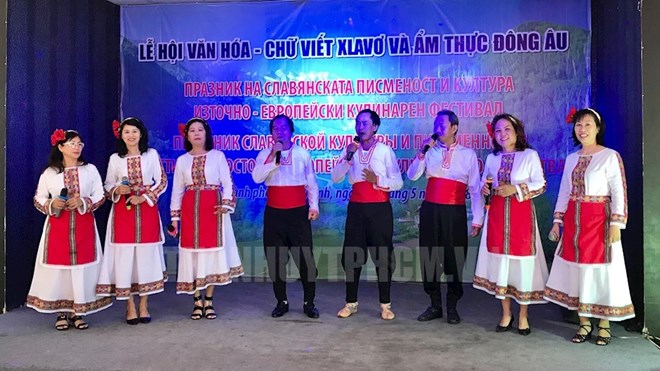 An art performance at the event in Ho Chi Minh City.
Events to mark the Day of Slavic Writing and Culture (May 24) were held in Ho Chi Minh City and Hanoi on May 26.
In HCM City, the event was hosted by the Ho Chi Minh City Union of Friendship Organisations the Vietnam-Bulgaria Friendship Association and the Vietnam-Russia Friendship Association in the city.
Speaking at the festival, Hoang Thai Lan, Chairwoman of the Vietnam-Bulgaria Friendship Association in HCM City, said the Day of Slavic Writing and Culture (May 24) is observed annually by Slavic countries to commemorate Saints Cyril and Methodius, who created the Slavic writing.
Currently, more than 250 million people across the world are using the writing system, contributing to the development of the European civilization. The Slavic countries include Russia, Bulgaria, the Czech Republic, Poland, Ukraine, Belarus, Serbia and Croatia, among others.
Chargé d' Affairs of the Bulgarian Embassy in Vietnam Marinela Petkova highlighted cooperation in politics, economy, education, tourism, culture and sports between Vietnam and Bulgaria.
The two countries boast substantial potential for economic collaboration, she said, noting that Bulgaria highly values economic achievements Vietnam has recorded in recent years.
The diplomat held that more efforts should be made to deepen the bilateral ties.
Da Nang: Dutch Day marks Vietnam-Netherlands ties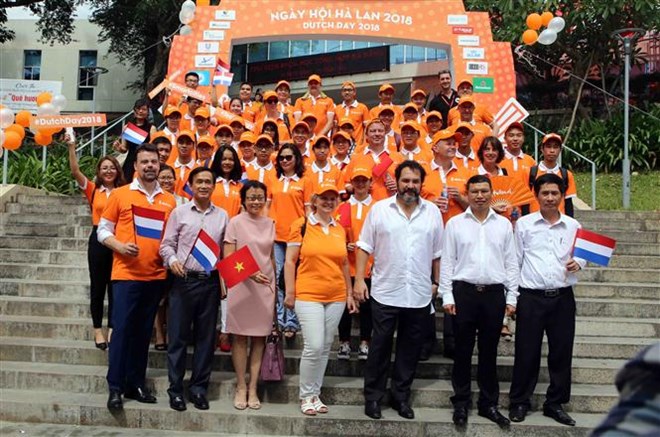 "Dutch Day" is part of the activities to mark 45th anniversary of the diplomatic ties between Vietnam and the Netherlands.
The culture and people of the Netherlands grow closer to Da Nang residents through the "Dutch Day" held in the central coastal city on May 26.
The event, held by the Dutch Embassy and Consulate General in Vietnam in collaboration with the municipal People Committee, is part of the activities to mark 45th anniversary of the diplomatic ties between Vietnam and the Netherlands (April 9).
It featured a wide range of activities, including "Bike Ride", photo exhibition, book exhibition, and information exchange on studying in the Netherlands, among others.
At the event, Vice Chairman of the municipal People's Committee Ho Ky Minh said that the "Dutch Day" will help enhance friendship and cooperation between Da Nang and Dutch localities, making contributions to fostering the bilateral ties between the two countries.
According to Dutch Consul-General in Ho Chi Minh City Carel Richter, the "Dutch Day" will continue its journey to Da Lat city in the Central Highlands province of Lam Dong in June, the northern port city of Hai Phong in September and the Mekong Delta city of Can Tho in November, focusing on agriculture, maritime and climate change, respectively.
The events will serve as venues for businesses of both sides to meet and seek cooperative opportunities, he said.
Reburial service held for soldier remains repatriated from Laos, Cambodia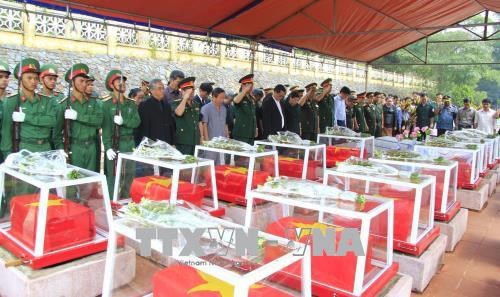 At the memorial service
The Central Highlands province of Kon Tum held a memorial service and re-buried 16 sets of remains of Vietnamese volunteer soldiers and experts who laid down their lives during wartime in Laos and Cambodia.
The event was attended by representatives from the Government's specialised committee on searching and repatriating volunteer soldiers' remains, delegations from Laos's Attapeu, Sekong and Champasak provinces, and Cambodia's Ratanakiri province.
During the 2017-2018 dry season, the search team of the provincial Military High Command repatriated 16 sets of martyrs' remains.
Of the total, 10 sets of remains were found in Rattanakiri province and six others in Laos's Attapeu, Sekong and Champasak provinces.
Many personal belongings of the fallen soldiers were found along with the remains, including rifles, water containers and combs.
Ministry marks 80 years of National Script Dissemination Association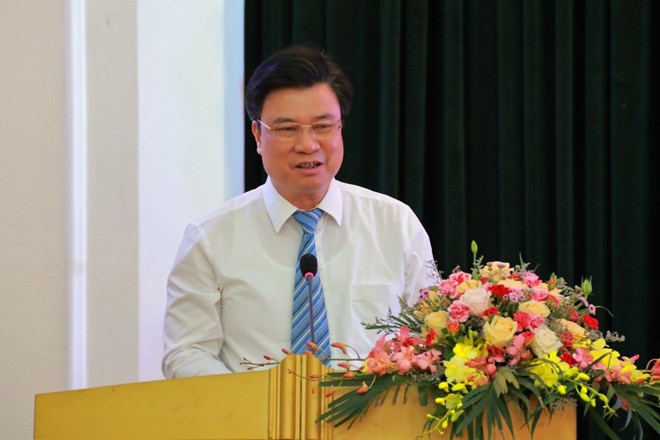 Deputy Minister of Education and Training Nguyen Huu Do
The Ministry of Education and Training held a ceremony in Hanoi on May 25 to mark the 80th founding anniversary of the National Script Dissemination Association (May 25, 1938), which is the predecessor of the continuing education sector nowadays.
Addressing the event, Deputy Minister Nguyen Huu Do said the romanised script, developed by French missionary Alexandre de Rhodes in the 17th century, became the official script of Vietnam in the early 20th century and was called Quoc ngu (national script).
But it was not until 1917 that the romanized script completely won against Han (Chinese) and Nom (modified Chinese script of Vietnam). However, up to 95 percent of Vietnam's population was illiterate at that time.
After the Communist Party of Vietnam came into being in 1930, the then Party Committee of the northern region decided to set up an organisation to fight illiteracy and invite intellectuals to take part in this organisation.
The legality of the National Script Dissemination Association was recognised on July 29, 1938. However, the organisation took May 25, 1938 as its official establishment day.
It opened the first course on September 9, 1938. From June 1940 to July 1944, the organisation ran 820 classes with 2,908 teachers and 41,118 students. Nearly 9,460 of the students had escaped illiteracy by September 1944.
The organisation began operations in the central region on January 5, 1939 and in the southern region on November 5, 1944.
After the August Revolution in 1945 that led to the foundation of the Democratic Republic of Vietnam, now the Socialist Republic of Vietnam, the mass education movement was launched, and the National Script Dissemination Association ceased operation.
Deputy Minister Nguyen Huu Do said in nearly two decades since Vietnam declared the elimination of illiteracy and universalisation of primary education, illiteracy eradication efforts have been maintained and resulted in major achievements.
The literacy rate has reached about 97.35 percent in the 15-60 age group and 92.56 percent among ethnic minority people, he noted.
At the ceremony, the education ministry also honoured collectives and persons with outstanding attainments in illiteracy eradication in recent years.
Vietnam presents gifts to Cambodia's solidarity front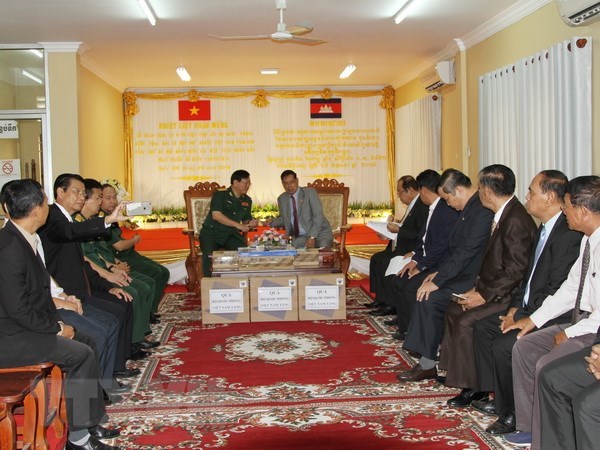 At the presenting ceremony
The Vietnamese Government on May 25 presented three cars and three sets of computers worth nearly 300,000 USD to the Solidarity Front for the Development of Cambodia Motherland.
Defence Attaché at the Vietnamese Embassy in Cambodia Nguyen Anh Dung handed over these gifts to permanent Vice Chairman of the front Nhem Valy.
Nhem Valy expressed the profound gratitude of the Cambodian people in general and the front in particular for Vietnam's assistance.
He said that the gifts will help the front contribute more to Cambodia's nation building and development as well as the country's relations with Vietnam.
Over the past years, the front has coordinated actively with the Vietnam Fatherland Front, Defence Ministry and other ministries, thus helping consolidate and develop the traditional friendship and solidarity and comprehensive cooperation between the two countries' people.
Standard Chartered raises 74,000 USD for eye care programme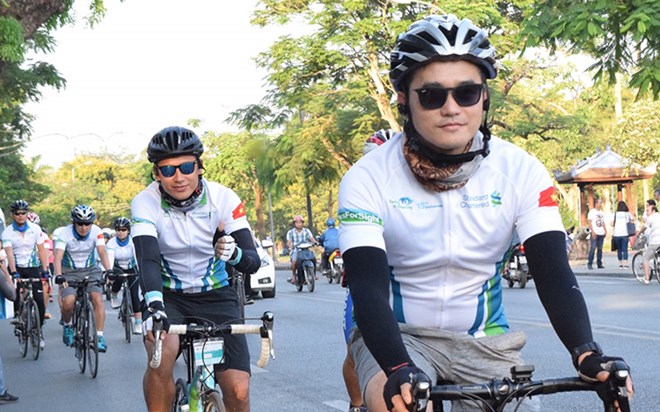 The Standard Chartered Bank (Vietnam) Limited has raised more than 74,000 USD from the "Cycling for tomorrow light" programme for its eye care programme. (Source: doanhnhansaigon.vn)
The Standard Chartered Bank (Vietnam) Limited has raised more than 74,000 USD from the "Cycling for tomorrow light" programme for its eye care programme entitled "Light is belief."
The amount is much higher than the set target of 60,000 USD. It includes the amount donated by Standard Chartered which is equivalent to the sum raised from the community. All of the proceeds will be used to fund eye care projects in countries and territories where Standard Chartered is operating, including Vietnam.
From the former imperial city of Hue, 27 staff members of Standard Chartered in Vietnam, ASEAN and South Asian countries rode across Hai Van Pass and Hoi An ancient city before reaching central Da Nang city.
"Light is belief" is a cooperation programme between Standard Chartered, International Agency for the Prevention of Blindness (IAPB) and leading eye care organizations in the world.
Since its establishment in 2003, the programme has supported 163.5 million people through medical intervention, eye-screening tests and instruction on eye care measures.
It has also provided training courses on eye care for 294,500 medical workers, carried out 167 projects in 37 countries and presented 1 million glasses to people with eye-related problems.
In Vietnam, Standard Chartered has actively coordinated with partners to support and develop eyesight rehabilitation and eye care programmes. To date, "Light is belief" has provided eye-screening tests for 2.5 million people, performed 47,000 eye operations and presented 34,6000 glasses to targeted people.
Under the programme, three projects are being implemented with total fund of 2.4 million USD, expected to benefit 2.2 million people, including workers in central Da Nang city and Quang Ngai province, students in Da Nang city, Hai Duong and Tien Giang provinces, and children and elderly people in Can Tho city and Ca Mau province.
Vietnamese firms support poor households in Cambodia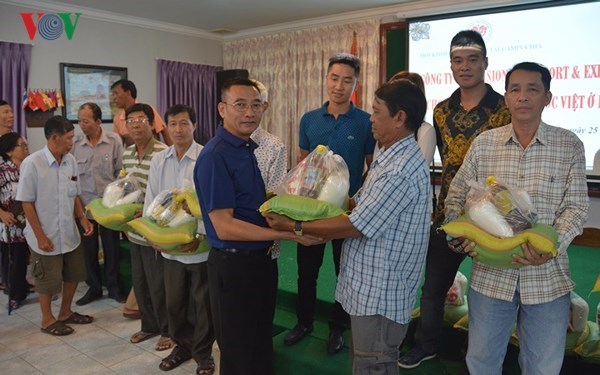 At the ceremony to present gift packages to poor people in Cambodia
Vietnamese enterprises operating in Cambodia have presented gift packages through the Association of Khmer-Vietnam in Cambodia to 100 poor households, including overseas Vietnamese and Cambodian families.
At the presentation of gifts in Phnom Penh on May 25, Chau Van Chi, President of the association, which was previously known as the General Association of Vietnamese-Cambodian People, thanked the Vietnamese businesses for the donation.
Vo Tranh, an overseas Vietnamese living in Chbar Ampov district, expressed his gratitude to Vietnamese sponsors.
Apart from this programme, the Khmer-Vietnam association will continue coordinating with Vietnamese and overseas Vietnamese entrepreneurs to support disadvantaged residents in Prey Veng province.
In recent years, many delegations of Vietnamese and overseas Vietnamese volunteer doctors, enterprises and donors have provided free medical examination and medicines for disadvantaged locals and Vietnamese expatriates in Cambodia, contributing to enhancing the friendship between the two countries and their people in particular.
Earlier on May 12, overseas Vietnamese doctors in Cambodia collaborated with local partners to provide free health check-ups and medicines to over 1,000 Cambodian and Vietnamese poor people in Kep province.
The charitable activity was funded by Vietnamese enterprises and Overseas Vietnamese firms operating in Cambodia.
The people were provided with services such as blood tests, ultrasound examination, electrocardiogram, general examination.
They also received medicines and advice on how to prevent diseases.
Those with difficult circumstances, who can't afford intensive treatment, will have their treatment funded by donors.
Kien Giang province seeks partnership with French localities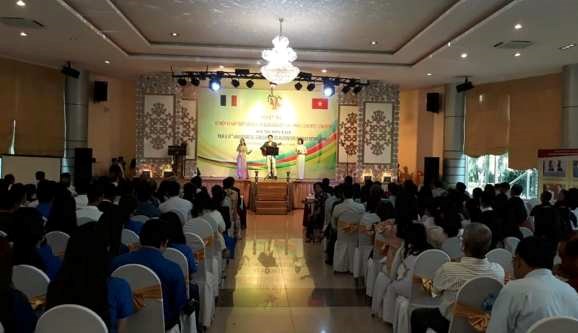 At the gathering to mark the 45th founding anniversary of Vietnam-France diplomatic ties (Source: thoidai.com.vn)
The southern province of Kien Giang wants to increase cooperation and people-to-people exchange with French localities, and welcomes French investors and businesspeople to the province, said a provincial official.
Addressing a local gathering to mark the 45th anniversary of Vietnam-France diplomatic ties on May 25, Vice Chairman of Kien Giang People's Committee Mai Van Huynh said as early as in 2012, the province signed with the French city of Lorient a Memorandum of Understanding on cooperation on fishing, seafood processing, ship building, education-training, health care, tourism and investment support.
Since then, Kien Giang has also held a number of events to promote trade and investment ties with French businesses. The province is now home to two French investment projects with combined capital of 4.3 million USD. Some non-governmental organisations of France have implemented some support projects in Kien Giang in the fields of public health, education and rural development.
Deputy Ambassador of France to Vietnam Olivier Sigaud stressed that bilateral ties are enjoying development with effective cooperation across many fields after 45 years of diplomatic relations and five years as strategic partners.
He highlighted the growing partnership in culture, education, justice, administration, economic development, and defence-security. He particularly noted that more than 7,000 Vietnamese students are pursuing education in France.
The Deputy Ambassador said Vietnam has great potential for development and investors share the assessment that the country's economy is seeing stable growth.
He affirmed that French businesses want to continue to invest in Vietnam, adding that for Kien Giang, France will promote investment in seafood processing, tourism and service.
Vietnam and France established a diplomatic relationship on April 12, 1973. France was among the first Western countries to set up ties with Vietnam and assist the country in national reconstruction.
The two countries entered into a strategic partnership in September 2013, marking a step forward in political trust and opening up new directions for close cooperation.
Mekong forum highlights technology application in agro-aquaculture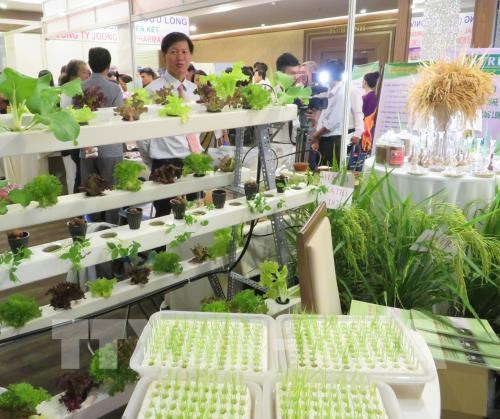 Technology and plant display in the framework of the forum
A forum discussing ways to enhance application of technologies in agriculture and aquaculture production take place in the Mekong Delta city of Can Tho on May 25.
The Mekong 2018 Forum was jointly organised by the Department of Technology Application and Development of the Ministry of Science and Technology (MoST ), Can Tho's Department of Science and Technology, Cuu Long University, and the Asia industry information association.
The event is part of a chain of events hosted by the MoST, which aims to promote technology application, transfer and innovation in the Mekong Delta region.
The forum featured introduction and demonstrations of modern and smart technologies for agriculture and aquaculture production and business networking activities for technology transfer in the region.
Dao Anh Dung, Vice Chairman of the Can Tho municipal People's Committee said that the Mekong Delta region is a key agricultural area of the country, accounting for 50 percent, 65 percent and 70 percent of the nation's rice, aquaculture and fruit yields, respectively.
The region also contributes 95 percent of rice export and 60 percent of aquatic product export of the country, he added.
However, he noted that the delta is vulnerable to challenges caused by climate change and rising sea level, which have direct impact on the production and the life of regional people.
Dung stressed the need to shift the way of thinking in agricultural production from ensuring food security to large-scale and modern agricultural production to meet market demand.
MoST Deputy Minister Tran Van Tung said thanks to application of science and technology in agricultural production, regional research institutes and enterprises have created many varieties of plants and animals with high economic value, along with advanced production technologies, suitable with regional characteristics, thus developing key products with high competitiveness, contributing to promoting sustainable socio-economic development in the region and the country in general.
Participants, however, pointed out that science and technology have yet to become the main driving force of socio-economic development in the Mekong Delta.
They suggested promoting research, transfer and application of technologies in agricultural production in the region, focusing on new and smart technologies, automation technology solutions basing on the IoT platform such as Unmanned pesticide spraying aircraft; plant / animal quality monitoring system via smartphone, and precise irrigation technology.
It is both the current trend and a compulsory solution to increase productivity, product quality, and shift to modern agriculture.
Vietnam works to ease childhood micronutrient deficiency
Statistics show that the stunting rate in Vietnam remains high at 24.3 percent, while obesity in urban areas is rising rapidly. Public awareness of nutrition is said to be low.
Vegetable, meat, shrimp and fish are basic kinds of nutrition that mothers normally choose for their children in daily meals. However, not many of them know how much nutrition is enough. Many mothers think kids need to gain weight to be healthy.
Tong Thu Thuy, a mother of two living in Ninh Binh province said it was hard to know how much nutrition is enough. If we want our kids to gain weight, maybe we have to consult doctors, she added.
Sharing the viewpoint, Le Thi Loan, another mother in Ninh Binh province told reporters: "It's difficult to know, only by doing test. I can only let them eat vegetables, fruit, meat and fish, that's it."
Childhood malnutrition is now concerning experts. Data show that as many as 13 percent of under five children in Vietnam now don't get enough Vitamin A, while the rate of zinc deficiency is up to 70 percent.
According to Prof. Dr. Nguyen Thanh Long, Deputy Minister of Health, Vietnam is now facing a serious deficiency of Vitamin A and folic acid. Nutrition imbalance between regions is also worrying us. The Ministry of Health launches campaigns every year to give more children Vitamin A, since the rate of vitamin A deficiency is still high.
As many as 1 million Vietnamese children receive vitamin A during the annual campaign in all cities and provinces nationwide. However, the vitamin supplement is conducted during campaigns, not regularly.
Malnutrition cause negative effects on children's health and development. Increasing micronutrients in daily meal is the simplest and most sustainable way to improve the height and physical health of Vietnamese people.