16 injured in head-on collision between truck, bus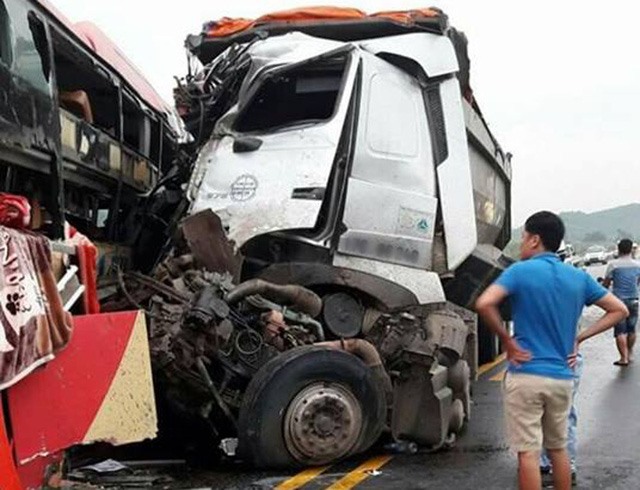 The scene of the head-on collision between a truck and a bus on Hà Nội-Lào Cai Highway. – Photo otofun

An accident between a truck and a sleeper bus that was travelling in the opposite direction on Hà Nội-Lào Cai Highway left 16 injured early this morning.

Trần Xuân Quyết of the Traffic Safety Committee in northern Yên Bái Province said at about 1am this morning, the bus, travelling from Hà Nội to northern Lai Châu Province, collided with the truck, which was moving in the opposite direction, in Trấn Yên District.

The collision injured all 16 passengers and the drivers. Six people were taken to the provincial General Hospital for emergency treatment.

Both vehicles were seriously damaged from the front.

Phu Yen asks units to dredge port channel

Phú Yên Province's People's Committee has asked relevant units to promptly conduct dredging of Đông Tác Port's entrance channel to ensure arrival and departure of hundreds of vessels to/from the port during this stormy season.

The instruction was issued after fishermen in Tuy Hoà City repeatedly complained about the serious sand clogging of the port's channel and asked the authorised agency to conduct dredging at the port.

Dredging would be conducted along 700m of the port's channel at a depth of 3.2m. Total sand clogging on the channel was estimated to be more than 132,000cu.m.

Work would be carried out from now until October 20, it said.

Currently, nearly 600 vessels use the port.

The committee has assigned Tuy Hoà City's People's Committee to be the investor to mobilise funds for the project.

Previously, local press reported that Đà Diễn Estuary in Tuy Hoà City is clogged with silt, preventing hundreds of vessels from approaching and leaving the port. Many vessels were reportedly stranded, causing losses of billions of đồng.

Đông Tác Port, which is located inside the estuary, was built in late 2015 with investment capital of more than VNĐ54 billion (US$2.3 million). However, the exploitation of the port remained ineffective due to regular sand clogging at the entrance channel.

Vietnamese students join SCG International Internship 2017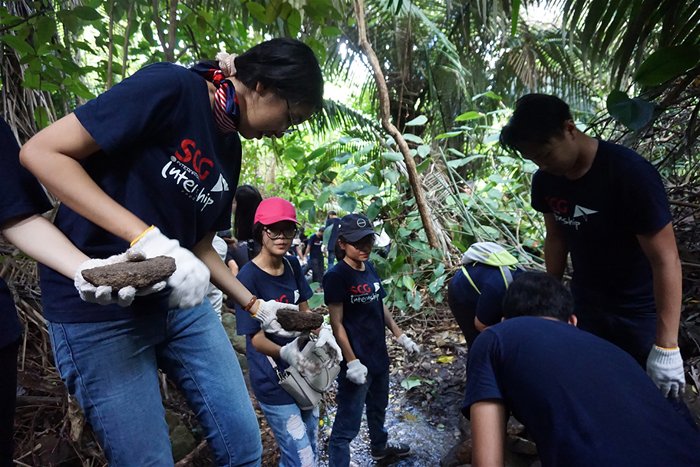 Vietnamese students take part in a one-month internship at SCG's leading business units in Thailand - PHOTO: COURTESY OF SCG
Twelve outstanding Vietnamese students have just returned from their one-month internship at subsidiaries of Thailand's SCG. Together with other 30 students from all over ASEAN, the Vietnamese students have participated in a wide range of activities designed to help them become more curious, open-minded, professional and knowledgeable.

The students, who were from many universities in Vietnam and specialized in different majors such as engineering, marketing, business administration, human resources, and law were assigned to different subsidiaries and departments of SCG in Thailand.

As interns at SCG, students were engaged in meaningful activities to contribute to society, such as tree planting or building dams to keep water for local people. They also visited SCG petrochemical complex, and explored the latest trend in the building materials industry in its unique SCG Experience Center.

SCG sees Corporate Social Responsibility (CSR) as one of its core activities besides business development. This well-designed program helps open their mind to accept new experiences and learn the best of others to improve themselves.

The SCG International Internship is an annual program brought by SCG to students all over ASEAN. After two selection rounds, chosen students are sponsored to join a one-month internship at SCG's leading business units in Thailand.

For next year application, students can follow on SCG Sharing The Dream – SCG Chung Mot Uoc Mo Fanpage at www.facebook.com.vn/scgchungmotuocmo.

Vietnam, Australia partner to enhance gender equality

Vietnam's Centre for Gender Studies and Women's Leadership (GeLead) and the Australian government-funded Vietnam-Australia Human Resource DevelopmentPartnership (Aus4Skills) signed an agreement on promoting gender equality in Hanoi on September 7.

Addressing the signing ceremony, Deputy Director of the Ho Chi Minh National Academy of Politics, Le Quoc Ly, said the two sides have agreed on cooperation in training and research, developing curricula on gender-based leadership and management and other activities.

Gender-based leadership and management training will be included in an advanced political theory analysis programme, Ly said, adding that the programme will promote gender equality and increase the number of female leaders in Vietnamese politics.

He called on the two organisations to produce reports on increasing gender equality in provincial leadership and management.

Ly also suggested Vietnam learn from the experience of Australia, and its private sector in human resource development.

Australian Ambassador to Vietnam Craig Chittick highlighted the development of ties between Vietnam and Australia, reflected in the growing bilateral trade partnership.

The cooperation between the two organisations is part of activities to realise the two nations' efforts to empower female leaders.

Accordingly, Aus4Skills will assist GeLead in researching and developing curricula while boosting cooperation among Australian agencies in implementing women's leadership initiatives.

Vietravel offers free walking tours for foreign tourists

Local tour operator Vietravel has said it will provide free walking tours for international tourists to HCMC and other major tourist destinations such as Hanoi, Hue, Danang, Hoi An, Can Tho and Phu Quoc.

The first 11 tours in HCMC will last 1-1/2 hours to three hours on weekends, and take in the most popular destinations. English-speaking tour guides will let participants experience people's daily activities.

According to Vietravel, the program is aimed at boosting the company's publicity and wooing more foreign visitors to the city and the country as a whole.

The program could be open to domestic tourists later.

The company today introduces four free walking tour programs in HCMC at the International Tourism Expo HCMC (ITE HCMC). A three-hour tour in the morning will guide international tourists through Dong Khoi Street, the Opera House, the Notre Dame Cathedral, Ben Thanh Market and the City Hall. The Reunification Palace, the Notre Dame Cathedral, the central Post Office, the Museum of Vietnamese History and Tan Dinh Market are included in another walking tour, which also lasts three hours.

Women's Unions of Vietnam, Laos seek to foster cooperation

Chairwoman of the Vietnamese Women's Union (VWU) Nguyen Thi Thu Ha and her Lao counterpart Inlavan Keobounphan discussed cooperative measures to prevent human trafficking and violence against women and children at talks in Vientiane on September 7.

Both agreed to intensify the exchange of high-level delegations, sharing information and experience, and educating the two countries' women about bilateral relations.

They also decided to maintain close coordination at regional and international forums, working together to safeguard border security and building a border of peace, friendship and stability.

After the talks, the two sides inked a cooperation agreement for 2017-2022, which includes measures to tighten collaboration between the unions, thus nurturing Vietnam-Laos relations.

On the occasion, the VWU presented gifts to the Lao Women's Union and Lao heroic mothers.

The VWU delegation is paying a working visit to Laos from September 5-10.

'Vietnam Night' opens int'l tourism expo, impresses foreign tourism businesses

International Travel Expo HCMC 2017 (ITE HCMC 2017) is running from September 7- 9 at the Saigon Exhibition and Convention Center.

'Vietnam Night' – a gala dinner with the 'Amazing Country' theme – was the opening night for International Travel Expo HCM City 2017.

The night with significant performances impressed many foreign participants on September 6.

The gala dinner was a combination of modern and traditional Vietnam: colorful bright lights and traditional music that greatly impressed many international businesses from the tourist industry in the region.

The performances successfully sketched out the beauty of Vietnam with 54 ethnic groups, incredible scenarios, historical monuments, significant culture, and friendly people.

The gala dinner used the modern colorful lighting to put emphasis on traditional factors.

The night soon became a 'light party' full of colorful bright lights on the stage and cultural exposure to the world.

Participants had the chance to enjoy significant traditional performances from many parts of the country, including traditional operetta and folk music. It was almost as if they were brought to the central region of Vietnam through Hue's court music, and stopped in the south of the country to enjoy southern folk songs.

The songs were performed in an auditorium with traditional musical instruments such as dan tranh (traditional zither), dan bau (traditional stringed instrument) and dan ty ba.

Some of the internationally well-known songs were also covered with the traditional instruments to excite the audience and show Vietnam's willingness to integrate globally.

In the ao dai (traditional long gown) performance, four other countries participated to strengthen the bond between countries, and to show Vietnam's hospitality.

The performance was named "Five Nations – One Destination" with the participation of Laos, Cambodia, Myanmar and Thailand.

During the night, Vietnam Airlines announced it had been evaluated as a four-star airline in December 2016.

The gala night attracted over 300 tourism companies, 40 foreign journalists, and officials from four countries along the Mekong River: Laos, Cambodia, Myanmar and Thailand.

Moreover, representatives from the People's Committee of Ho Chi Minh City and Minister of Culture, Sports and Tourism Nguyen Ngoc Thien also attended the event.

International Travel Expo HCM City 2017 (ITE HCMC 2017) is running from September 7 to 9 at the Saigon Exhibition and Convention Center (SECC) in District 7.

The event is themed "Key to Tourism in Asia" and will host over 700 tourism companies in 300 booths from 18 countries and territories.

ITE HCMC 2017 is an important annual international tourism event in Vietnam organized by the Vietnam National Administration of Tourism (VNAT) and the Ho Chi Minh City Department of Tourism.

The event attracts many international and regional businesses as it is considered to be a chance for the firms to get together and discuss new trends, potentialities and developments of the industry.

ITE HCM City 2017 is the 13th edition of the annual event.

This year, the organizers aim at providing participants with inspiration to work together for more opportunities.

In the upcoming days, there will be a great number of activities for businesses.

High-ranking tourism officials from five countries (Cambodia, Laos, Myanmar, Thailand and Vietnam) will join Ayeyawady-Chao Phraya-Mekong Economic Cooperation Strategy (ACMECS) to discuss potential cooperation.

A number of administrations and businesses will confer on the development of tourism forms like MICE (Meetings, Incentives, Conferences, and Events), or the development of potential tourism markets such as China, Germany and Italy.

Vietnam hopes for stronger ties in culture, sports, tourism with Italy

Vietnam wants to enhance cooperation with Italy in tourism promotion, cultural exchange, heritage preservation and sports, Minister of Culture, Sports and Tourism Nguyen Ngoc Thien told Italian Deputy Minister of Cultural Heritage and Activities and Tourism Donari Bainchi on September 7.

At the meeting in Ho Chi Minh City, Thien appreciated Italy's assistance to Vietnam in restoring world cultural heritage site My Son Sanctuary, asking the European nation to continue supporting his country to protect and restore UNESCO-recognised cultural heritage.

Vietnam is ready to coordinate with Italy in exchange programmes and sharing experience in art performance, music and sports, he added.

Hailing Italy's cultural values and tourism potential, Thien expressed his hope for cooperation with the country to expand tourism promotion programmes and create favourable conditions to increase Vietnamese and Italian tourists to each other's countries.

Deputy Minister Bainchi pledged to step up cooperation in training preservationists and sending experts to Vietnam to get directly involved in restoring local historical and cultural relics. Italy is also ready to organise sports cooperation programmes such as a sports summer camp for Vietnamese youth to attend short-term football training courses in Italy.

She said she is impressed with Vietnam's landscapes and tourism potential, asking the Vietnamese Government to provide more optimal conditions for tourism promotion activities such as extending the validity of visas into Vietnam for Italian tourists or allowing Italian tourists to exit and enter the country many times.

The two officials agreed to step up coordination to successfully organise Vietnam's tourism promotion programme in Italy this October and the Italian Culture Week in Asia in Vietnam one month later.

Gold smuggling ring busted

Hà Nội Police have busted a gold smuggling ring and put all six suspects in custody for further investigation.

The six suspects, Chu Thành Long, 27, Lê Trung Khánh, 57, Lê Thị Ngọc Mai, 45, Nguyễn Anh Tuấn, 59, Bùi Xuân Thanh, 49, and Hoàng Văn Thắng, 45, are all from Hà Nội.

At 8pm on August 25, they were found with undeclared golden jewellery hidden on their bodies at Nội Bài International Airport. The jewellery included bracelets, necklaces and earrnings weighing a total 28.5 kilogrammes.

At the police station, the suspects alledgedly admitted that they brought the jewellery from Hong Kong to Việt Nam, and planned to store the gold at Mai's house. They were paid VNĐ10 million (US$440) per person.

The police raided Mai's house and seized VNĐ 480 million ($21,120) and $20,000 in cash, about eight kilogrammes of gold jewellery and some documents.

'Hanging lakes' provide water for plateau residents

The Đồng Văn Karst Plateau in the northernmost province of Hà Giang, with its mountainous terrain, rocky soil and virtually non-existent supply of underground water, suffers from severe water shortages, especially during the dry season.

But thanks to a government project to build dozens of "hanging lakes" to store freshwater, thousands more people now have reliable access to water year-round.

The stone plateau spans 2,356sq.m across the four districts of Mèo Vạc, Đồng Văn, Yên Minh and Quản Bạ. These districts, with high concentrations of ethnic minority populations, are among the six poorest districts of the province, as well as the country as a whole.

With a poverty rate of above 50 per cent, the four districts are eligible for a special government support scheme, the programme 30A – a collection of comprehensive poverty alleviation efforts effective since 2008.

With support from 30A, the so-called "hanging lakes" – freshwater reservoirs – have been built to store water collected from streams formed on the surface of the mountains during the rainy season. The first one, the 3,000cu.m Xà Phìn reservoir in Xà Phìn Commune of Đồng Văn District, was built in 2002, six years before the programme 30A. Four years later, another one was built in Tả Lủng Commune of Mèo Vạc District with total capacity of 30,000cu.m.

Proving greatly popular with locals, the construction of these reservoirs has been included under the programme 30A budget.

In a 10-year period from 2007 to 2017, in four provinces, 115 "hanging lakes" with a total capacity of 406,000cu.m have been built, supplying clean water for 24 per cent of the population of 70,000.

According to the plan, Mèo Vạc District has 26 lakes, Đồng Văn District has 41 lakes, 26 for Yên Minh District, and 22 for Quản Bạ District. The approved budget for the construction of these lakes reached VNĐ1.3 trillion (US$57.2 million), VNĐ252 billion ($11.08 million) short of estimated costs.

Today, 73 lakes have been officially completed, construction cost sheets for 20 further lakes have been finished, and another 22 lakes are being built or soon will be.

From 2017-20, from these 'hanging lakes,' the Hà Giang Province aims to provide access to water to 95 per cent of the population in the four districts, with each person able to use up to 40 litres a day.

HCM City starts District 2 bridge construction

Construction of a bridge between Mai Chí Thọ Street and Diamond Island in District 2 began in HCM City on Thursday.

The four-lane bridge over the Giồng Ông Tố River will be 291 metres long and 22 metres wide and cost VNĐ175 billion (US$7.7 million).

Scheduled to be completed in 11 months, it is expected to ease traffic on Đồng Văn Cống Street and areas around Cát Lái Port, Lê Ngọc Hùng, director of Urban Traffic Management Board No.2, the project manager, said.

The bridge is part of a larger project to develop transport infrastructure, including streets, along the Sài Gòn River.

The new streets will link up with existing ones in residential areas in the district.

The project will cost VNĐ493 billion ($21.6 million), with funding coming from both the city's coffers and enterprises expected to benefit from it.

Speaking at the ground breaking for the bridge, Trần Vĩnh Tuyến, vice chairman of the city People's Committee, instructed the transport department and other relevant agencies to closely monitor construction to ensure safety.

Describing it as an important project, he said it should be completed on schedule.

Veteran Anh wins VTV tournament's sixth stage

Veteran Đỗ Tuấn Anh won the sixth stage of the VTV International Cycling Tournament yesterday.

Anh of Domesco Đồng Tháp finished the 158km stage from Quảng Bình Province to Huế in a time of 3hr 42.33min.

He was followed by Huỳnh Thanh Tùng of Military Zone 7 and Mai Nguyễn Hưng of VUS-HCM City.

Yellow jersey holder Lê Văn Duẩn of VUS-HCM City crossed the finish line six minutes after the top three. His poor result cost him the leading position, which went to Changpad Kritsada of Infinite Ais Cycling from Thailand.

Kritsada had a best time of 16:35.08.

However, Duẩn still holds the green jersey, winning 99 points after six stages.

"Tuấn Anh is a senior cyclist, but he is a good sprinter – he used to be the best sprinter in Việt Nam. He often won this stage in previous years' tournaments," Trần Văn Quýt said about his player's remarkable win.

"Furthermore, the Malaysian crew toured very well today. Due to their tactics, leading cyclist Duẩn and his teammates failed to break away. This is however a good chance for Tuấn Anh to win the stage," he said.

In the team ranking, Philippine Navy Standard Insurance Team are on top, followed close behind by VUS-HCM City and Korail Cycle Team.

The riders will have a day off today before returning to the race with the seventh stage from Huế to Tam Kỳ City of Quảng Nam Province.

Opportunity for Vietnam startups to join BootCamp in Finland

Outstanding startups selected from the Pitching Slush Global Impact Accelerator (Slush GIA) 2017 Pitching competition will represent Vietnam at the BootCamp in Helsinki, Finland on November 25 - December 2.

Slush GIA 2017 in Vietnam is a playground for startups in the Mekong region.

The competition aims to support young startups, which deals with urgent social issues in health care, environment, food safety and human rights.

These startups must focus on creative and sustainable solutions based on scientific and technological foundations to improve the quality of people's life. Selected startups must have potential to become a successful social business in the future.

Selected startups will be covered all fees to join BootCamp in Finland under the guidance of world leading experts. Besides, they will take part in business training courses with successful entrepreneurs from the EU and get tickets to attend Slush GIA 2017.

The organizers gave some criteria for startups to compete at Slush GIA 2017 in Vietnam such as having visions to handle urgent issues in the society and serve the development of the community, and solutions to pursue sustainable development.

Startups which want to join the completion must complete registration forms before September 15, 2017. Twenty young startups will be selected to compete at the final round on October 27 at the White Palace in Ho Chi Minh City.

Last year, 14 Vietnamese startups competed at Slush GIA 2016 like Apotta, Beeketing, Foody.vn.

Police senior lieutenant killed while tackling blaze in HCM City

Police senior lieutenant Pham Phi Long was killed while combating the fire at a two-storey house in Binh Tan district, HCM City on September 7, said Colonel Le Tan Buu, director of the municipal Fire Fighting and Prevention Police Department.

Mr Buu said the house which suddenly collapsed while the firefighters were trying to extinguish the fire on the first floor killed the senior lieutenant and injured two other policemen who were trying to combat the blaze.

Roughly 100 fire fighters were mobilized to the scene to extinguish the fire. The 500-square metre house with clothes and groceries stored inside was completely destroyed. The owner was absent from the house, said local officials.

Saigon customs seize 1.3 tons of smuggled ivory

Customs authorities in Ho Chi Minh City discovered 1.3 tons of ivory hidden in asphalt barrels on September 6 that was on its way from Benin in Africa to Cambodia.

The barrels belong to a company based in the city and were said to contain asphalt on the customs declaration.

The illegal shipment was being unloaded at Cat Lai Port in District 2 when customs officers noticed some irregularities.

On inspection, officers found hundreds of pieces of ivory carefully hidden under a thick layer of sawdust that was covered in plaster in 14 of the barrels.

Le Nguyen Linh, deputy head of the customs department at Cat Lai Port, said this is the first time the department has discovered smuggled ivory in barrels of asphalt, calling it "a new trick".

Police are working on the case.