Committees in charge of housing projects set up
The People's Committee of HCM City has recently established two committees at district and municipal levels in charge of the approval of future social housing projects.
The People's Committee said all applications for purchase and lease of social accommodation would be under the management of both committees to ensure compliance with the law and transparency of application approval.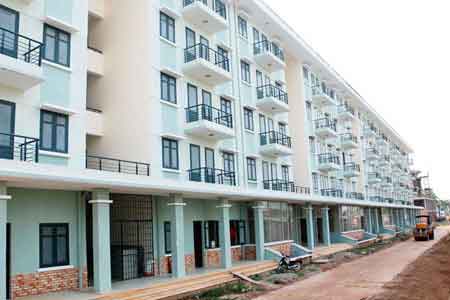 The People's Committee of HCM City has recently established two committees at district and municipal levels in charge of the approval of future social housing projects.— Photo phapluattp.vn
Up to mid-April, the city has received nearly 800 applications from those with a demand for social housing, including public officials, people working in military forces and workers from more than 50 companies across the city.
The city, in response, has recently approved 113 applications, allowing the applicants to purchase apartments at the price of VND11 million (nearly US$530) per square meter in an apartment building in District 10's To Hien Thanh Street.
According to the municipal Department of Construction, up until the beginning of April, the department has received 20 cases of commercial housing projects which were submitted for conversion into social housing and approved nearly 10 projects among these.
HCM City aims to facilitate the purchase of more than 20,000 apartments for people with demand for inexpensive housing from present until 2015.
By the end of year, the city plans to enable the purchase and lease of 4,000 apartments.
Over EUR1.2 million for reproductive health care of working women
The southern province of Dong Nai has received a project on providing reproductive health care for at least 16,000 women workers in Dong Nai and the neighbouring province of Binh Duong until 2015.
The European Union will fund 80 percent of the project's total budget of more than EUR1.2 million, which was signed on April 15 between Marie Stopes International Organisation in Vietnam, the Community Reproductive Health Centre and the health department of Dong Nai.
The project will help improve the capacity of 40 public and private health care establishments in order to create a network providing quality services relating to reproductive health and birth-control, at acceptable expenses for workers and the local population in the two provinces.
After having been tested in Dong Nai and Binh Duong province, the model will be applied at other businesses through the nation.
Educational activities will also be carried out to increase workers' awareness of reproductive health and birth-control through peer education networks.
There will be a hotline service to help worker understand the importance and the availability of the reproductive health care services in the province.
City to improve medical stations
The medical station in An Thuong Commune has only three beds for patients and one bed for medical workers.
All of the beds are old and fail to meet hygiene standards, said Hoang Thi Phuc, director of the Hoai Duc District Health Department.
Moreover, medical workers and patients in the station, which was built in 1990 and has not since been upgraded, have only one old toilet to share.
Ha Noi's health sector plans to spend VND68 billion (US$3.2 million) this year on improving medical stations, according to the municipal Department of Health.
Funds from the city budget will be used to upgrade 45 medical stations citywide, including the one in An Thuong Commune.
"The district had trouble getting capital for repairs from investors due to the complicated procedures and the lack of relevant policies. So we must wait for funds from the municipal authorities to repair any stations," said Phuc.
With the funds, the district plans to build more rooms to separate areas with different functions. In many stations, health checks are currently conducted in the same room as injections and administrative work.
Moreover, clean water systems will be installed in the Tien Yen Commune station as well as other stations that currently lack access.
Director of the Thanh Tri Health Department Nguyen Ky said that local medical workers did not know how to use a lot of health equipment in medical stations.
He suggested that in addition to upgrading infrastructure, the city allocate funds for improving medical workers' ability to use modern machinery.
Most medical stations in the district are less than 50sq. m, even though the Ministry of Health regulated that a medical station must be at least 60sq.m.
Last year the municipal health sector spent VND21.8 billion to upgrade 27 health check wards in various hospitals.
Australian Questacon show to stimulate sci-tech interests
A Spectacular Science show of Questacon will take place in the central city of Da Nang on April 16-18 as part of activities to mark the 40th anniversary of Vietnam - Australia diplomatic ties.
In addition, there will be a series of seminars featuring science-technology training as well as Vietnam - Australia education partnership to help Vietnamese teachers improve their interactive professional skills.
The event is organized by Australia's National Science and Technology Centre.
The event will display 46 interactive exhibits in the field of science and technology relating to light and sound, human biology, force, and motion.
Questacon's show will also be held in Hanoi from April 24-27. Earlier, it was successfully organised in Ho Chi Minh City from April 10-13.
Ha Noi inspects collective kitchens
Six inspection teams have been set up to check collective kitchens in Ha Noi during the Action Month for Food Safety and Hygiene from April 15 until next month.
In addition to the reinforced inspections of collective kitchens in industrial parks, universities and colleges, the city will also ask enterprises to obey food safety and hygiene regulations.
Around 2,000-2,500 people get food poisoning in collective kitchens every year, according to the Health Ministry.
HCM City affirms that river tunnel is safe
The HCM City Board of Investment in Urban Traffic Works said on Monday that the Saigon River Tunnel is now safe for traffic.
The recent leak was caused by the partial obstruction of the tunnel's drainage system, which has been dealt with by the Japanese contractor Obayashi Corp.
The Saigon River Tunnel was built with capital from the Japanese ODA, in conjunction with a consortium of Japanese contractors, and put into operation in November 2011.
Accor hotels support street children
Employees from seven Accor properties in northern Viet Nam will repaint a five-story shelter for street children in Ha Noi on Thursday.
The event will support Blue Dragon Children's Foundation, an Australian charity based in Ha Noi that works with street children and victims of child labour and human trafficking.
The foundation provides safe spaces, education and opportunities that enable the most disadvantaged children in the country and their families to be treated with respect and to break out of poverty forever.
Each hotel has also donated funds to purchase rice to support Blue Dragon's free meals for the street children.
Woman arrested for child kidnapping
Ha Noi Police has arrested a woman for the alledged kidnapping of a child in Thanh Xuan District.
According to local inspection agency, Nguyen Thi Sinh, 34, from northern Hai Phong Province's Kien Thuy District, colluded with a 59-year-old Taiwanese man to kidnap his son last December. The boy, who was living with his mother in Viet Nam, was brought to northern Hai Phong Province and cared for by the kidnapper's sister before being rescued last month.
The case is currently under investigation.
VNN/VOV/VNS/VNA