Some 300 construction officials and inspectors in HCMC have been officially warned, demoted or fired for their violations in recent years, according to an announcement by the internal affairs unit of the HCMC Party Committee.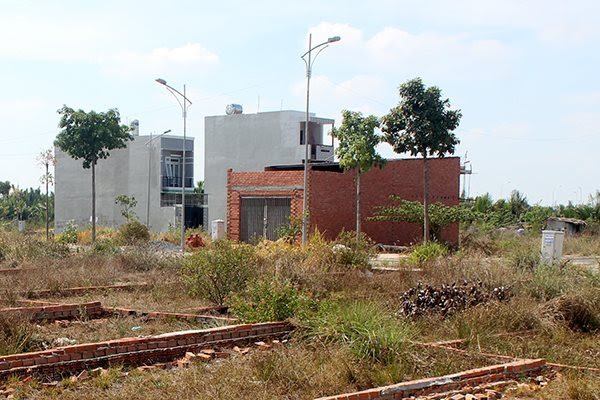 Unlicensed housing works are mainly mushrooming in the suburbs of HCMC
Held by the HCMC People's Committee, the teleconference was aimed at developing comprehensive solutions to improve the State management of construction in the city.
Among those subject to disciplinary measures, one individual was given a year behind bars for accepting bribes.
The city's internal affairs unit stated that acts of corruption in the construction sector are rampant since both bribe givers and takers profit.
The bribe amounts are usually petty, ranging from hundreds of thousands of Vietnamese dong to several million, so accusations from members of the public and the involvement of anticorruption agencies yield few results.
Surge in unauthorized construction
The local government granted nearly 126,400 construction permits between early 2017 and June 2019, said Le Tran Kien, deputy director of the HCMC Department of Construction.
Kien noted that construction permits for detached houses accounted for a whopping 89% of the total, which indicated the strong demand for housing among local residents.
Over this period of time, the city saw 6,830 construction projects flouting prevailing regulations.
Among them, more than 3,320 works were developed without permission, though their plots of land were eligible for construction licenses. Meanwhile, over 2,570 others were illegal constructions built on
plots whose use purposes had yet to be changed to residential or service land or on plots where construction was not authorized.
The department and some district-level authorities pointed out that the city's fast urbanization and rapid population growth have led to increased demand for housing, especially among low-income earners.
The situation has led to sales of agricultural land and the illegal division of land into smaller plots for sale, resulting in illegal construction on this kind of land.
The leader of the construction department also pointed to grassroots authorities that he claimed have yet to take responsibility for construction management.
"For unlicensed construction cases, they are in part due to the inadequate management of local authorities. Civil servants who are assigned to manage these areas have not fulfilled their responsibilities, while their professional ability remains limited," Le Tran Kien said.
Other delegates also suggested electricity and water cuts to stop illegal construction works and the rejection of business licenses or ownership certificates for their owners. SGT
Le Anh

HCM City authorities are considering imposing stricter penalties on individuals and companies that violate regulations on construction projects.