Nguyen Thi Hong Cuc proves that education truly is a lifelong process.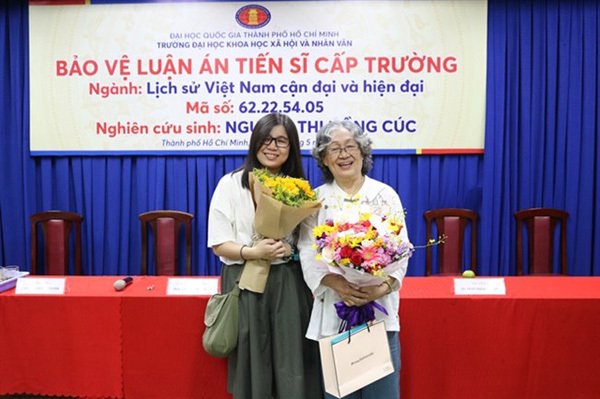 Nguyen Thi Hong Cuc (right) at the thesis defence in May last year. Photo the Voice of HCM City People
In May last year, Cuc earned her doctorate from HCM City University of Social Sciences and Humanities with a doctoral thesis on the development of non-public universities in HCM City at the age of 68. 
She was named on the list of 20 most inspirational women in Vietnam in 2021 released by Forbes Vietnam magazine recently.
"Not giving up her passion, at the age of 68 and just recovered from a stroke, she successfully defended her doctoral thesis after seven years of research," wrote Forbes Viet Nam about Cuc.
Indeed, Cuc is one of the oldest graduates from her university and in Vietnam to date.
After graduating from the University of Literature in 1975, Cuc didn't do anything related to her philosophy degree but went to Dong Nai Province's Bien Hoa City to do farm work.
However, 10 years later, she decided to back to the Social Science Institute for a master's degree in history due to her passion for learning.
Then she worked as a lecturer at Hung Vuong University and was responsible for consultant and enrolment activities.
After retiring in 2012, she wanted to research the non-public university system. Cuc wanted to interview knowledgeable people in this field but was turned down because people didn't clearly understand the purpose of the interview.
"That's the reason why I decided to enrol in a PhD programme majoring in Vietnam's early modern and modern history at the University of Social Sciences and Humanities under Vietnam National University HCM City in 2013.
"As a postgraduate, I had the chance to meet a lot of people, including former ministers of education and training," she said.
In her dissertation, Cuc outlined an overview of the non-public universities in HCM City. It included the Government's policies and the formation and development of this type of universities. The dissertation clarified emerging problems in the organisation and management of non-public universities as well as their contribution to the city. It also pointed out achievements, shortcomings and suggested several solutions.
She emphasised the development of the non-public university model was indispensable for the country's development cause.
"The development of non-public universities in HCM City now and in the near future is likely to expand quickly due to the market's huge demand for labour," she said.
These schools would enter a period of effective operation in the near future, she said, adding that with special advantages, schools in HCM City would grow faster.
Cuc said she started writing the thesis in 2016 but faced a lot of difficulties in finding statistics.
During this time, she travelled to Hanoi many times to look for information at the Ministry of Education and Training and National Archives Centre.
For her, the biggest obstacle has been her deteriorating health.
"I don't think older people are more knowledgeable than young ones but due to my old age, everyone is very enthusiastic to help me," Cuc said.
The challenges in finding the resources, along with old age problems, threatened her ability to complete the programme. However, she accomplished it.
"It took a lot of efforts, support and understanding from lecturers, tutors and the History Faculty," Cuc said.
Luu Van Quyet, Dean of the History Faculty of the university, praised Cuc and her work at the university.
"We appreciate Cuc's great determination and efforts over the past seven years. Cuc enrolled on the doctoral programme when she was 63 years old and now she is nearly 69 years old.
"There were times when we thought she would give up because she suffered a mild stroke after the preliminary round of her thesis defence. However, she still strived to make it through the final round."
During the thesis defence session which lasted more than three hours Cuc remained calm, gave a good presentation and answered all the questions raised by members of the thesis committee, he said.
"This proved that she was serious in her studies regardless of her age and she acted as a motivation for the younger generation to follow.
"Cuc is a shining example for all of us to never give up the thirst for learning," Quyet said.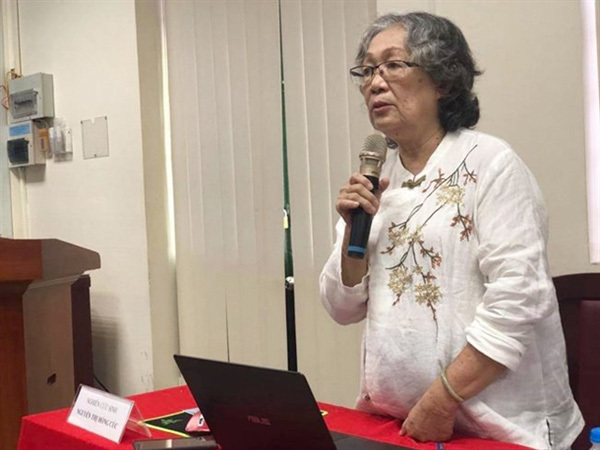 During the thesis defence session which lasted more than three hours 68-year-old Nguyen Thi Hong Cuc remained calm and answered all the questions raised by members of the thesis committee. Photo http:// voh.com.vn
According to Vo Van Sen, one of Cuc's two advisors, who is also the former principal of HCM City University of Social Sciences and Humanities, there are two trends in the world. The first is that young people study and defend their doctoral thesis when they are young.
The other trend is people who have devoted themselves to their sector, accumulate knowledge and experience, then when they retire they go back to university to continue studying and publish their lifelong scientific works.
"This research is not like that of young graduate students. It is considered a lifetime accumulation of expertise in the form of a doctoral thesis.
"Nguyen Thi Hong Cuc is a typical example. She has worked in the education sector most of her life. Her thesis is a combination of her experience and research of her whole life," Sen said. 
Her thesis is completed but Cuc still keeps the habit of going to the library every day, reading books and looking for documents.
She plans to continue researching some topics including journalism, religion and culture in ancient Sai Gon.
"Studying makes me comfortable and shrewd in my old age. For me, a PhD is not as important as completing scientific research that I have been fond of for a long time", she told Thanh Niên (Young People) newspaper. 
VNS

An elderly woman in District 8 in Ho Chi Minh City decided to continue her study at a Van Hien University in her sixties.  

An elderly teacher is organising free classes for disadvantaged people in Binh Duong Province.