14 winners of the 2019 ASEAN-Korea Academic Essay Contest have visited Vietnam under the framework of the 2019 ASEAN-Korea Youth Academic Workshop organised by the ASEAN-Korea Centre and ASEAN University Network.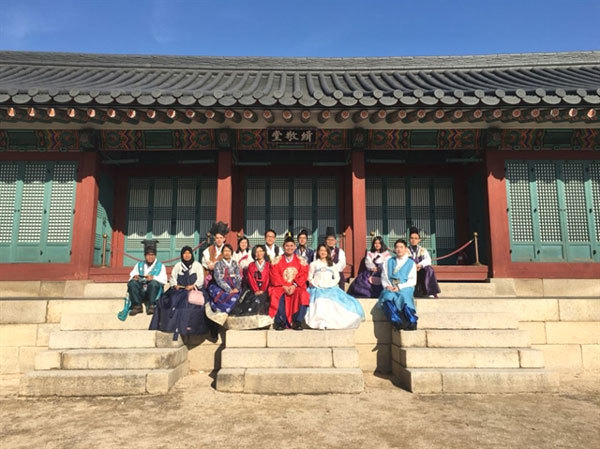 Winners of the 2018 ASEAN-Korea Academic Essay Contest explore Gyeongbokgung Palace in Seoul, South Korea. — Photo courtesy of ASEAN-Korea Centre
Two Vietnamese students, Nguyen Thi Huong Giang of Hanoi-based Diplomatic Academy of Vietnam and Dao Manh Nghia of HCM University of Law, are among this year's winners.
Vietnam was chosen as the first destination for the trip as the country became the chairman of the Southeast Asia's regional bloc this year.
The winners will travel to Seoul and Busan, the host city of the ASEAN-ROK Commemorative Summit from January 12 to 16.
Throughout the workshop, participants will listen to lectures, present their essays and engage in discussions with experts from government agencies, universities and think tanks in the two regions, visit industrial sites as well as broaden their understanding of Vietnam and ASEAN through visits to cultural heritage sites.
According to Lee Hyuk, Secretary-General of the ASEAN-Korea Centre, as ASEAN and Korea are now advancing together into a new era of partnership, the role of the youths in shaping the future community of ASEAN and Korea is more important than ever.
"In this regard, the ASEAN-Korea Academic Essay Contest organised by the ASEAN-Korea Centre is a valuable programme that promotes studies on ASEAN-Korea relations and contributes to nurturing the young minds of ASEAN and Korea to lead a more sustainable and forward-looking partnership into the future," he said.
The workshop lasts from January 6 to 16. — VNS
Various cultural and entertainment events for children will be held in Hanoi to celebrate International Children's Day (June 1).

Chol Young Joo, Chairman of the Korea-Vietnam Friendship Association (KOVIFA), and Lee Jae Hyon, Senior Fellow, Ph D. Director of the Centre for ASEAN and Oceania Studies, the Asian Institute for Policy Studies, talk about relations between RoK-VN.