Australian Department of Agriculture has filed a report about violations in the Exporter Supply Chain Assurance System (ESCAS) in Vietnam as 1,500 cows disappeared.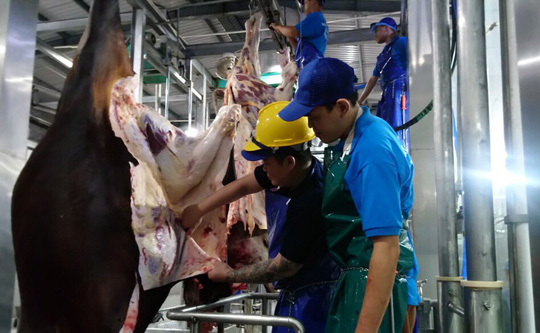 An approved slaughterhouse in Vietnam
According to the Vietnam Trade Office in Australia, as of May 31, 33 cargoes of live cattle had been imported from Australia into Vietnam via freight ships. However, 1,500 cows and 99 buffaloes weren't transported to the registered addressed and can no longer be traced.
The disappearance of the cattle can be understood that they have been sold to somewhere else instead of the inspected and approved slaughterhouses and farms. This means animal welfare, as well as humanitarian slaughter, regulated by the Australian authorities, may not be followed.
In order to import Australian cattle, Vietnamese firms must commit to following the ESCAS regulations. If they want to sell the cattle to the third party, they must notify the exporter for verification
Since 2015, Vietnam has become the second biggest importer of Australian live cattle, behind Indonesia, with 200,000 imported cattle each year.
The Australia Livestock Exporters' Council has entrusted an independent firm to assess and report about the Vietnamese market. Official decisions will be announced once the report is completed this August.
Nguoilaodong/Dtinews