Nguyen Thi Kim Phung, director general of the Department of Tertiary Education, Ministry of Education and Training, talks to Nhân Dân (People) newspaper on the areas that universities and other education institutions should be given autonomy.
Autonomy is the key to tertiary education improvement: experts
Universities about to enjoy higher degree of autonomy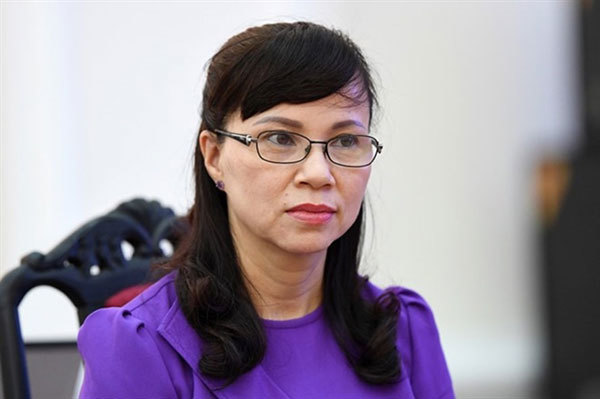 Nguyen Thi Kim Phung, director general of the Department of Tertiary Education.
Giving universities certain degree of autonomy is a process that has been carried out by many countries around the world in recent years. Do you think this is an area that Vietnam is lagging behind?
The autonomous university model started to be applied in Vietnam when we founded the Viet Nam National University, Hanoi in 1993 and the Viet Nam National University, HCM City in 1995.
There have been six documents on autonomy in tertiary education issued by authorised agencies since 2005. Under current regulations, universities are given autonomy in the areas of organisational structuring and human resources, finance and assets, training, science and technology, international co-operation. A number of universities with higher capability – such as the Viet Nam National University – are exercising higher degrees of autonomy, opening new majors and creating joint training programmes with foreign counterparts. Some universities have been given financial autonomy such as the National Economics University, the University of Economics HCM City, the Foreign Trade University; and some others have been enjoying high degree of autonomy in their professional activities such as the Ha Noi University and Ha Noi University of Science and Technology.
Are these universities heading the right direction in terms of getting autonomy in different areas or do they solely aim for financial autonomy and put their focus on tuition fee collection, which possesses a lot of risks? What is the right direction for autonomy in tertiary education?
Their professional activities are of utmost importance, which is the area they should be getting autonomy first and foremost. In terms of finance, assets, organisational structuring and human resources, they are still bound by regulations on procedures, competence, and employment scheme.
The State should create favourable mechanisms for co-operation between educational institutions and enterprises and for the commercialisation of scientific products in order to generate revenues from science and technology research and activities. Tuition fees and training costs should be calculated correctly and made public so as to offer students a variety of choices.
But not all universities are following this direction because they are yet to have a University Council – a unit that plays an important role in exercising a university's autonomy but is being neglected by a lot of universities. Is this because such council has no real power?
Establishing a University Council was regulated as a requirement for universities in the 2003 Law on Higher Education, but a lot of universities have failed to comply. It is true that some councils do not have real power when above them there are other governing entities with higher authority that get involved in the university's decision-making process, not to mention the principals who are in charge of the university's internal activities. Although the 2012 Law on Higher Education regulated the University Council has the rights to determine the university's organisational structure and development direction and on the establishment, merger, division, separation and dissolution of departments within the university, but some higher governing entities still "embrace" these tasks as if they were their responsibilities.
The revised Law on Higher Education in 2018 made adjustments to ensure the University Council can exercise its power in shaping the organisational structure and human resources. It has also amplified the role of the council and stipulated its power in student recruitment, opening new disciplines, and tuition fee collection.
Autonomy in tertiary education can be understood as reducing intervention of State-owned governing entities in universities' activities. But does it mean giving universities freedom without constraints?
It is true that leaders of some universities have been considering having autonomy as being free from meeting the standards and procedures specified by regulations and from quality inspection and testing. This causes a social concern as to whether giving universities autonomy means requiring governing entities to loosen their grip.
So universities need to have proper awareness and strictly comply with regulations concerning autonomy in tertiary education, which involves certain steps such as establishing a proper University Council, preparing for quality accreditation, having proper operational, financial and internal management regulations, as well as making public their quality inspection results and essential statistics concerning their training quality such as the percentage of students getting employment after graduation.
So autonomy does not mean freedom, but the revised Law on Higher Education that will come into effect on July 1 offers several favourable conditions for universities to become autonomous. What will the Ministry of Education and Training do to ensure they will enjoy their autonomy and be responsible for it at the same time?
The ministry will revise and improve the regulations on quality standards and making public universities' quality assurance conditions and key performance indicators so that governing entities, society and students can monitor their training quality.
The quality accreditation process will be carried out throughout the tertiary educational system, and we encourage universities to take part in regional and international quality accreditation to enhance the transparency of information regarding their training quality for society and students.
We still need to make adjustments to synchronise the current regulations and increase the efficiency of the revised law on autonomy in tertiary education.
VNS