The rate of blindness among people 50 years old and older has dropped strongly in the past decade, standing at 1.3 percent in 2015 from 3.1 percent in 2008, according to the latest survey conducted in 14 cities and provinces in 2015.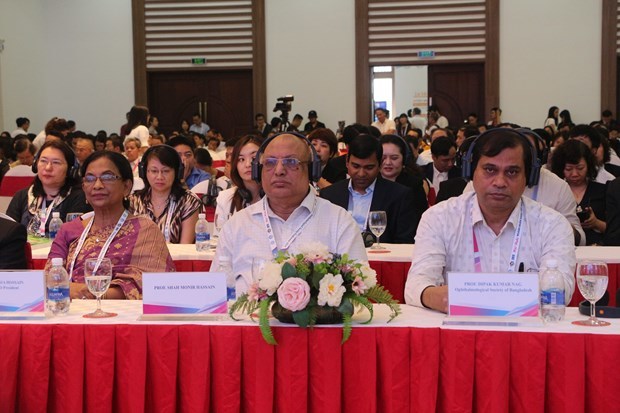 At the conference
Theinformation was released by Director of the Vietnam National Instituteof Ophthalmology (VNIO) Nguyen Xuan Hiep at the 2019 national ophthalmological conferencein Vinh city, the central province of Nghe An on October 24.
Alsoaccording to the survey, the estimated number of blind people in Vietnamdecreased from 443,700 in 2000 to 370,640 in 2007 and 269,380 in 2018.
Hiep said the number of people with cornealscars is decreasing while those with cataracts, refractive errors, and diabeticretinopathy are on the rise.
Jointly organized by the Vietnam Ophthalmological Society (VOS) and the VNIO, theevent saw the participation of over 2,000 local delegates, 80 experts fromFrance, Italy, Japan, Thailand, Australia, Singapore, and the Republic ofKorea, and representatives from over 50 pharmaceutical firms.
Addressing the conference, Huynh Phuong Ly, chief representativeof Brien Holden Vision Institute in Vietnamproposed measures to fight blindness, saying that it is necessary to developsatellite hospital networks, promote trainingand technology transfer, and improve the quality of human resources serving inthe sector.
Attention should be paid to strengthening and consolidating the network of eyecare service providers to ensure easy access to services for children, theelderly, and the disabled, she said.
Meanwhile, Ava Hossain, a representative from the Asia-Pacific Academy of Ophthalmology (APAO) said that Vietnam needs to take the initiative in cooperating with othercountries, organizations and individuals in and outside the country inresearch, training and technical and financial assistance to better the qualityof services in the field.
Short-term training courses will be arranged in the framework of theconference, aiming to help eye doctors learn about new knowledge andtechnologies.
Ophthalmology-relatedpharmaceutical and medical equipment companies are exhibiting their products in52 booths at the event.
The conference is held every year to evaluatethe prevention of blindness in the country and serve as a forum for experts toshare outcomes of latest research.
Vietnam aims to reduce the rate of blindnessamong over-50 people to 1.6 percent by 2020.-VNA