Checking the alcohol level in the blood and breath of drivers is essential, but testing methods must strictly comply with guidelines to prevent the spread of the new coronavirus, stated a representative of the WHO in Vietnam.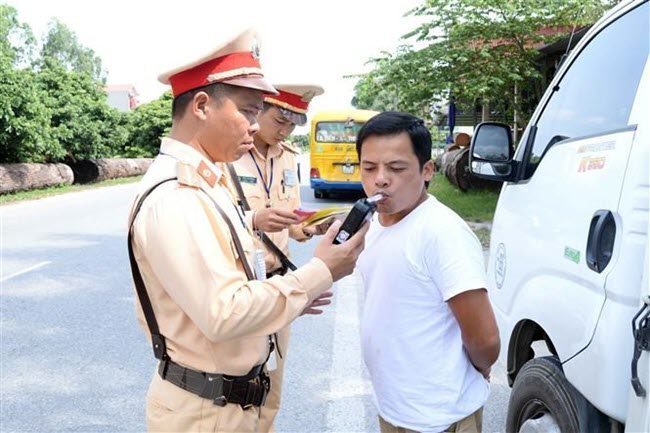 A traffic police officer in Hung Yen Province uses a breathalyzer to determine the alcohol content in the breath of a driver
The National Traffic Safety Committee on January 31 wrote to WHO Vietnam, seeking recommendations for the Committee's draft guidelines on the execution of traffic safety regulations while the threat of infection with the new coronavirus exists, reported VietnamPlus.
In response, Dr. Kidong Park, WHO Representative to Vietnam, stated that Vietnam should keep following its traffic safety regulations and other legal practices, including banning drivers from driving under the influence.
The WHO Representative stressed that protective measures to avoid spreading the new coronavirus, which was first detected in the Chinese city of Wuhan, should be adopted efficiently to ensure safety and reduce the risk of disease transmission to traffic police, drivers and the community during blood/breath alcohol testing campaigns.
According to him, local traffic police should wear face masks and use alcohol-based hand sanitizer while on duty. The breathalyzer or testing device should be held and used by only one traffic police officer per shift to avoid cross-contamination, and the device must be disinfected before, during and after each shift.
He also recommended the use of single-use mouthpieces for breath tests. Used mouthpieces should be collected and treated as biohazardous waste.
The Health Ministry on February 5 also wrote to the Government Office, airing its opinion on the risk of infection with the Wuhan virus during breath-testing activities, which must be conducted in line with prevailing regulations and the ministry's health warning.
Strict compliance with the outlined preventive measures will lower the likelihood of infection, according to the ministry. SGT