Border authorities in the southern region are strictly controlling all travel through border gates as part of an effort to prevent the spread of the COVID-19 disease.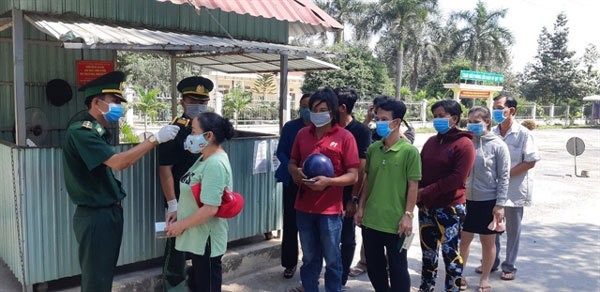 The body temperature of people passing through the My Quy Tay Border Gate in Long An Province is checked to prevent the spread of COVID-19. 
The southern province of Tay Ninh, which has a 240km border with Cambodia, is at high risk of COVID-19 infections.
About 10,000 people travel between Vietnam and Cambodia every day through Moc Bai and Xa Mat international border gates, national border gates, sub-border gates, and many trails.
Colonel Nguyen Tai Son of the province's Border Guard Force said it had set up a committee for COVID-19 prevention and control. "Each border guard station has set up a steering committee and a special task force to work on the prevention and control of the epidemic."
Strict controls on entry and exit have been conducted to detect possible cases of suspected infections as early as possible.
Provincial border guards have increased communication activities to raise people's awareness about prevention measures against the virus.
The border guards are working closely with police, customs and quarantine officers to check the body temperature of passengers arriving at the border gates.
"This has not posed any difficulty for passengers," Nguyen Thanh Ngoc of Moc Bai International Quarantine Station said.
Suspected cases will be sent to the district's medical centre for treatment and isolation, while passengers from China passing through the border gates must fill out health declaration forms.
Nguyen Van Cuong, deputy director of the provincial Department of Health, said there were 19 suspected cases of Vietnamese and Chinese returning from China crossing the Moc Bai International Border Gate.
They have been isolated and monitored in the province. "Their health is in stable condition," he said.
As of February 18, the province had not recorded any suspected case of COVID-19.
The Mekong (Cuu Long) Delta province of Long An shares a 133km-long border route with Cambodian provinces of Svay Rieng and Prey Veng.
The province's border guards are strictly monitoring the border, including Binh Hiep International Border Gate, My Quy Tay Economic Area Border Gate, and small border gates and border crossings.
Body temperature checks are conducted on all people before they enter or exit the border gates.
"If any of them show signs of the disease, they will be examined and monitored quickly," Lieutenant Colonel Le Trong Tinh, head of the My Quy Tay Border Guard Station in Duc Hue District, said.
About 1,000 people cross through the My Quy Tay Economic Area Border Gate every day, he said. The number of people passing through the border gate has decreased by 15-20 per cent compared to other days due to the impact of the epidemic, he added.
"Strict controls over cross-border activities are being carried out, but we are still creating convenient conditions for people who are travelling or doing business at the border."
The border guard station has four body temperature machines as well as hand sanitisers. More than 1,000 face masks have been given to people crossing the border gate.
Local border guards have been working closely with their Cambodian counterparts to prevent and control the infectious disease. They are also working with local authorities to classify and quarantine those returning from epidemic-hit areas.
The province's health sector is currently monitoring 18 people quarantined with symptoms of the disease in My Quy Tay and My Quy Dong communes.
Disease prevention measures are also being conducted at Binh Hiep International Border Gate in Kien Tuong Town.
Lieutenant Colonel Nguyen Van Nam of the Binh Hiep Border Guard Station said about 2,000 turns of people pass through the station every day, and their body temperature is checked.
"All agencies are working more closely to strengthen inspections, and carry out prevention measures," he said.
Border guard force and preventive health centres in localities are also strictly controlling cross-border activities via trails or rivers, and preventing illegal wildlife trade, as well as illegal exit and entry.
Chemical spraying, environmental sanitation, food safety and personal hygiene are being implemented to ensure the safety of all officers and border soldiers on duty at border areas. In addition, local residents have been provided information about COVID-19 and preventive measures.
Disease control and prevention measures have been also strengthened at border areas between the Mekong Delta province of An Giang and Cambodia's Kandal and Takeo provinces.
An Giang Province shares a border of nearly 100km with Cambodia, and has two international border gates, two national and many auxiliary border gates, and multiple cross-border trails.
Nguyen Thanh Binh, chairman of the provincial People's Committee, has asked local functional forces to implement disease-prevention measures and maintain good conditions for cross-border travel, transport and trade at the Khanh Binh Border Gate in An Phu District.
"There is still a high risk of the disease spreading to the country due to the huge number of people crossing the border daily," Binh said.
The provincial health sector, in collaboration with local authorities, has asked for equipment to monitor arriving passengers' body temperatures at Tinh Bien, Khanh Binh and Vinh Xuong border gates.
The border gates have also installed more hand-washing areas, and medical equipment and other supplies have been provided.
Human resources from district-level hospitals and healthcare centres have been assigned to work the entire day at border areas to assist border guard forces.
"The functional forces are strictly controlling cross-border activities of border residents via trails, and all exit and entry through border gates," Binh said.
He has asked the provincial Department of Education and Training to instruct all schools to clean and disinfect classrooms and other spaces before reopening.
"All schools must have more sites for washing hands with antiseptic solutions, and must be equipped with body temperature machines, face masks and hand sanitisers," he asked.
Nearly 1,100 Vietnamese-Cambodians study at schools in the province. — VNS

Vietnam has seen positive signs in the fight against the acute respiratory disease caused by the novel coronavirus (COVID-19), heard a meeting of the national steering committee for prevention and control of the disease on February 17.

The lives of border guards are difficult in some northern mountainous provinces during the Coronavirus outbreak.