The Hanoi Transport and Services Corporation (Transerco) launched a new bus route linking the outlining district of Ha Dong to Noi Bai International Airport on June 8.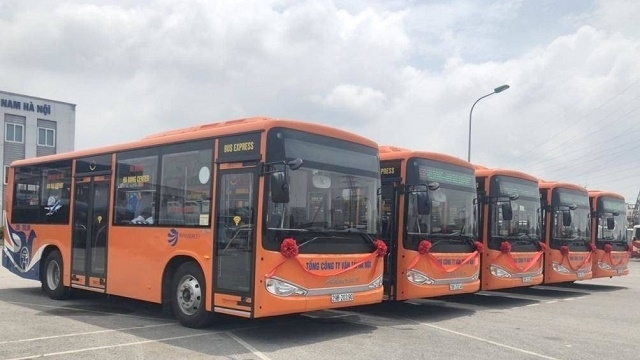 Bus route linking Ha Dong district and Noi Bai airport put into operation (Photo: baogiaothong.vn)
The bus No 68 departs from the Me Ling Plaza Commercial Centre in Ha Dong District every 30 minutes from 5am until 11pm. It can accommodate 60 passengers and has free Wifi on board.
The bus runs on the 40.7km route and has 33 stops during the route, taking passengers 70 to 75 minutes to travel each way.
A ticket will cost VND40,000 (US$1.73) per trip.
The non-subsidised bus route is launched to save travel time for passengers as compared to public bus routes as it has fewer stops.
It also aims to encourage passengers to switch to public buses from taxis and private vehicles to help ease traffic congestion on roads to the Noi Bai International Airport.
At present, there are five bus routes to Noi Bai Airport, including four subsidised ones: No 07 Cau Giay – Noi Bai, No 17 Long Bien – Noi Bai, No 90 Kim Ma – Noi Bai, No 109 My Dinh Bus station – Noi Bai, and the high-quality bus route No 86 Ha Noi Railway Station – Hoan Kiem Lake – Noi Bai.
Nhan Dan

Hanoi will operate four more bus routes using compressed natural gas (CNG) buses from July this year to help reduce traffic jams and protect the environment.

Public bus users in Hanoi have complained about inconvenience when a number of bus routes have been changed to prepare for the operation of the Cat Linh-Ha Dong metro line.