Thousands of people from the central provinces have flocked to bus and train stations to return home after the Tet (Lunar New Year) holiday, with many having to pay high prices for their trips.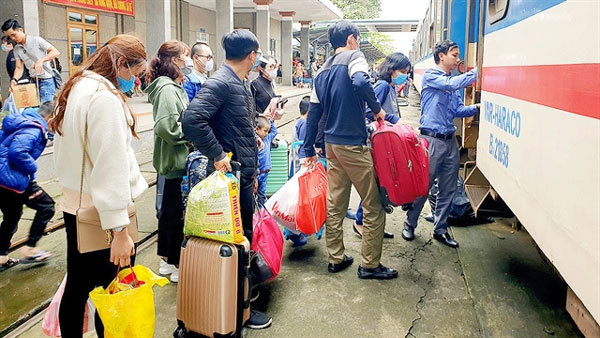 Passengers hop on buses at Da Nang Station to travel to the South. — Photo courtesy of sggp.org.vn
The busiest passenger pick-up spot was near Big C Thanh Hoa Supermarket, according to Sài Gòn Giải Phóng (Liberated Sài Gòn) newspaper. Though the municipal police force increased the number of inspections, black-market bargain activities continued to be spotted in the area.
Nguyen An, who said he had to book his ticket very early, had to pay VND1.8 million (US$77.5), far higher than the usual fare of VND650,000-700,000 ($28-30.1) for a bus ticket from Thanh Hoa to Cam Ranh.
Meanwhile, Le Duy Huan decided to book a private taxi worth VND1.8 million to take his family back to Hai Phong City after the holiday.
The bus ticket price in central Nghe An Province also surged after the holidays. It normally takes about VND600,00 to travel from Nghe An to HCM City by coach. However, the fee has increased to VND1,700,000 per ticket.
Though Nghe An Province's Department of Transport recently added 150 buses, it has not been able to meet travel demand.
A representative of Vinh Station said that an additional six trains have been scheduled for the Vinh City – Hanoi route and 12 trains for the Vinh City – HCM City route.
As hard-seat, soft-seat and bed tickets between the 4th and 6th days of Lunar New Year are sold out, extra seats are available if they choose to travel on these days.
After Tet, the Vinh Station has sold 5,000 to 6,000 of tickets on a daily basis, up three times compared to off-peak days.
Le Thi Tuyen from the Da Nang Railway Station said the number of visitors coming to the train station and heading south has not changed much compared to last year's Tet season.
According to recent statistics, starting from January 25 (the first day of Lunar New Year), Da Nang Station has been receiving more than 2,000 passengers per day, most of them boarding for the south.
Meanwhile, Pham Thi Ngoc Lan, director of Da Nang Central Bus Station Enterprise, said that their tickets have not sold out as in previous years, but they are 40 to 60 per cent more expensive compared to normal days.
On the morning of January 29 (the 5th day of Lunar New Year), many travel agencies reported that bus routes traveling from Nha Trang to other southern provinces were sold out, despite the 60 per cent surcharge.
Le Trong Tri from the Nha Trang Station said that people can now purchase tickets online.
Between the first and fourth days of Lunar New Year, about 600 buses were under operation, up 6.6 per cent year on year. Most buses travelled to HCM City. — VNS

The HCM City Department of Transport has sought approval from the People's Committee for a public bicycle rental service.  
Many of the streets throughout Hanoi are suffering from gridlock as a result of heavy traffic as the Lunar New Year (Tet) approaches.