Hundreds of clean water projects have been built in the Tay Nguyen (Central Highlands) in recent years to serve people living in poor and remote areas.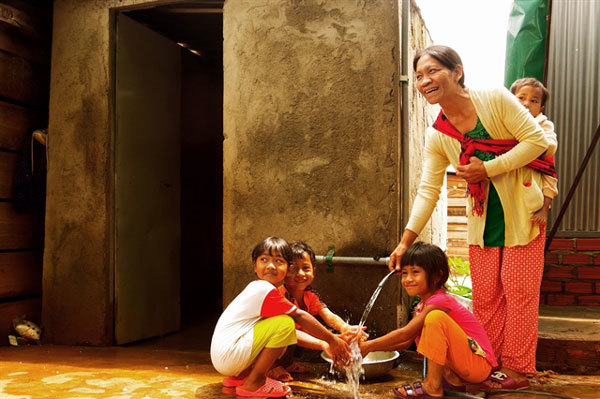 People in Thuan An Commune, Dac Mil District, the Central Highland province of Dak Nong use pipe water supplied by the "Clean water for border areas" programme. — VNA/VNS Photo
But in many places, residents are still struggling to find fresh water despite living close to clean water facilities because many have been abandoned for years wasting state budget, Tiền Phong (Vanguard) newspaper reported.
According to a report by Dak Nong Province's Agriculture and Rural Development Department (ARDD), there are 245 water supply projects with investment of nearly VND375 billion (US$16.3 million).
Only 72 are in operation, accounting for 29.39 per cent and the remaining of 173 projects have been left abandoned for years.
A clean water facilitiy built in resettlement area B in Dak Nutz hill, Gia Nghia Township, cost more than VND16 billion (US$695,650) but it has not once operated since it was completed in 2015.
Households living in the resettlement area still used water provided Dak Nong Urban Development and Water Supply Joint Stock Company.
"People here still use water supplied by local water company. The clean water project in Dak Nut hill has not been operated for many years," a local resident said.
Duong Van Khoai from the irrigation office in Nghia Duc Ward, told the newspaper he did not know the investor of that water particular facility because the construction has not been handed over to the locality.
The VND700 million water supply facility nearby in Dak Nia Commune has not worked for 10 years since it was completed in 2005.
Many water pipes were damaged due to bad weather.
"The clean water supply project was built closely to my house but we cannot access fresh water," H'Duyen, a local resident said.
"My family still use water from lakes and streams."
Talking with Tiền Phong newspaper, head of Dak Nong Water Supply and Drainage Company, Nguyen Cong, said the provincial People's Committee has not handed over any water supply works in the town to the company.
"In 2013, I used to suggest not building these works because it was a waste, but no one cared about my opinion."
About 66 water supply works out of an abandoned 173 projects are proposed for liquidation and 107 for repair, according to report of provincial Agriculture and Rural Development Department.
"We have required localities to review and re-evaluated the status of clean water supply facilities in the whole province for repair.
For less broken systems, they will be repaired if the local residents need to use them. And for constructions with serious damage, they will be proposed for demolition," said Hoang Trung Tho, deputy director of ARDD of Dak Nong Province.
In Dak Lak Province, of the 168 clean water supply projects costing VND400 billion, there are 51 that have been abandoned. Of which 20 were badly damaged ones and considered for demolition.
Nguyen Duc Thuan, chairman of Hoa Xuan Commune People's Committee, Buon Ma Thuot City, said five out of seven water supply projects have been left untouched over ten years while the demand for water was urgent.
"Each village sent people to learn how the operate the water supply systems and we had used this water for a short time. Then troubles occurred. There is no funds for maintenance, water pipes were broken and damaged and other issues led the projects have been abandoned," Thuan said.
Tran Cong Son, a resident from village No 4 said many households had spent a lot of money drilling wells to get water for daily use.
Thuan also said provincial officials checked all abandoned projects in the commune and promised to supply funds for repair.
Recently, each village was installed with a water pipe system but it would be also left unused as the previous projects if it was not carefully maintained, said Thuan.
According to Pham Ngoc Binh, deputy director of the provincial Centre for Rural Water Supply and Environmental Sanitation, 20 projects operate inefficiently and another 20 were seriously damaged beyond repair, located in Buon Don, Buon Ho, Ea H'leo, Ea Sup, Krong Ana, Krong Bong, M'Drak districts and Buon Ma Thuot City.
"We propose to demolish all these 20 serious damaged works because it could waste a lot of money to repair them and they could not operate well afterwards. Some other projects are also in difficulty due to lack of funds," Binh said.
VNS
RELATED NEWS
Rural residents thirsty for clean water
Rural VN thirsty for clean water