More than 2 million children in Hanoi have been stuck at home after the city's schools, parks, zoos and entertainment areas temporarily closed to prevent the spread of COVID-19.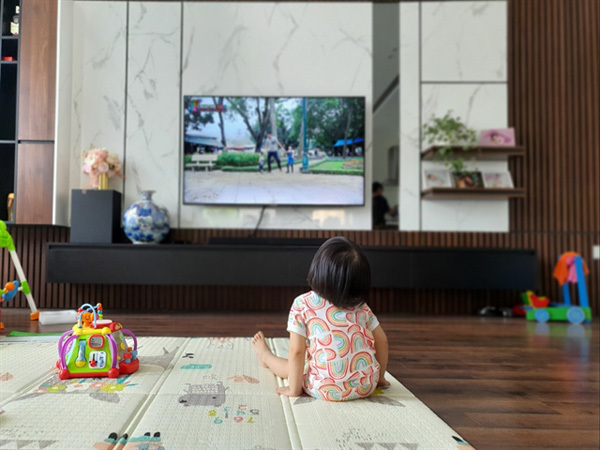 A kid watches television in the living room during the summer break in Thanh Xuan District, Hanoi. — Photo courtesy of Nguyen Thuy Nga
Some are thrilled their summer break started on May 15, two weeks earlier than planned, so they can stay at home with their parents, brothers and sisters.
However, plenty of other children feel relentlessly bored.
Quach Gia Linh, 14, of Ly Thuong Kiet Secondary School in Hoan Kiem District, said she took advantage of the summer break to learn piano by herself – a subject she very much wanted to study but didn't have time for in the school year.
"I have also learned cooking with my mum through video clips on YouTube," she said.
She has also taken online courses for maths and English to prepare for her high-school entrance exams next year.
Luu Thu Giang, 12, a student of Thai Thinh Secondary School, Dong Da District, said she did not feel bored at home without outdoor activities during her summer break.
"Together with my twin sister I draw pictures and make cardboard houses to entertain us," Giang said.
Giang and her sister also help their mother by taking turns to wash dishes and do housework, she said.
But not every kid feels like Linh and Giang.
Many say that a summer break at home without outdoor activities is so uninteresting. They can only entertain themselves by playing video games or watching television and videos on YouTube. They really miss outdoor activities.
Do Hoang Anh, 11, of Hoang Mai District, said: "Staying at home all day makes me feel dull, so, my younger brother and I often play video games to entertain ourselves."
"If the pandemic hadn't hit, we could play football, fly kites or ride our bikes like in previous summer breaks," he added.
Nguyen Nhat Minh, seven, of Hoang Mai District, said: "I really miss my classmates and outdoor activities."
Minh's parents bought him a lot of toys to play with but he was still bored, he said.
"I prefer watching videos on YouTube Kids to playing with toys," he said.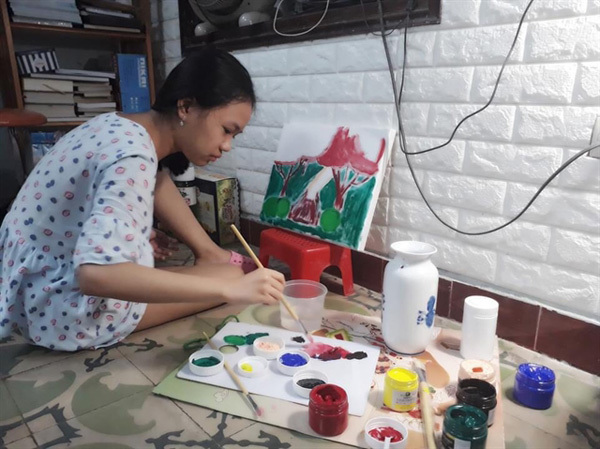 Luu Thu Giang, 12, a student of Thai Thinh Secondary School, Dong Da District draws a picture to entertain during her summer break. — Photo courtesy of Giang
Parents' headache
Nguyen Thuy Nga, of Thanh Xuan District, a mother of a three-year-old daughter, said her daughter spent most of her time watching television or videos on YouTube Kids.
Although Nga bought a lot of toys for her daughter she still got bored after playing with them a while, Nga said.
"Electronic devices might cause harm for her eyes and watching too much is really not good for her at all," Nga added.
"I don't know how to create an interesting space for my daughter at home during the pandemic," Nga said.                                         
Normally, Nga could take her daughter to the park, a playground, a swimming pool, or invite some of her daughter's friends to their house to play together.
However, due to the complex developments of the pandemic, she knew that keeping her child at home and avoiding gatherings was necessary, she said.
Do Van Tien, the father of Do Hoang Anh, 11 and Do Hoang Vinh, eight, said before the pandemic, he and his wife had made plans for the summer break.
First, the couple would take their children on a holiday for several days, he said.
After the holiday, the couple would bring the children to his home town in a rural area for about a month so they could connect with nature, he said.
Next, the children would participate in swimming and life skills classes until the end of the summer break, he said.
Due to the pandemic, all the plans were cancelled, he said.
Tien and his wife still had to go to work while the two children stayed at home every day.
"The children stay at home all day and their entertainment is only technological devices such as a mobile phone, smart TV or iPad," he added.
He feared they could end up accessing inappropriate content.
"I am very worried about it but cannot think of any way to create an interesting space for the children during the summer break," he said. 
Experts' advice
Huynh My Ngoc, co-ordinator of Vietnam International Reggio Emilia Society, said having to stay at home more than usual caused psychological disturbances for children.
Children would feel depressed, lonely and lack dynamism and creativity by being forced to rely on electronic devices for social connection, Ngoc said.
However, with a little support from parents, the time at home would be more enjoyable and exciting for children, she added.
"Many parents might feel pressured because they do not know how to create something for their children to play," Ngoc said.
"But actually, children are very creative, you just need to create a suitable environment and provide them with diverse and interesting tools, the child will do the rest - creating lots of ways to play with everything they have," she said.
Ngoc suggested parents with young children create a separate space in the house for the children to play in. In this space, the children can mess around and play in their own way without being interfered with.
"Parents should guide the child to clean up the toys after playing," she said.
Parents don't need to buy a lot of toys constantly, they should take advantage of household items, paper, crayon, boxes, and leaves and flowers in the garden to create space for the kids to play in, she said.
The playing corner should be full of tools, including paper, pens and toys, she said.
At the weekend, parents can re-decorate, re-arrange the playing corner and add or remove toys to create new experiences for the kids to explore in the new week, she added.
For teenagers, parents could make a detailed timetable for their children to control the time they spend on electronic devices as well as give them responsibility and initiative in their daily activities, she said.
Parents should spend time each night making plans for play activities and preparing play materials for their children the next day.
She suggested prioritising creative activities so children can play alone for a long time, such as painting, colouring, playing musical instruments, making bracelets, knitting or reading challenges.
According to the United Nations Children's Emergency Fund, parents should create a flexible but consistent daily routine for their children, including exercise each day - to reduce stress for kids and bring them lots of energy at home.
The agency also gives other tips for parents to protect their children online such as setting up parental controls, turning on SafeSearch on the browser, establishing strict privacy settings on online apps and games and covering webcams when not in use.
VNS   

The closure immediately followed the 9-day Tết (Lunar New Year) holiday, leaving thousands of parents scrambling for daycare solutions.