City seeks investment in new construction materials as illegal sand mining continues
The city plans to call for investment in new materials that could replace sand used in some construction projects in response to an increase in illegal sand mining activities, according to Tran Vinh Tuyen, vice chairman of HCM City People's Committee.
Illegal sand mining on Can Gio Sea has not been stopped
Deputy PM requests action against illegal sand mining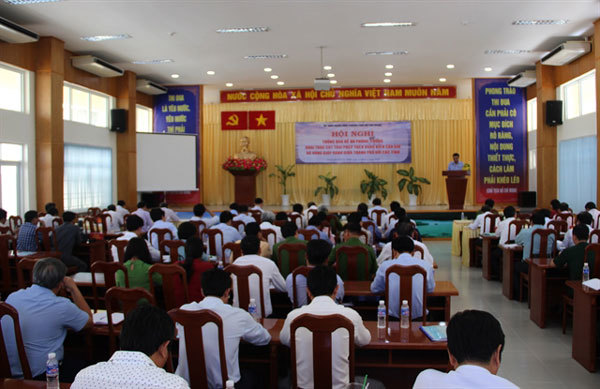 Speakers at a meeting on combating illegal sand mining held yesterday (April 23) in HCM City's Can Gio District. — VNS Photo Bo Xuan Hiep
Speaking at a meeting on illegal sand mining on Tuesday in HCM City, Tuyen said the city government would work with the Ministry of Construction and organise conferences to call for investment in new materials to replace sand.
Phan Anh Minh, deputy director of the HCM City Police, said that most important national construction works in the city, including roads and public transport projects, use sand taken from illegal mining activities.
A project to combat illegal sand mining in Can Gio waterways and the area between the city and surrounding provinces will begin next month and end in 2022. Under the project, the Department of Transport should also be responsible for the inspection and handling of the issue, Tuyen noted.
Nguyen Toan Thang, director of the city's Department of Natural Resources and Environment, said the project would cover major rivers, including Dong Nai, Sai Gon, Dong Tranh, Soai Rap and Long Tau rivers, and the Can Gio sea area.
City agencies and neighbouring provinces will work together to resolve the issue, and estimate the amount of sand reserves for construction in the city, as well as propose a long-term plan for sand mining.
The city will also consider other proposals and additional sanctions for illegal sand mining, sand trading and transportation of sand of unclear origin.
In addition, the city government and neighbouring provinces will review regulations on administrative sanctions related to minerals and waterway transport.
Tuyen said it was important to apply hi-tech to management and supervision of illegal mining activities, and that agencies should meet every six months to discuss solutions.
Nguyen Thien Nhan, secretary of HCM City Party Committee, said the city should establish an interdisciplinary team to improve inspection and handling of illegal sand mining and review the project's results every year.
Nguyen Van Tiep, deputy director of Tien Giang Province's Department of Natural Resources and Environment, said there were no licensed sand mines in the province, but demand for sand for construction was huge.
"Vessels watch with great caution for inspecting agencies when they sand illegally," Tiep said.
Tiep also recommended amending a regulation which would stipulate that vehicles transporting 10 cubic metres of illegal sand, rather than the current 50 cubic metres, must be confiscated.
Since early this year, nearly 660 violations have been reported with total fines of more than VND12 billion (US$516,000) and 4,680 cubic metres of sand seized. Two of the cases were handled through legal proceedings.
VNS