Just a short time after VietNamNet Premium, a paid content service of VietNamNet was launched, VietnamPost – the general fee collection agent – set to work to provide the service.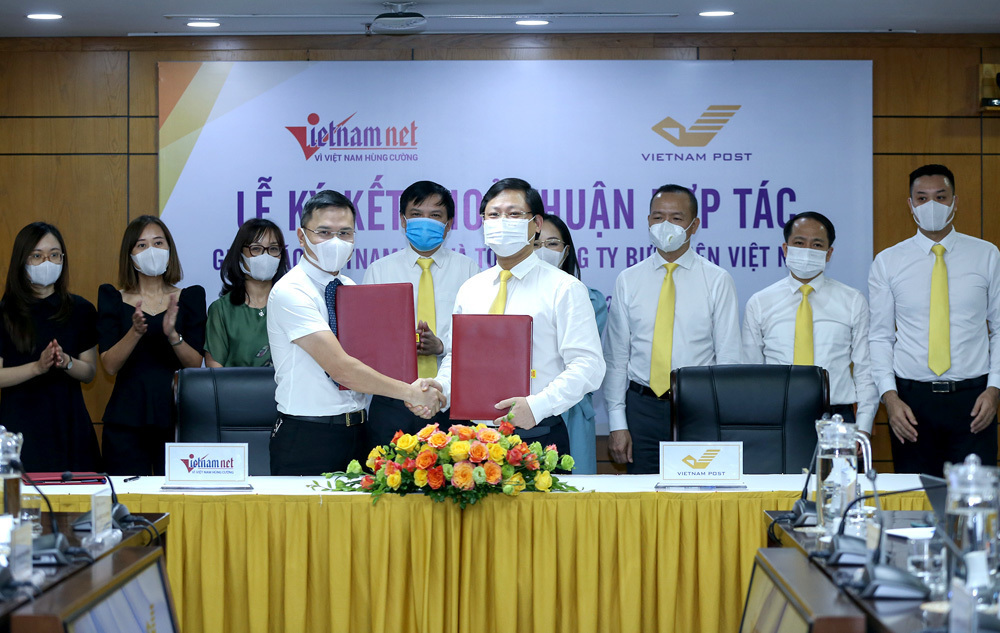 VietNamNet Newspaper Editor-in-Chief Pham Anh Tuan and Vietnam Post General Director Chu Quang Hao signed the cooperation agreement.
After one week of deployment, Vietnam Post accessed thousands of potential clients through the July pension payment, institutions and businesses, and big clients and current clients, building scenarios for different targeted groups of clients.
A large number of people have shown interest in VietNamNet Premium services through the introduction of VietnamPost. Many readers who read previous articles on VietNamNet highly appreciate the 'luxury' of the specialized website of the newspaper.
"I find the interface beautiful, modern and luxurious. There are in-depth articles with analysis, comments and solutions to problems. Particularly, the articles all are imbued with the Vietnamese spirit and aspirations, the eagerness to rise up to conquer pinnacles," said Do Huu Nguyen, a retired official in Ba Dinh District in Hanoi.
For institutions and businesses, VietNamNet Premium serves an effective information channel. Information, selected, analyzed and synthetized, is provided in a timely way, targeting certain subjects. All all of them are in-depth analyses.
A representative of Thai Nguyen provincial Party Committee's Propaganda and Training Commission, who praised VietNamNet Premium services, said that this is a creative way to provide information to readers. With these services, readers can access authentic information, and not be disturbed by excessive ads that are ofren seen on many other newspapers and news websites.
"Since the information has been selected, verified and censored, it would be more effective to organize media campaigns to readers," he said.
VietnamPost has deployed the service at 17 post offices in cities and provinces. After one week, 200 accounts were activated, while thousands of people have shown their attention – very encouraging signals.
VietnamPost strives to develop 1 million accounts for VietNamnet Premium by 2023, affirming that this is within reach. This is an opportunity to open a new news service amid the news digitalization trend.
VietnamPost, with great advantages in post service and newspaper distribution, and a pioneer in digital transformation, will be successful in deploying the service, bringing great development opportunities to e-newspapers.
With the new implementation method, the large coverage and prestige of a national post corporation, VietnamPost is holding the biggest advantage in deploying the service of collecting fees for VietNamNet Premium.
In the time to come, with the strength of digital platforms and smart applications from the postal service provider, it will be able to quickly and closely connect the content producer – VietNamNet - and customers, so as to open a new direction and a new path for the Vietnamese press, making it a newspaper with social responsibility and development in harmony with the flow of digital journalism in the world. 
Trong Dat

The signing ceremony of cooperation agreement between Vietnam Post Corporation and VietNamNet took place on July 1, 2021 in Hanoi.