Life, as they say, goes on. And that's exactly what is happening in and around the Truc Bach ward of Hanoi, which was thrown into turmoil after an outbreak of COVID-19.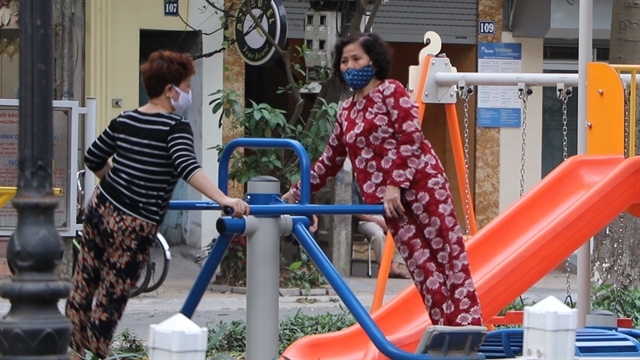 Trúc Bạch residents do their exercise in the quarantined area. 
It only took one person to throw the area into chaos. She is a 26-year-old woman who flew back to Việt Nam from the United Kingdom, bringing with her the virus that is sweeping the world.
Up until her arrival, the country had coped admirably with the epidemic, restricting the amount of patients to just 16, all of whom had fully recovered.
But since last week, figures have gone up and up. Each day more new patients, each day, more misery.
Since last Saturday when army personnel could be seen around Trúc Bach Street spraying disinfectant, the area has become a quiet, eerie place.
Large parts of the street are cordoned off, the main sounds that can be heard are not the usual hustle and bustle of daily life, but instead public service announcements blasting over loudspeakers reminding residents to take extra care in these troubled times.   
"At first, myself and other residents here were a little bit worried because we did not know about the situation," Nguyễn Long Hưng, a local living right next to the edge of the quarantine area, told Việt Nam News.
"People were worried and started storing instant noodles at that time. My family also bought boxes of instant noodles, rice and necessities.
"However, after receiving guidance from the Government and the Health Ministry, our lives became normal."
For those earning a living in the area, times are certainly tough.
Nguyễn Thị Bích Thủy has been selling groceries at her store yards from the closed zone for 30 years.
Business right now is bad, as many people are staying away from the area.
But despite this financial set-back, Thủy is still ready and determined to play her part, no matter how small, for the good of the community that has served her so well in the past.
"Everything was normal, but since this area was quarantined, everyone here has been awfully affected including restaurants and my store," she said.
"There are no longer as many people visiting here, which greatly affects the income of everyone.
"But if anyone is missing something, I can transfer it to them through the help of the guards.
"I hope that this epidemic will be over soon, so that everyone can get back to normal life as soon as possible."
For some people, being quarantined is not only a whole new experience, but also a way to show responsibility towards the community.
Unlike other residents inside the quarantine area who still can do daily activities, Phạm Quang Long, a manager of a wine restaurant, was placed under quarantine at Campus No.2 of the Central Tropical Hospital 2 in Đông Anh District.
Long's house at 119 Trúc Bach street is behind where Patient 17 was staying. As one of those who live so close, centralised quarantine is a must.
Speaking via-video call from the hospital where he is staying, he told Việt Nam News: "At that moment I was very anxious. Initially I intended to flee and not come back to that area.
"About half an hour later, there was a call from an official at Ba Đình District health committee. At that time I knew things were not okay and then I accepted the reality and decided to do what was required."
But Long is in no doubt that despite the personal inconvenience, he feels the Government is doing a great job in taking care of the quarantined people.
"I found the facility's conditions fine," he said.
"Meals are even better than those dishes from eateries out there on the street, many varieties. It is the fourth day but I haven't had a same dish. Beds and mats are clean. The toilet is very clean.
"The bathroom has a water heater. We have Wifi. I'm talking to you by Wifi now. Every day I still make a video call to talk with my kid. No one interfered with my daily activities, so I felt very comfortable.
"The conditions prepared by the government and given the social responsibility that we need to take, I feel no problem at all.
"Please prepare for yourself psychologically and everything you need to entertain yourself like books, a music player, and even an alcoholic beverage. If you want to drink beer, you can order it from the canteen. They can even bring you a whole crate."
A whole crate may be a little too much for just one patient, but those living in Trúc Bạch, or at the hospital under lockdown, hopefully one day soon they will be toasting Viêt Nam's victory in the war against the virus. — VNS

Soldiers on March 7 morning sprayed disinfectant to sterilise Tran Vu and Truc Bach streets and surrounding areas in Hanoi's Ba Dinh district after a COVID-19 case was confirmed a day earlier.

The World Health Organization on Wednesday declared coronavirus a pandemic, reflecting alarm that countries aren't working quickly and aggressively enough to fight the disease it causes, covid-19.