Deputy Prime Minister and head of the National Steering Committee for COVID-19 Prevention and Control Vu Duc Dam on March 6 ordered compulsory electronic health declarations for all passengers entering Vietnam starting from 6:00 am on March 7.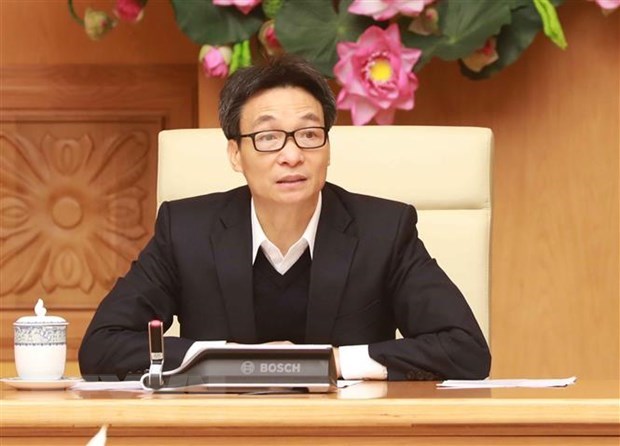 Deputy Prime Minister Vu Duc Dam at the meeting 
The declaration could be made on the website http://www.suckhoetoandan.vn/khaiyte, or at the airports before boarding.
At a meeting in Hanoi, the committee reported that Vietnam has not recorded any new infection case since February 13.
Over 14,200 people who had close contacts with or travelled through affected areas are now under medical supervision, 407 of them at hospitals, over 8,800 at other establishments and more than 5,000 at homes.
Participants at the meeting suggested the ministry issue a document guiding quarantine at hospitals or medical establishments, designated lodging facilities or residence places scheduled for March 7.
The committee also proposed that apart from armed forces, ministries and departments should outline back-up plans for the preparation of quarantine establishments under the direction of the ministry.
The ministry added that over 98,100 people were infected with SARS-CoV-2 in 86 countries and territories as of March 6, more than 80,500 of them in all the 31 Chinese cities and provinces.
The outbreak left over 3,300 deaths in China, Italy, Iran, the Republic of Korea, Japan, the US, France, Hong Kong (China), the Philippines, Taiwan (China), Thailand, Australia, San Marino, Spain, the UK, Switzerland and Iraq.
Discharged COVID-19 patients remain under health supervision
The Central Institute of Hygiene and Epidemiology have moved to take samples from six patients to continue monitoring their health conditions following their subsequent discharge from hospitals in Binh Xuyen district in the northern province of Vinh Phuc and Thanh Hoa province.
Assoc. Dr. Le Thi Quynh Mai, Deputy Director of the Central Institute of Hygiene and Epidemiology, stated that the institute has chosen to take samples from the patients in order to continue monitoring their health conditions moving forward.
Each of the patient's test results came back negative for the novel coronavirus (COVID-19) with a sample from a 25 year-old patient from Dinh Hoa commune of Yen Dinh district in Thanh Hoa province being the first to be taken on February 20, 2020.
This was followed by the other five patients from Vinh Phuc province having their tests taken on March 3. VNA/VOV/VNN