A total of 20 new cases of COVID-19 were confirmed on May 2, including 12 imported entrants, and 8 community infections in the northern provinces of Ha Nam and Vinh Phuc, according to the Ministry of Health.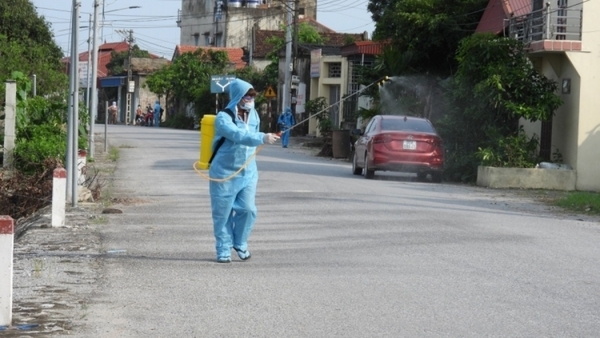 The 12 imported cases, all Vietnamese citizens, returned home from Japan, Russia and the Philippines, and were immediately put in quarantine upon arrival.
The two local infections detected in Ha Nam were connected with F1 contacts of the cluster of infections originating from the initial patient in Dao Ly commune, Nhan Ly district, Ha Nam province.
The six remaining domestic cases in Vinh Phuc are female staff of a karaoke facility in Vinh Phuc's Phuc Yen city who came in close contact with a Chinese expert detected to carry the coronavirus after returning to China. They were all transferred to the National Hospital of Tropical Diseases in Hanoi for COVID-19 treatment.
The nation has so far registered a total of 2,962 coronavirus infections, including 1,595 locally-transmitted cases and 1,367 imported ones.
Among the overall figure, a total of 2,549 coronavirus patients have been declared free from the virus, while fatality count related to COVID-10 remains unchanged at 35.
Furthermore, 72 of those still receiving treatment have tested negative for the virus at least once, with most of them reporting negative results.
In addition, more than 40,560 people who are currently in quarantine nationwide after having close contact with COVID-19 patients or entering Vietnam from pandemic-hit regions.
Vietnam has so far documented a total of 24 new local cases since April 29. Most of the new cases are linked to the initial patient in Dao Ly commune, Nhan Ly district who tested positive for the novel coronavirus in Ha Nam after finalizing his mandatory two-week quarantine in the central city of Da Nang where he tested negative three times.
To prevent the potential spread of the coronavirus pandemic, all schools in Ha Nam will be closed from May 3-9 following the recent discovery of further positive COVID-19 cases.
The Chairman of the provincial People's Committee also urged all departments, agencies, organizations and local administrations in the province to intensify the enforcement of pandemic prevention measures, including the suspension of events gathering large crowds such as weddings, parties and meetings.
According to the Center for Disease Control (CDC) in the northern province of Ha Nam province, regarding the COVID-19 outbreak in Dao Ly commune, Ly Nhan district, as many 3,088 people had their sample taken for coronavirus testing, with 2,976 having been tested.
The results showed that, there were 12 samples positive for SARS-CoV-2, 2,847 negative, and 112 waiting for results.
VOV

The Government has ordered preparations for the scenario of 30,000 COVID-19 infection cases in Vietnam.