Two Deputy Ministers of Health will go to Japan and Russia to receive the transfer of vaccine technology from foreign partners, according to the Government's monthly press conference on May 5.
Deputy Minister of Health Tran Van Thuan said that the use of a vaccine passport will commence only when community immunity is reached through vaccination, meaning 70% of the population is vaccinated against Covid-19. However, there is insufficient evidence of a preventive efficacy against SARS-Cov-2 variants.
The Ministry of Health will coordinate with relevant ministries and agencies to study and propose that the Government decide on the application of the vaccine passport at an appropriate time, based on the principle "safety for the people is the top priority". No type of vaccine is 100% effective, Thuan said.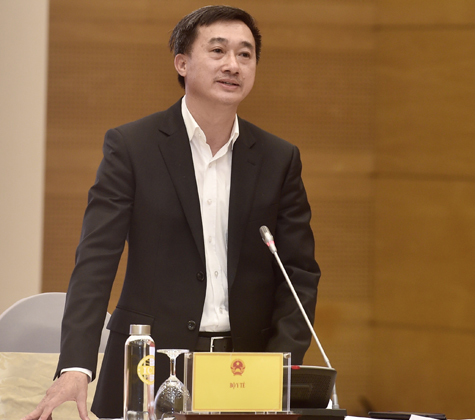 Deputy Minister of Health Tran Van Thuan.
Regarding the entry of foreign experts, Thuan said that Vietnam's policy is not to prohibit foreign experts from entering the country for business. However, related agencies have to propose the right people who are "really effective" for the work and socio-economic development of the country.
Prime Minister Pham Minh Chinh has asked to reactivate a five-member group that includes representatives from the ministries of Foreign Affairs, Defense, Health, Public Security, and Transport, to consider and approve the entry of foreign experts.
As for Covid-19 vaccines, Deputy Minister Thuan said: "Under the drastic direction of the Prime Minister, we are trying our best to get the vaccine as soon as possible, from direct and indirect channels such as Vietnamese embassies overseas, companies and organizations."
From now to early 2022, Vietnam expects to get 39 million doses from COVAX Facility, which are enough for 19.4 million people categorized as subjects of priority, and 30 million doses of AstraZeneca. The Ministry of Health is negotiating with Pfizer to purchase an additional 31 million doses this year or next year. In addition, Vietnam will receive about 2 million doses from other organizations.
Mr. Thuan said that some foreign partners will transfer vaccine technology to Vietnam. "The Prime Minister has assigned me to go to Japan and Mr. Truong Quoc Cuong (Deputy Minister of Health) to go to Russia to receive technology transfer and negotiate to buy more vaccines from Russia and Japan."
In May, the World Health Organization (WHO) and partners will hand over the latest Covid-19 vaccine production technology to Vietnam, which is owned by Pfizer and Moderna.
In Vietnam, two local organizations, Nanogen Biotechnology Joint Stock Company and the Nha Trang Institute of Vaccines and Biologicals (IVAC), are urgently testing their Covid-19 vaccines under the assistance of the Ministry of Health.
Deputy Minister Thuan once again affirmed that besides vaccinations, it is important to implement the 5K measures (in Vietnamese) of the Ministry of Health – Khau trang (face mask), Khu khuan (disinfection), Khoang cach (distance), Khong tu tap (no large gatherings), and Khai bao y te (health declaration).
Hong Nhi - Tran Thuong

Western nations have the capacity in terms of economic potential and the legal and moral aspects to promote access to vaccines on a global scale.

While negotiating with foreign vaccine providers, Vietnam will accelerate vaccine purchases to ensure that all people have access to Covid-19 vaccines.

Vaccine nationalism has become alarming, as politicians have criticized the previous US President Donald Trump for his "America First" doctrine.