The Health Ministry confirmed 87 additional COVID-19 cases on the evening of May 9, including 77 locally-infected ones detected in 9 provinces and cities.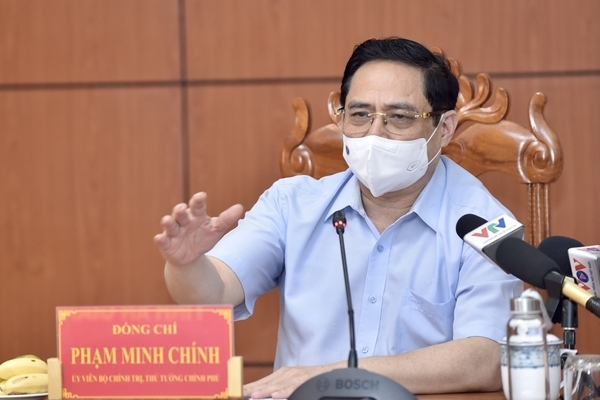 Prime Minister Pham Minh Chinh chairs an urgent online meeting with the National Steering Committee for COVID-19 Prevention and Control (Photo: VGP)
The latest domestic cases included Bac Giang (26), Bac Ninh (15), Hanoi (11), Hung Yen (2), Hoa Binh (2), Da Nang (17), Hue (2), and one each in Quang Nam and Quang Tri.
All imported cases were immediately placed into isolation upon arrival to prevent the virus spread. The new cases have brought the national count to 3,322, including 1,963 community infections.
In the face of the increasingly complicated developments of COVID-19, Prime Minister Pham Minh Chinh on May 9 chaired an urgent online meeting with the National Steering Committee for COVID-19 Prevention and Control, relevant ministries and agencies, and six provinces along the southwestern border, with a particular focus on coping with the latest COVID-19 resurgence in the nation.
The government leader stressed that some localities have lowered guards against the COVID-19 pandemic, adding that local leaders will be responsible for leaving the pandemic out of control that will result in economic slowdown in their localities.
Chinh underlined the strict control of cross-border illegal entry as the pandemic is rapidly spreading and ravaging many neighbouring countries.
He asked all cities and provinces to work out plans to ensure safety for the forthcoming elections, and the completion of the 2020-21 school year while ministries need to boost closer collaboration in the COVID-19 fight.
The same day, eight positive novel coronavirus (COVID-19) in Hanoi capital, and the northern provinces of Hung Yen and Thai Binh were confirmed to be carrying the B1.617.2 strain of the virus from India.
The results were released following the Central Institute of Hygiene and Epidemiology sampled COVID-19 patients for genetic sequencing in order to identify the specific variant of the virus.
According to the Health Ministry, as many as 334 fresh local infections have been detected across 26 cities and provinces from April 29 to May 9.
VOV

All three facilities of Vietnam's National Cancer Hospital, also known as K Hospital, in Hanoi were put under lockdown from 5:30am on May 7, after 10 COVID-19 infections were recorded in the hospital's Tan Trieu facility.