A Laotian man was arrested by border guards in Thanh Hoa province after being caught illegally smuggling drugs across the border from Laos on June 2.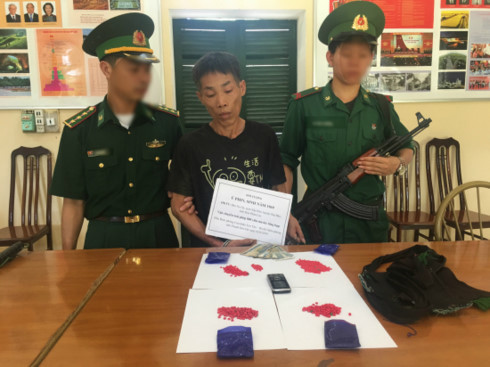 Laotian suspect U Phin (Photo: Quang Huy/bienphong.com.vn)
The man has been identified as U Phin, 50, of Sop Bao district in Laos' Houaphan province.
Upon being questioned, the Laotian suspect confessed that he was hired by another man from Vien Xay district in Houaphan province.
He was then asked to transport 800 pills of drugs for a profit of 200,000 Lao kip.
When attempting to cross the southern bank of the Ma river at 6:40 on June 2, U Phin was caught red-handed by officers from the Ten Tan border station.
He was trying to illegally enter Vietnam with the intention of selling drugs.
The border guards in Thanh Hoa province are now now finalizing the necessary procedures in order to hand the suspect over to the Laotian police. VOV

The Ministry of Public Security is exerting efforts to stop drugs from entering Vietnam.  

Despite only being 28-years-old, Vũ Hồng Thúy has seen a lifetime's work of the damage drugs can do.  

Lieutenant Colonel Dang Van Doan, deputy director of the Criminal Science Institute, Ministry of Public Security, talks to the Voice of Vietnam about new drugs found in Vietnam and the dangers they posed.