Biya is the name of a robot created by a group of students called Storm from the Da Nang University of Science and Technology.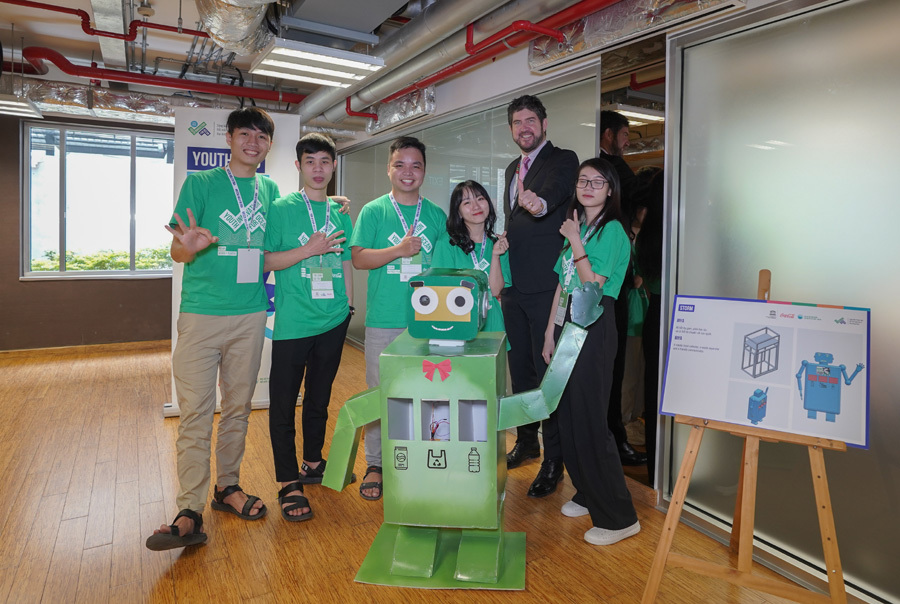 Storm and Biya
The robot collects waste and answers tourists' questions.
Trinh Thanh Phu, a member of Storm, said the product is an updated version of a robot that at first only picked up trash on the river.
The students decided to equip it with a new function – talking to people.
Biya can answer 1,000 questions related to tourism in Da Nang and environmental protection.
"One question can be raised in many different ways. We will teach Biya to find answers to questions by showing it several ways of questioning in one case," Phu explained.
For example, travelers may ask 'den Cu Lao Cham di choi o dau?' (where to go in Cham Isle?) or 'troi mua di choi o dau?' (where to go if it rains?).
If Biya finds that the content of questions is 80 percent similar, it will automatically increase the existing data. If the questions are just 60 percent similar, it will send it to the web, so that the administrator can identify if the content is similar or different than existing content.
Storm, with five major members, has recruited eight collaborators who are in charge of teaching language to the robot. Every day, each of them needs to teach 20-30 sentences to help Biya speak more fluently.
When they took Biya to the final round of a competition for creative ideas for oceans without plastic, organized by UNESCO (the United Nations Educational, Scientific and Cultural Organization) last December, Storm only had a low-cost Biya version with the cover made of carton paper.
"We were students and we did not have big resources, in finance, time and knowlege. The total cost for the initial version was just VND5 million," he said.
Biya still cannot collect waste automatically on land as it can on rivers, because there are more obstacles on land.
But they decided to have Biya collect waste with a remote control and later collect waste automatically.
One of the problems when creating Biya was equipping it with the ability of understanding people in crowded places.
"The robots that can talk are mostly put in deserted places. However, Biya serves travelers in Da Nang, so it is located in places with noise. Dealing with noise is one of the problems we have to solve," Phu explained.
Dang Duong

Tri Nhan, the first robot built in Vietnam with artificial intelligence (AI), is expected to be the future of teaching. With the ability to do maths, solve problems, and even read poems, the robot could one day become a teaching assistant.

Nguyen Manh Hung, head of Technical Infrastructure Division under the Hanoi Department of Construction speaks about difficulties in resolving garbage crisis in the city.