Due to the shortage of a global supply of Covid-19 vaccines, the vaccine batch provided for Vietnam by the COVAX program may arrive in Vietnam later than scheduled.
According to the United Nations Children's Fund (UNICEF), it is expected that by the end of March, the first 1.37 million doses of AstraZeneca vaccine out of 30 million doses of Covid-19 vaccine committed to Vietnam by COVAX Facility will arrive in Vietnam. After that, the next 2.8 million vaccine doses are scheduled to arrive in the country by the end of April.
However, due to the shortage of vaccines globally, the vaccine may arrive in Vietnam later than the initial plan, according to information from a meeting of the Central Propaganda and Training Commission on March 23.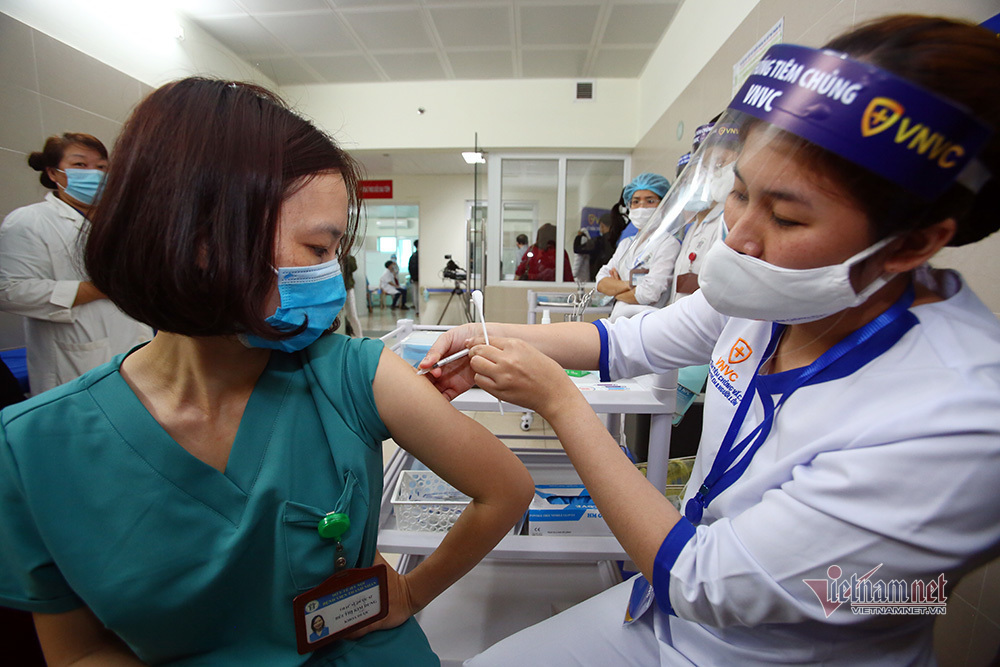 Vaccination against Covid-19 in Hanoi - Photo: Pham Hai
The remaining amount of vaccines committed by COVAX Facility for Vietnam from the 3rd quarter of 2021 may be delayed until 2022. The Ministry of Health is working with COVAX Facility to accelerate the progress.
COVAX, the overarching effort to accelerate development and access to COVID vaccines, is co-led by the Coalition for Epidemic Preparedness Innovations (CEPI), Gavi, the Vaccine Alliance and the World Health Organization (WHO) working in partnership with UNICEF as well as the World Bank, manufacturers and civil society organizations, and others.
Regarding the batch of AstraZeneca vaccine imported through the Vietnam Vaccine Joint Stock Company (VNVC), it is expected that the remaining 29.87 million doses will arrive in Vietnam in the second and third quarters of 2021. However, the exact time of arrival may be pushed back due to the shortage of global supply of vaccines.
Previously, VNVC signed a contract to buy 30 million doses of AstraZeneca vaccine with a deposit of up to VND600 billion (nearly $30 million) during the clinical trial of phase 3 of this vaccine.
VNVC has agreed to sell the vaccine to the Ministry of Health in a non-profit form. In late February, the first 117,600 doses of AstraZeneca vaccine produced by SK Bio - Korea arrived in Vietnam, and have been used in a nationwide vaccination campaign since March 8.
The worldwide supply of Covid-19 vaccine is scarce. There are not many manufacturers of vaccines meeting the pre-assessment standards of the World Health Organization (WHO) and their production capacity is limited.
Moreover, a number of developed countries like the US, UK, and European countries actively supported research and development of vaccine and placed big orders from the start of the research and development stage.
Over 30 countries ordered volumes of vaccines that are higher than their population even when the vaccines were not produced. Some countries even ordered a number four times more than their population. This makes it difficult for many countries, especially developing ones, to have access to vaccine sources.
The Vietnamese Ministry of Health has tried to access different sources of Covid-19 vaccine supplies.
In addition to vaccines provided by COVAX Facility and imported by VNVC, the Research Center for Vaccines and Medical Biologicals Production (POLYVAC) is negotiating with Russia to buy Sputnik V vaccine with the maximum quantity and supply in the shortest time.
The Ministry of Health is negotiating to buy Pfizer's vaccine. According to the firm's latest announcement, it can provide 31 million doses of vaccine to Vietnam. However, this type of vaccine must be kept at a very cold temperature, from minus 30 to minus 60 degrees Celsius, while the current cold storage of Vietnam can only preserve vaccines at a temperature of 2-8 degrees Celsius.
The Ministry of Health is also working with Johnson & Johnson and Moderna, and manufacturers in India and China, to ask for their official answer to the Covid-19 vaccine supply for Vietnam.
Besides seeking imported vaccine sources, Vietnam is promoting vaccine research and development at home. Nanocovax vaccine developed by Nanogen has been tested on humans, and has been in phase 2 since February 26. Covivac vaccine developed by IVAC has entered clinical trial phase 1 on March 15.
Locally made vaccines are expected to be used in 2022.
According to latest announcement form UNICEF, due to production delays of COVID-19 vaccine distributed through COVAX, the projected deliveries to all countries have had to be delayed, and the amount to be sent have been reviewed and adjusted.
This means that Vietnam is now due to receive 811,200 doses of the AstraZeneca vaccine in the next three weeks. This quantity is smaller than previously announced for the first shipment and based on an equitable pro-rata distribution of available doses between all participating countries. Based on initial information shared by the manufacturer, the aim remains to deliver a total of 4,176,000 doses to Vietnam by the end of May, pending operational and supply constraints.
In this early phase of COVID-19 vaccine roll-out, vaccine manufacturers require time to scale and optimize their production processes. AstraZeneca, which uses a novel supply chain network with sites across multiple continents, is working to shorten its lead times to enable timely supply to all COVAX participants.
Nguyen Lien

Vietnam is expected to get 5.657 million doses of AstraZeneca vaccine against COVID-19 in March and April, with most of them to be delivered by the COVAX Facility.

The clinical trial of the domestically-made Nanocovax vaccine is going smoothly, and by the end of September, Vietnam will have its first Covid-19 vaccine.