Deputy Minister of Education and Training Hoang Minh Son believes that the biggest difficulty in digital transformation is the lack of qualified human resources.
Son said at a workshop on digital transformation held by the Ministry of Education and Training (MOET) recently that the educational sector needs to become the leader in digital transformation.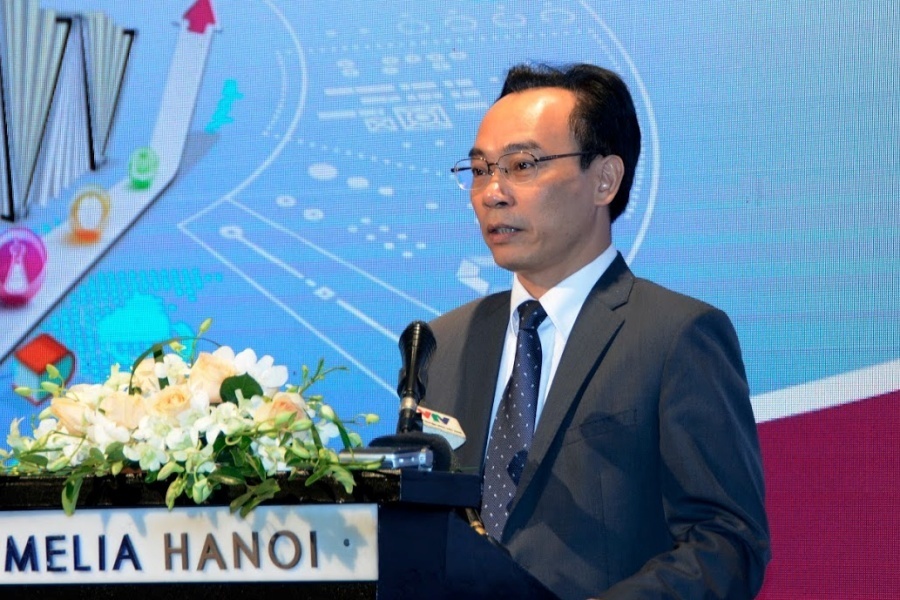 Deputy Minister of Education and Training
Son said on one hand, it is necessary to transform all activities, from teaching and learning methods to administration and management, aiming for an educational system with high quality and low costs, accessible to many people. On the other hand, it is necessary to develop human resources and prepare the workforce for national digital transformation.
The biggest problem is human resources. It is not easy to change the views of managerial officers and lecturing staff.
"Only when people change themselves to adapt to new circumstances will digital transformation succeed. This is because students nowadays have too many information channels and learning materials," he said.
"Teachers need to shift from imparting knowledge to selecting and gathering knowledge to build lesson plans, personalized for every student," he said.
Son spoke about how Hanoi University of Science and Technology, where he was rector, shifted to online teaching.
The leaders of the school discussed t
online teaching on the afternoon of Saturday and online teaching began the next day. When the next week began, 30 percent of classes began organizing online teaching, and the figure rose two weeks later.
At the school, tuition collection and students' diligence assessment are also carried out online.
"So, we can see that once we have high adaptation and capability, digital transformation will be successful," Son said.
Deputy Minister of Information and Communications Nguyen Huy Dung said universities should become 'miniature countries'.
The elite parts of the country are seen at universities. Therefore, if the universities do not digitize, the country's digital transformation won't succeed, Dung said.
According to Dung, the educational sector should begin developing a digital ecosystem soon, because digital courseware will help change the teaching and learning methods.
Nguyen Dinh Duc from Hanoi National University noted that many schools still cannot decide which software products to use to organize online teaching. He suggested building a common platform for online teaching at universities in Vietnam.
"All the data and courseware will be integrated into the platform, while MOET will come forward and control the resources," he said. 
Ha An

Vietnam has carried out digital transformation programmes for enterprises and dialogues between companies and senior leaders of ASEAN countries to turn the bloc into a hub for innovative and sustainable start-up development.

Vietnam is set to see 55% of the local population regularly participate in online shopping activities by 2025, with the value of goods purchased through the internet and online services reaching an annual average of US$600 per person.