Nguyen Thi Hang, a teacher of Tan An 1 Primary School in the northern province of Lao Cai left a thank you note before leaving the Urology Surgery Department of Lao Cai Province General Hospital.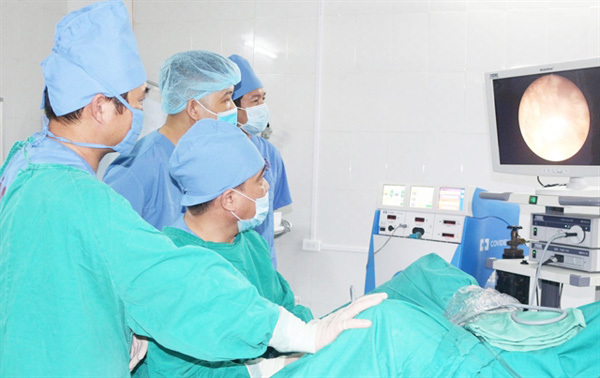 A laparoscopy performed by surgeon Nguyen Van Hai at Lao Cai Province General Hospital. — Photo Courtesy of the hospital
The note was sent to the head of the department doctor Nguyen Van Hai and other medical workers.
"Everyone was so nice to me," Hang said, adding that her pain seemed relieved much when a nurse told her that: "I will take your blood for testing. Please tell me if it hurts!"
Doctor Hai carefully explained her health problems, recommended possible treatment options and encouraged her a lot in a very gentle manner, Hang said.
"We patients feel at home when staying at the hospital. The doctors and nurses treat us as if they were our family members," Hang wrote.
Hai said that he received a lot of thank-you notes and letters from patients like Hang, which inspired him and made him confident in his career choice.
"A doctor not only treats people but also encourages them, reassures them and helps them stay strong during their illness," Hai said.
Hai is known as one of the very first doctors who introduced the laparoscopy technique in the northern mountainous province of Lao Cai.
"I am very interested in laparoscopy with its significant outstanding advantages," he said, adding that he was lucky to attend training classes on laparoscopy offered by leading doctors in Vietnam.
With his understanding of laparoscopy, he has launched many initiatives to apply laparoscopy techniques in his hospital which is located in a disadvantaged area in Vietnam.
People living in mountainous areas with modest infrastructure development, particularly in transportation, lacked access to medical advances, Hai said.
In many cases when laparoscopy could help solve patients' health problems easily, due to a shortage of medical equipment, the patients still had to undergo conventional laparotomy which brings higher health risks.
In other cases, people had simple health problems but travel difficulties made them arrive at hospital too late, which resulted in serious damage, complications or even death, Hai said.
He said he was so sorry to remember a case of a 10-month old baby who died of intussusception in 2014.
"Intussusception is a serious condition in which part of the intestine slides into an adjacent part of the intestine. This telescoping action often blocks food or fluid from passing through. Intussusception also cuts off the blood supply to the part of the intestine that's affected. This can lead to a tear in the bowel (perforation), infection and death of bowel tissue," reads the world-famous Mayo Clinic's description of the condition.
The baby from the mountainous district of Muong Khuong was taken to the hospital in the early morning and the intussusception was not difficult to treat, Hai said, "But the baby arrived at the hospital too late. We could not save him." 
Seeing modern advanced medical equipment at hospitals in other countries where he attended training courses, Hai pitied his patients in Lao Cai, most of whom are poor, from ethnic minorities and unable to afford expensive surgeries.
Returning to Vietnam, Hai spent more time studying laparoscopy, particularly single-port laparoscopy (SPL) - a recently developed technique in laparoscopic surgery. 
Single-port laparoscopy was a surgical technique that passes through the navel without leaving a scar, Hai said, explaining that if the normal appendix laparoscopy has about 3-4 holes, with this application, doctors only need one hole to perform the surgical technique. 
However, this application required specialised complex surgical means, Hai said.
To fix this disadvantage, from a conventional device, Hai manipulated it by fabricating a small needle to aid in moving the appendix root to cut the appendix or move the gallbladder to perform cholecystectomy. After that, the needle would be removed and the patient has only a pin-foot scar.
Other tools are all inserted and exit through the navel. Thus, Hai's patients, after recovering, have almost no visible incisions.
Normally, patients have to spend an extra few tens of millions of Vietnamese dong on specialised tools used in appendix removal surgery or gallbladder surgery.
Meanwhile, at the Department of Urology in the General Hospital of Lao Cai Province, there is no additional cost for surgical tools thanks to Hai's initiative. 
This initiative not only helps patients enjoy the latest medical advances, reduce pain and shorten hospital stays but they also incur no additional costs for surgery. In addition, local people don't need to travel to central hospitals for such surgery anymore.
In 2016, Hai started to lead the Department of Urology and Surgery and was determined to promote the application of high-tech services.
In 2016 - the first year of the establishment of the Department of Urology and Surgery, the department's doctors successfully implemented two new techniques that are usually performed in central hospitals: laparoscopic surgery to completely remove the kidney and laparoscopy to connect the renal pelvis and ureter.
Pham Van Thinh, director of Lao Cai Province General Hospital, said Hai was an example of a hard-working, enthusiastic and responsible doctor.
With his leadership, the Urology Surgery Department has earned great fame among hospitals across the country.
The department's staff have gained their patients' trust and appreciation, which was the biggest gift to medical workers, Thinh said.  VNS

Over the past 20 years, after finishing work Mau Van Phi usually drives his old motorbike to offer medical check-ups and treatment to impoverished people, mostly of the Raglai ethnicity, in Khanh Vinh District in the central province of Khanh Hoa.

The Ministry of Health kicked off a five-year project on developing district- and commune-level healthcare systems in 13 provinces nationwide at an online conference held on August 25.