Dao Van Tu's career in the medical sector is no coincidence. It stems from his childhood.
Dao Van Tu examines a patient at the National Cancer Hospital.

"When I was a small child, I often got sick and it was very hard for my parents. There were times my mother spent the whole night holding me as I had difficulty breathing", said Tu, 35, who is now head of the Cancer Research and Clinical Trials Centre at National Cancer Hospital in Hanoi.
Thanks to his parents and the doctors, he survived.
As he grew up, a passion for helping other people did too.
Tu also liked gardening, animals and studying biology and nature. That was the motivation for him to become a doctor.
He decided to enroll at the Hanoi Medical University after high school, but in his third year, his grandmother was diagnosed with cancer.
"After studying the disease, I started looking for information about cancer treatment including traditional and western medicine as well as the problems patients have to cope with," he said.
Cancer has become a burden in Vietnam, requiring special attention from the whole of society.
According to statistics from the World Health Organisation, in 2018, the proportion of Vietnamese people with cancer reached 151.4:100,000 people, ranking 99 out of 185 countries and territories, 19th in Asia and 5th in Southeast Asia.
The number of new cancer cases in Vietnam has been increasing, reaching nearly 165,000 in 2018.
The more Tu became engaged with the issue the more challenges he found.
Doctors specialising in cancer treatment should be experts in surgery, radiotherapy and chemotherapy, he said.
It is also necessary for them to have a deep understanding of pathology and molecular biology.
New studies are constantly uncovering more about the disease, so doctors are always studying.
Treating cancer patients is also a big challenge.
Many cancer patients in Vietnam leave it too late to consult doctors, so often the focus ends up being on prolonging their survival, he said.
Cancer patients suffer psychological difficulties and undergo prolonged treatment.
During Tu's 10 years of working with cancer patients, he's noticed that even when the disease is detected early, metastasis develops quickly.
"The difficulty for the patient is also the problem medical staff have to deal with. Early diagnosis is vital to give the optimal treatment for patients in the early stages so they recover quickly," he said.
He has begun studying pre-clinical and clinical trials to find an effective treatment to eliminate the disease.
One of his prominent research papers, which was also his PhD thesis, was the link between Angiopoietin-like 4 (ANGPTL4), a matricellular protein, and the risk of brain metastases in the women with breast cancer.
His study pointed out that the concentrations of ANGPTL4 were associated with brain metastasis and the decreased overall survival time of breast cancer patients. Early detection of brain metastasis would help improve the patients' situation.
Tu's latest research focused on stomach cancer. He proved that chemotherapy was a must for patients diagnosed with the disease from stage 2.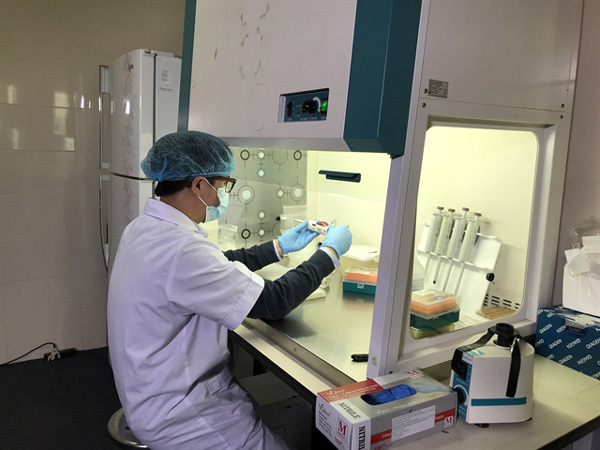 Dao Van Tu works at the lab. — VNS Photos Mai Hien
 
He also joined his colleagues at the hospital to study pancreatic cancer and the effectiveness of immunotherapy.
Due to his dedication to the health sector, Tu was among 10 young doctors honoured at an event to acknowledge their contributions to public health.
He was also named among 20 young outstanding Party members who studied and followed late President Ho Chi Minh's teachings last year.
According to Tu, to become a Party member, a person should have good morals and professional skills.
"I learnt a lot from Uncle Ho," Tu said.
The way he cared for plants was a good example, he said. Instead of cutting off the roots, President Ho Chi Minh would tend to them until they grew into trees, which was the same as his research work.
"Working as a researcher requires a meticulous nature. We should understand each aspect of the problem, particularly in the health sector, as it's related to human lives," he said.
As President Ho Chi Minh once said, good doctors are like loving mothers, physicians like him should continue enriching their knowledge and skills for the cause of public health.
When asked about a case that left the deepest impression on him, Tu said an under-30 year old patient who was suffering from sarcoma, a type of cancer that develops from certain tissues like bone and muscle.
The woman had two children and her oldest son was only five years old.
She was diagnosed with the disease at late stage, had a surgery and undergone treatment but doctors failed to help her survive.
"I was by her bed on the last day when she asked her relatives to bring her son to the hospital to see him one last time," Tu said.
It only took them about an hour, but my patient was struggling for breath. She managed to hold on and give her son one last hug when he arrived. I don't think any of us will forget that moment.
"It was not an exception. I felt the motivation to do my best to fulfill my duty by curing as many people as possible." — VNS
By Mai Hien

Over 20 years ago, a Japanese woman visited the central city of Hue and fell in love with the place. She has returned many times to support children fighting cancer.

Oncology hospitals and centres are using new techniques and medicine for cancer treatment amid a rise in cancer incidences in the country, Dr Pham Xuan Dung, head of the HCM City Oncology Hospital, said.

Professor Nguyen Chan Hung, one of Vietnam's leading oncology experts, has been retired for almost 20 years. At the age of 75, he is still passionate about his work.