On Valentine's Day, Nguyen Van Tuan wanted to send flowers to his wife, but he didn't.
He was called away from Hanoi on an emergency and didn't have time to.
Unexpected calls are part of being a doctor, and Tuan, a doctor at the National Hospital for Tropical Diseases, was not surprised.
But this was no ordinary emergency.
Tuan was part of a team of medical professionals who treated the first Vietnamese patients to test positive for the novel coronavirus at the end of January.
He stayed in hospital for 14 days, sleeping on a camp bed in his room.
"It was uncomfortable, but just like my colleagues, I was too tired every night to even think about it," Tuan said.
On February 14, he received a phone call from his boss telling him he had been assigned to a special task force to work on the prevention and control of the COVID-19 epidemic in Binh Xuyen District, Vinh Phuc Province.
Vinh Phuc Province is home to 11 of the 16 confirmed COVID-19 infections recorded thus far in Vietnam. The source of the infection was a group of eight workers who'd returned from China's Wuhan City on January 17.
Tuan was only able to call his wife late that night after he was "settled" at the heart of the nation's epidemic fight.
"She was worried. But it's my job…"
Standing at the gate of Vinh Phuc Province's Quang Ha General Clinic with a mask covering his face, Tuan said he missed his wife and two kids because he hadn't been home for almost a month, but also said he was ready to see everything through.
"When I read the news about doctors who had died of the virus in China, I was heartbroken.
"We doctors and nurses tell ourselves we have to stay safe and healthy so we, together with our colleagues in preventive healthcare, can fight the epidemic until it's over," Tuan said.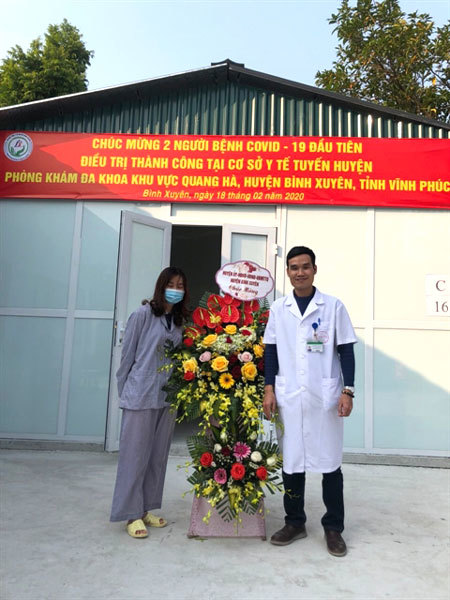 Doctor Nguyen Van Tuan from the National Hospital for Tropical Disease pictured with the first patient to recover from the novel coronavirus who was discharged from hospital on February 18 in Binh Xuyen District, Vinh Phuc Province. Photo Courtesy of Nguyen Van Tuan

Nguyen Trong Khoa, deputy head of the Department of Medical Examination and Treatment under the Ministry of Health, arrived in Vinh Phuc on February 13, but his involvement with the epidemic started much earlier.
On January 11, he held his first meeting about the novel coronavirus and its potential risks to Vietnam with Government leaders. On January 24, the first novel coronavirus cases were reported in Vietnam.
Since then, he has only taken one day off – the first day of the Lunar New Year – when he took his family to see his parents-in-law in Thai Binh Province.
On February 13, he met up with the special task force and headed to Vinh Phuc. The first week was very tense, since a whole commune had been locked down.
Nguyen Trong Khoa, deputy head of the Department of Medical Examination and Treatment under the Ministry of Health, works with a member of a task force assigned to monitor suspected cases after the last coronavirus patient in Binh Xuyen District recovered on Tuesday. VNA/VNS Photo Doan Tung

"There were so many things that needed to be done. It was not only about screening suspected cases and treating people who tested positive, it was also about controlling and preventing the disease from spreading further, and providing normal healthcare services for those in need," he said.
Some 160 doctors, nurses and healthcare staff from central and regional hospitals were sent on the special mission to Binh Xuyen District.
They were divided into different groups: one in charge of screening suspected cases and treating infected cases; another in charge of monitoring and controlling the epidemic; and another in charge of providing on-the-spot healthcare services.
Son Loi Commune, home to 10,600 people, has been locked down since February 13. Three quarantine stations were set up in Binh Xuyen District: Quang Ha General Clinic, Phuc Yen Hospital and the provincial Military College 2.
"You can imagine the workload," Khoa said.
But it was not just hard work and the risks involved that stressed the healthcare staff.
One of them, who was sent to work at Quang Ha General Clinic, said his family had faced discrimination when their neighbours found out where he was working.
"My family, with whom I have had no direct contact since I joined the task force, was isolated and discriminated against by our own neighbourhood, and that made me very sad," he said.
No time to lose
Doctor Tran Nhu Duong, deputy director of the Central Institute of Hygiene and Epidemiology, has been placed in charge of the overall operation of the task force.
On February 13, after arriving in Vinh Phuc, he attended a six-hour training course for more than 200 doctors, nurses and healthcare staff.
That night, in a small room provided by local authorities, Duong and his colleagues worked on guidelines to quarantine suspected cases.
"It was an important, urgent task, so we had no time to lose," he said.
The task force set up 60 local health groups, each in charge of 20 families in communes where special supervision was needed.
Every day, these groups of both local healthcare staff and members of the task force visited each and every family to take their temperatures and give clear and detailed instruction on how to prevent the epidemic from spreading.
People with suspected symptoms such as coughing or a high fever were taken into quarantine stations.
"It was crucial to make people understand and co-operate with us in the fight to stop the epidemic from spreading," Duong said.
While doctors on the frontline face the risk of being infected, it's no less dangerous for those involved in preventive and control jobs, Duong added.
Doctor Nguyen Trung Cap, head of the Emergency Department at the National Hospital of Tropical Diseases, said his colleagues in the preventive healthcare sector had done a really good job.
"When the virus is detected, treatment is usually in the final stages. The most important thing is to stop the epidemic from entering the country again, and if it does, preventing it from spreading," he said.
"The success depends largely on these two stages – if disease prevention and control is done properly, we won't have to do anything, or at least, the workload would be much easier to handle. So far, it has been successful," he said.
It's not over yet
Last Sunday at around 10pm, Khoa received a phone call from Doctor Tran Nhu Duong.
The sixteenth coronavirus case in Vietnam, who is receiving treatment at the Quang Ha General Clinic in Binh Xuyen, had tested negative for the virus for a second time.
"I think it was the most joyful and touching moment I'd felt since I became involved in the epidemic task force. I could feel relief flooding through me," Khoa said.
In an online meeting on Tuesday morning, Deputy Prime Minister Vu Duc Dam announced that Vietnam's last case of the 16 novel coronavirus infections had recovered. No new infections have been reported in the country over the past 13 days.
But Khoa knows his job is far from done.
The latest developments in the COVID-19 outbreak in South Korea and other countries means Vietnam's health sector cannot afford to let its guard down.
After South Korea raised its epidemic alert to the highest level, the Vietnamese Government tightened controls for visitors from the country. Anybody coming from South Korea will have to submit health declarations, and those with symptoms will be quarantined for a minimum of 14 days.
As of Tuesday, the global COVID-19 death toll had climbed to 2,700, and confirmed infections topped 80,000. More than 27,000 patients have recovered, but health experts have sounded pandemic warnings.
Vietnamese healthcare staff on the frontline are well aware their work is not done and are braced for more cases.
"I'll only return to Hanoi once Vinh Phuc is free of the epidemic, but the fight will go on for at least several months."
"We must pay close attention to the disease because the situation now is becoming more complicated in other regions. There is a person from South Korea, where hundreds of people have tested positive for the virus, who has returned to the district. We have already quarantined that person and will monitor the situation closely."
Doctor Tuan was forthright: "Ever since I started working as a doctor, I knew I would always have to be on the frontline."—VNS
Thu Van

The 16th and the last COVID-19 patient in Vietnam was declared cured and discharged from hospital on February 26.

Vietnam has seen positive signs in the fight against the acute respiratory disease caused by the novel coronavirus (COVID-19), heard a meeting of the national steering committee for prevention and control of the disease on February 17.

Two cases of the novel coronavirus (COVID-19) infection in the northern province of Vinh Phuc displayed negative results as they were tested for the second time on February 17, according to Director of Vinh Phuc Department of Health.