Vietnam is attempting to ensure a sufficient supply of COVID-19 vaccines as soon as possible, with locally-made Nano Covax hopefully getting the thumps-up to be approved for emergency use, and therefore easing the reliance on overseas imports.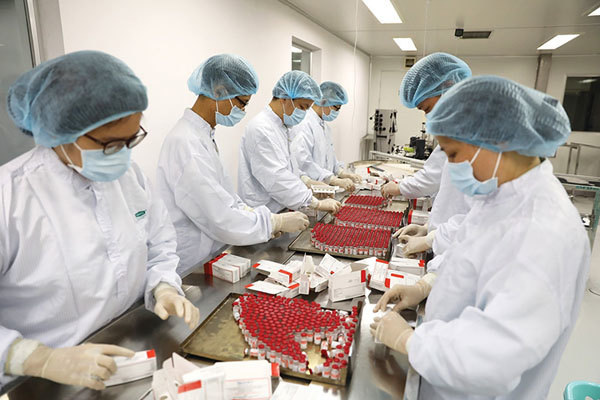 Vietnam is hoping to soon be able to offer its very own vaccine against COVID-19. VIR Photo: Duc Thanh
The Ministry of Health (MoH) and the Ministry of Science and Technology on July 22 held a meeting with senior health experts and scientists to check and review necessary data and the result of clinical trials of the Nano Covax COVID-19 vaccine for consideration of licensing for emergency use.
According to professors and based on the research data, the vaccine has been assessed to reach safety and create immunity, but still requires more time to assess its efficacy.
Prof. Dr. Pham Ngoc Dinh, member of the National Ethics Council for Biomedical Research, said that the vaccine research should pay attention to design updates, licensing with conditions, and post-licensing. "If we cannot do well with the licensing with conditions, problems could emerge in the post-licensing," Dinh said.
MoH Deputy Minister Tran Van Thuan noted, "The MoH supports and creates conditions COVID-19 vaccine developers with an expectation to soon have Vietnamese-made vaccines to in order gain the initiative in supply."
Regarding the conditions for emergency licensing, Thuan proposed that Nanogen, the developer of Nano Covax, closely works with the MoH's Agency of Science, Technology and Training as well as research units and scientists on completing documents on the results of the first and second clinical trials, and quickens the pace for results of the third clinical trial.
Based on these, the deputy minister urged scientists and other experts at the National Ethics Council for Biomedical Research and the Advisory Council for the Registration of Circulation of Drugs and Medicinal Ingredients to soon take into consideration proposals on emergency licensing for Nano Covax when results prove its safety and efficacy.
"When getting the results of clinical trials, along with ideas from councils and from domestic and international experts – based on the pandemic situation and vaccine demand – the MoH will consider granting emergency circulation license for Nano Covax," Thuan noted.
According to Nanogen, the clinical trial of Nano Covax has to date been conducted on 13,620 volunteers, including 60 in the first stage, 560 in the second stage, and 13,000 in the third stage, in which 1,004 received two shots.
"The company will continue to add and complete the documents on the products and preclinical and clinical trials this week to report to the MoH," said a Nanogen representative.
Vietnam is striving to successfully produce at least one locally-made COVID-19 vaccine in 2021 to ensure sufficient vaccine supply for the nationwide vaccination campaign, which aims for 150 million doses to be administered by April 2022, with the goal of vaccinating over 75 per cent of the population.
According to Nanogen, it can roll out 5-10 million doses a month. In addition to Nano Covax, COVIVAC developed by the Institute of Vaccines and Medical Biologicals is in the second phase of clinical trials.
Also last week, the Russian Direct Investment Fund and Vabiotech, one of Vietnam's leading pharma companies, announced that the first test batch of the Russian Sputnik V vaccine was successfully produced in Vietnam. The batch has been shipped to the Gamaleya Centre in Russia for quality control.
With the volume, Vietnam can take initiative in the quantity of COVID-19 vaccines, thus enabling the country to ease its reliance on foreign-imported vaccines. Vietnam now uses various foreign products for the national vaccination campaign and is continuing to negotiate with international partners to ensure more in the fight against COVID-19.
Despite making orders with overseas producers in the early stages of vaccine availability, the country is still waiting for sufficient numbers.
To date, Vietnam has received four types of foreign-made vaccines. These include nearly 4.4 million doses of AstraZeneca from the COVAX programme and through purchase, along with 1.4 million doses of the vaccine donated by the Japanese government; 2,000 doses of Sputnik V donated by the Russian government; 500,000 doses of Vero-Cell by Sinopharm donated by China; and about 100,000 doses of the Pfizer vaccine.
The Southeast Asian nation is awaiting the arrival of more vaccine doses, spread out over time. In 2021, the goal is to receive 100 million doses including 38.9 million from COVAX, 30 million of AstraZeneca, and 31 million from Pfizer/BioNTech.

Currently, Vietnam has four manufacturers researching COVID-19 vaccines in different technological directions.
Nanogen Pharmaceutical Biotechnology JSC is collaborating with the Military Medical Academy to develop NanoCovax. This was the first domestic enterprise selected to test for a vaccine in Vietnam.
Elsewhere, the Institute of Vaccines and Medical Biologicals is a research and production facility for medical biologicals which has researched and mastered the technology of producing flu vaccines on chicken eggs with embryos. It is GMP-WHO certified by the Ministry of Health (MoH) and is currently developing the COVIVAC vaccine.
Vabiotech now owns and operates a system of facilities and equipment which also meets GMP-WHO standards and Good Storage Practices. It not only supplies its products to the National Expanded Programme on Immunisation in Vietnam and provides services to the domestic market but also exports to a number of countries around the world.
Meanwhile, the MoH's Centre for Research and Production of Vaccines and Medical Biologicals (Polyvac) has discussed with Russian partners about coordination in research, production, import, and distribution of the Sputnik V vaccine in Vietnam. In December 2020, Polyvac signed a confidentiality agreement with Russia's RDIF for the purposes of manufacturing and distributing Sputnik V in this country. 
Source: VIR

The test of locally-made Nanocovax vaccine has yielded positive signs. In case of emergency approval, Vietnam would be able to produce 100 million doses per year.

The Ministry of Health and the Ministry of Science and Technology met on July 22 to examine Nanogen's proposal to approve its COVID-19 vaccine Nano Covax for emergency use in Vietnam