Three people died early this morning after a blaze tore through their home in the central province of Thua Thien-Hue.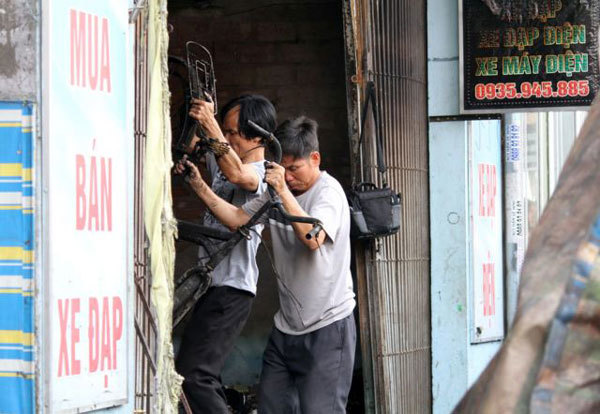 Neighbours of the victims assisting local police in moving debris from the burned house. — VNS Photo Dien Quang
The victims included a married man and woman, aged 56 and 54 respectively, and their 12-year-old daughter. The house, located in the An Dong Ward in the province's municipal city of Hue, was also used as a shop selling electric bikes and spare parts.
Neighbours said they spotted the blaze at around 3:45am and tried to break in to save the family, but failed because the door was locked from the inside. They also attempted to extinguish the fire from outside but failed to have an impact on the strong blaze.
Witnesses said the fire was accompanied by blasts that they speculated came from the burning batteries of the electric bikes.
City fire-fighters later arrived at the scene and managed to break in but found the three victims dead. Police said the victims were likely asleep when the fire broke out.
The fire was put out after two and a half hours. Neighbours and police were clearing the debris on Thursday morning as an investigation began into the cause of the fatal blaze.
The house had only one exit door. In Vietnamese urban areas, shops are often operated from citizen's homes and they are rarely equipped with extinguishers or escape plans.
VNS
RELATED NEWS