Sùng Diu Sì has been living in Vinh Son Village of Bac Quang District in Ha Giang, the mountainous province to the north of Vietnam, for 40 years.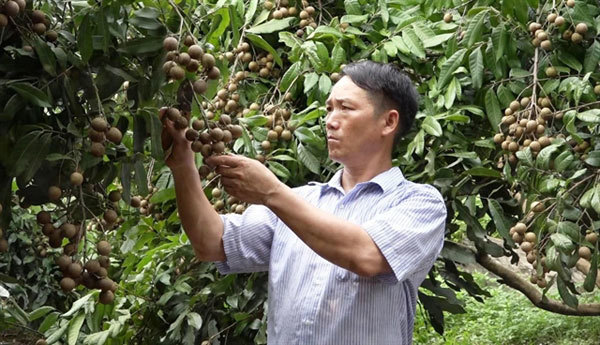 Sùng Diu Sì checks on his longan orchard. — Photo courtesy of Sùng Diu Sì 
During his childhood he struggled because of poverty. He was born in a Mong ethnic minority family with seven children, living in a makeshift house. Their meals were often rice mixed with sweet potatoes and any vegetables they could find in the forest.
"I was thankful for the support and help of our neighbours at that time, so I was determined to escape such poverty but decided to do that here in my homeland," Sì said.
In 1996, he gathered all his money buying three hectares of land in Vinh Son Villlage. Realising that the soil was fertile, Sì thought of growing oranges and longan on his land. Sì and his wife worked hard on the orchard and also built a pond to raise fish.
The early days were not easy: in a very short time, his seemingly healthy young trees began to rapidly decline from diseases, turned yellow and suddenly died. While longan trees, on the other hand, didn't bear any fruit.
Sì realised he lacked the knowledge necessary to become successful, so took classes on trees cultivation and also learned from veteran farmers in the area.
He also used a preferential loan from a bank to expand his farming model by applying new technology.
He persuaded his family to stop rice monoculture and cut down the acacia plantation to shift to fruit trees. Since 2003, he built a household farming model with an income of roughly VND150 million (US$6,600) a year.
From three hectares at the start, he has now developed his farm to an area of 6.6 hectares.
Since 2014, Sì has studied more about how to apply modern technology in farm work. In 2016, his income was VND1.6 billion.
With his knowledge, Sì helped people in the village with planting techniques and even provided them with seedlings. He also provided jobs for eight workers in the area.
Leaders of the Vinh Phuc Commune praised Sì for his support for the community, saying he contributed greatly to local poverty elimination and economic development.
In 2017, Sì established a co-operative in the commune, bringing local products to consumers in the country.
"He's a very active farmer who wants to learn how to do business properly. He is always willing to share his knowledge and experience," said Hoang Hai Chu, chairman of Vinh Phuc Province People's Committee, adding that the family is active in encouraging other households in their neighbourhood to switch to more economically viable crops and animals, in a bid for better livelihoods.
Sì's farming model has now become a popular destination for many aspiring farmers in Bac Quang District looking to visit and study.  VNS 

Government policies and programmes on poverty reduction have changed the lives of ethnic minority people in the northern border provinces.

Do Anh Hieu, chairman of Hung My Commune is known as a dynamic leader who has brought positive changes to the locality.