A Vietnamese Facebook user in Can Tho was detained on Sunday for allegedly disseminating misinformation on a land dispute that left three police officers and one protestor dead in Dong Tam Commune, My Duc District, Hanoi City Thursday.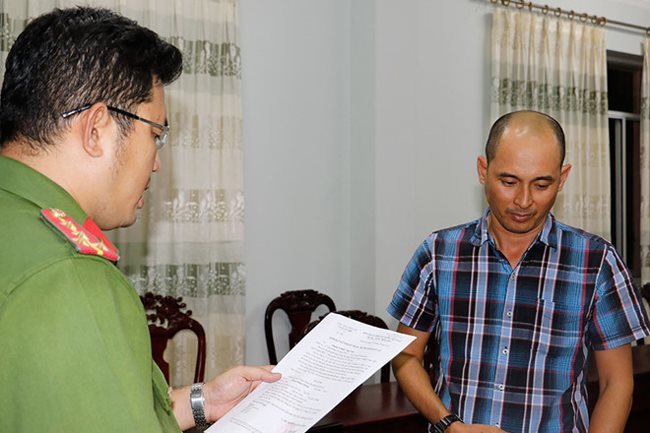 Chung Hoang Chuong, a Facebook user, is seen listening to a policeman reading an arrest decision over his false posts over a deadly disturbance case in an outskirt district of Hanoi – PHOTO: TNO
Deputy chief of the city's Ninh Kieu District police Dang Cong Chuc told Thanh Nien newspaper on Sunday that a local 43-year-old man, called Chung Hoang Chuong, was being held in police custody for abusing democratic freedoms.
Chuong, under the Facebook name Chuong May Man (Lucky Chuong), was accused of having posted many status messages that could seriously infringe upon the rights and interests of the State.
Last Friday, local police found that Chuong had written many posts that had distorted facts and discredited State agencies and armed forces on duty in Dong Tam Commune.
For example, he wrote a post about a confrontation between Dong Tam villagers and law enforcement officers. Despite not knowing how the incident occurred, he posted misleading information on the armed forces on duty there.
Investigators also discovered that since 2018, he had either written or shared a total of 16 articles that were negative or anti-State and were aimed at infringing on the rights and interests of the State, organizations and individuals.
Chuc confessed to police that he had frequently used Facebook to read posts with unverified information and would later share them on his Facebook account.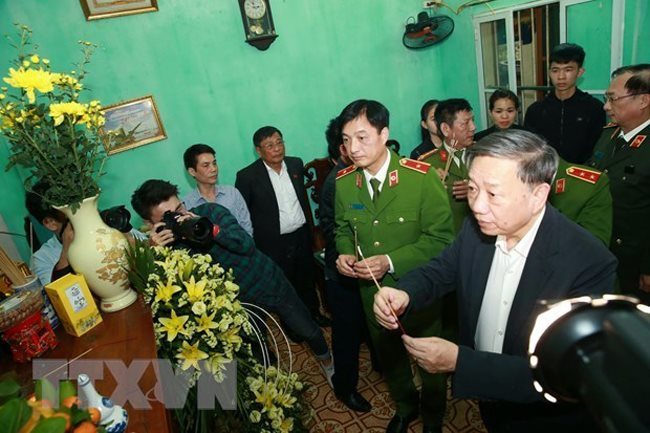 Minister of Public Security General To Lam burns incense in memory of Colonel Nguyen Huy Thinh, one of the three police officers who died while performing their duty in Dong Tam Commune, Hanoi's suburban district of My Duc
In the Dong Tam case, local residents used grenades, firebombs and spears to prevent police officers, authorized by the Ministry of National Defense, from building a fence around the Mieu Mon Military Airport on land they insist is private.
The village is roughly a kilometer away from the airfield. Construction of the fence to protect the land began on December 31.
Last Friday, Hanoi police pressed charges against local residents who attacked the policemen. The attackers will face charges of murder, illegally storing and using weapons and resisting on-duty officials. Investigators have arrested 30 rioters so far.
The Ministry of Public Security stated that Le Dinh Kinh, the de facto community leader of the protest against Hanoi authorities, was among the four people who died in clashes with police on Thursday.
The 84-year-old Kinh had been holding a grenade when he died, according to authorities.
Some of the arrested protesters had reportedly claimed Kinh was the mastermind behind their activities against the Government.
The commune is essentially stable now, with residents going about their daily activities as normal. The fence around the airport is still being set up.
The Ministry of Labor, Invalids and Social Affairs on Sunday announced that Prime Minister Nguyen Xuan Phuc has granted certificates of national merit to the three deceased police officers: Colonel Nguyen Huy Thinh, 48; Senior Lieutenant Duong Duc Hoang Quan, 28; and Senior Lieutenant Pham Cong Huy, 27.
Party Secretary and State President Nguyen Phu Trong also granted Victory Orders, first class, to the trio posthumously in recognition of their outstanding services to the Motherland. SGT

General To Lam, Politburo member and Minister of Public Security, has visited and extended his deep condolences to the families of three police officers who died while doing mission in Dong Tam commune, My Duc district, Hanoi.

The Ministry of Public Security has announced that three police officers sacrificed, one person died and another was injured during a disturbance in Dong Tam, My Duc District, Hanoi on January 9 morning.