Nguyen Xuan Thu, general director of Vinaca Limited Company, which produced anti-cancer drugs made from bamboo charcoal powder has been sentenced to 22 years in prison.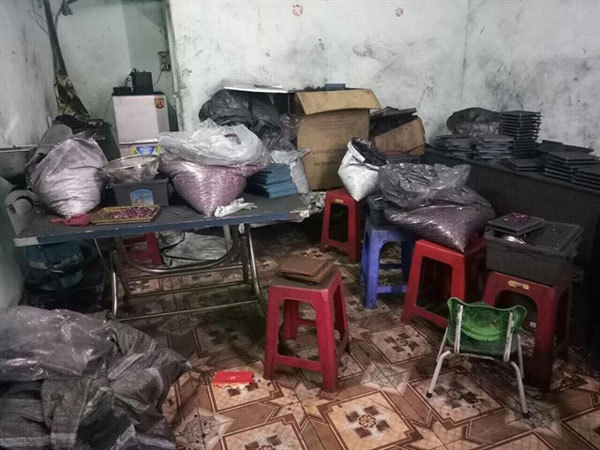 Fake anti-cancer drug manufacturing facility in Kien An District, Hai Phong City. — Photo laodong.vn
The Hai Phong City's People's Court on Thursday also handed a sentence of 17 years in prison to Thu's accomplice, Nguyen Van Tuan, director of Hong An Phong Limited Company based in Hai Phong.
Both faced charges of making fake products.
According to the indictment, since 2012, the two defendants made Vinaca anti-cancer drug Co3.2, anti-osteoarthritis drugs Vinaca Vi3, Vinaca Vi5, Vinaca Vi6, Vinaca Vi7, wine and other cosmetics products from charcoal powder burned from bamboo, papaya, kohlrabi and turmeric.
Tuan was in charge of burning materials while Thu supplied machinery, devices and instructed Tuan on mixing ingredients.
The manufacturers poured the powder into capsules to make the drugs.
Thu designed the packaging and advertised the drugs as containing high-valued medicinal ingredients.
The Hai Phong City's Health Department granted certificates to seven types of Vinaca medicine.
The court concluded that fake medicine manufacturing is a serious violation and causes losses to patients, especially cancer patients.
Thu and Tuan were asked to pay compensation of VND50 million (US$2,100) and VND20 million ($851), respectively.
VNS
RELATED NEWS
Fake anticancer drugs found circulating in the market
Deputy PM orders strict fines for fake drugs