Professor Nguyen Thanh Hiep, named one of the country's top physicians in 2018 by the Vietnamese Young Doctors' Association, talks to Sức Khỏe & Đời sống (Health & Life) newspaper on the need to develop the family doctor model.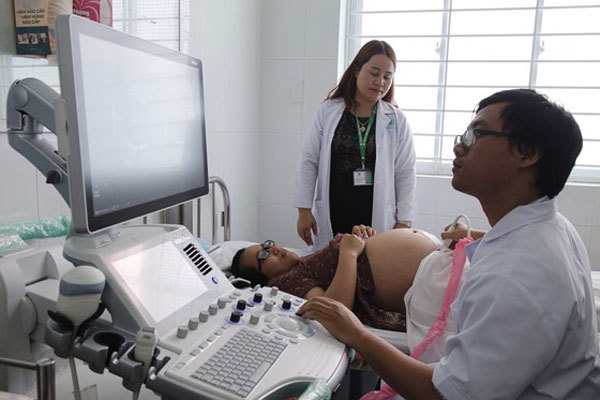 Pregnancy check up at a family doctor clinic model in District 2, Ho Chi Minh City. Photo sggp.org. vn
Many Vietnamese people see the family doctor model as for rich people. How do you respond to that?
I have studied family physicians since 2005. But in the last few years, a pilot project named 'Family Doctor' was launched by the Ministry of Health to share the burden of overloaded patients in many public hospitals in the country. In such a situation, many Vietnamese policymakers support developing grassroots healthcare clinics. Such clinics aim to give primary healthcare for people living in certain areas.
However, in reality, many people think the function of these family doctors is to give on-demand health checks for wealthy families. In reality, giving health treatment at home is only a small part of the mission of the family practice. It is indisputable that family doctor idea has brought big benefits to everyone, particularly people with low incomes.
You have studied on some models of family doctors in developed countries. What lessons could be applied to Vietnam?
In many developed nations, they have drawn quite a few lessons on the model of family doctor, particularly in preventive medicine. One of the things that they have concluded is that preventive medicine helps cut the cost of medical treatment for many diseases for the next 10-20 years. For example, in Belgium, the family doctor model is divided into three tiers; the grassroots level, middle level and the highest level.
In Belgium, whenever someone is ill, the first thing they do is seek help from their family doctor and that medical service is covered by their health insurance. Further, in Belgium, when a doctor opens his/her own clinic, he/she will enjoy financial benefits from the Government.
When a patient goes to a family doctor clinic, what benefits will they enjoy?
As I have mentioned above, a family doctor is the first medical person to give healthcare to the patient. In minor cases, the doctor would prescribe medicine. However, in more severe cases, the patient will be referred to the hospital for treatment.
A novel practice offered by a family doctor is that patients with chronic diseases, including heart problems, diabetes or high blood pressure will be frequently checked and given medical treatment.
Another positive with a family doctor is that he/she would constantly improve his/her medical knowledge through giving daily medical checks to patients. Meanwhile, they also help lessen the workload for doctors in hospitals.
The family doctor system has been practiced in Vietnam for six years, but many patients still prefer to go to major hospitals for their treatment. Why is this?
There are several reasons. The first is the poor equipment in many family clinics and the professional skills of their staff, including doctors are not up to patients' expectation.
The second reason is that many people don't have a habit of consulting medical workers when they are sick. They simply go to drug stores to buy drugs without a prescription. On the other extreme, when some people have an upset stomach they go directly to the Gastroenterology Department in a hospital for treatment.
Last but not the least, few Vietnamese medical students want to be family doctors.
What should the Government do to recruit more family doctors?
We need good policies to attract graduate doctors to work as family practitioners.
Second, the Government should pour more investment to upgrade essential medical equipment and facilities in family clinics.
Last but not least, all family doctors should regularly receive further training to improve their skills.
VNS
RELATED NEWS
The story of a dedicated obstetrics doctor
Doctors quietly fight rare diseases