Farmers are seeing higher incomes from using the same field to grow pineapple and rice and breed shrimp in Kien Giang Province's Go Quao District.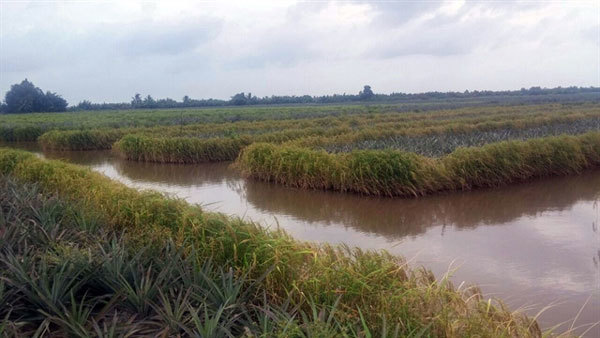 Farmers who grow pineapple and rice and breed shrimp on the same field in Kien Giang Province's Go Quao District are earning higher incomes. – VNA/VNS Photo Le Sen
Under the farming model, each pineapple field is separated by ridges with small ditches around them. Farmers grow pineapples on the large ridge and grow rice at the ridge edge. In the small ditches, which are used to hold water to irrigate pineapple, farmers breed black tiger shrimp.
Le Minh Mao, of the district's Vinh Phuoc A Commune, has earned about VND70 million (US$3,000) from pineapple, VND13 – 15 million ($560 - 640) from shrimp and VND3 million ($130) from rice per hectare a year.
The profits from shrimp breeding are enough to buy fertiliser for growing pineapples, while the rice harvests are sufficient for his family and for sale, he said.
The Cuu Long (Mekong) Delta district has alum-affected soil and is affected by saltwater intrusion for about six months during the dry season every year.
Pineapple is its main crop as the fruit develops well on the district's soil.
Previously, farmers planted only pineapples on the large ridges and left the small ditches and the ridge edges uncultivated. In recent years, to improve income, they have bred shrimp in the ditches and then grown rice on the edges.
Lam Quoc Nam, deputy chairman of the Vinh Phuoc A People's Committee, said the commune was focusing on pineapple cultivation but the price sometimes was low as farmers did not have guaranteed outlets.
To improve income, farmers began to breed black tiger shrimp in the small ditch and grow rice on the ridge edges in recent years, he said.
Farmers breeding black tiger shrimp on pineapple fields do not need to buy food for shrimp as they eat natural food. Shrimp bred under the model are clean and sell for a high price as chemicals are not used to breed them.
The district now has more than 4,000ha of pineapples and nearly 3,000ha of them are planted under the pineapple – shrimp – rice farming model, mostly in Vinh Phuoc A and Vinh Thang communes.
Farmers earn an average profit of VND100 million ($4,300) per hectare a year from the pineapple – shrimp – rice farming model, according to the Go Quao Bureau of Agriculture and Rural Development.
Duong Duy Duyet, deputy head of the bureau, said the district plans to develop its pineapple area to 5,000ha, and 50 per cent of them will be planted under the pineapple - shrimp - rice farming model by 2025.
The pineapple - shrimp - rice farming model will be expanded to other communes in the district.
For sustainability, the farmers will use Vietnamese good agricultural practices (VietGAP) standards as well as organic standards which allow for the origin to be traced.
In addition, farmers will work with companies which will guarantee selling outlets, he said, adding that this would improve production efficiency.
The Phuoc An pineapple - shrimp co-operative in Vinh Phuoc A Commune, for instance, has 60 members who have 100ha of pineapple – shrimp – rice farming area.
Previously, the members grew their crops individually, and the yield and quality of their produce were not high, he said. However, they now grow their crop under the co-operative's instructions, so the yield and quality are higher.
Members of the co-operative each have an average income of VND70 – 700 million ($3,000 – 30,000) a year, he said. – VNS

Provinces in the Mekong Delta, the country's largest shrimp producer, are increasing their shrimp output this year and focusing on developing sustainable shrimp farming models that bring high profits.

Growing Tac Cau pineapple, a specialty fruit in southern Kien Giang province, under Vietnamese good agricultural practices (VietGAP), has offered high profits for farmers in Chau Thanh district's Binh An commune.

Breeding aquatic species in mangrove forests in Kien Giang Province's An Bien and An Minh districts has increased the income of households that have been allocated forestland.