Foreign people in Vietnam are exploiting legal loopholes and local authorities' oversight to carry out a multitude of crimes, from gambling to drug rings and even elaborate cybercrime.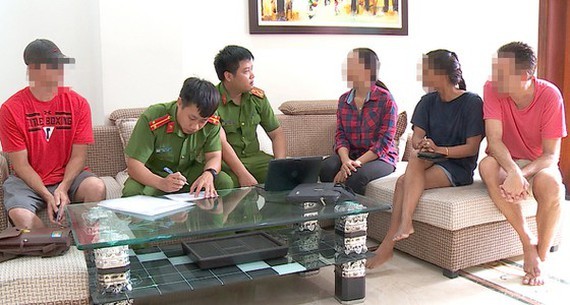 Da Nang City police officials inspecting a facility with a considerable number of foreign dwellers
Police recently discovered hundreds of businesses legally owned by Vietnamese but are actually run by and receive capital from foreigners, mainly operating as real estate agencies or tourist services providers. Many of them are based in areas that are strategic to national defense, said Deputy Prime Minister Pham Binh Minh in a response to a query by Congressman Duong Trung Quoc.
In Da Nang City, more and more foreigners are checking into hotels or renting apartments, most of the time unbeknownst to local authorities and likely with ulterior motives, said Deputy Head of the city's Immigration Management, Senior Lieutenant Colonel Huynh Duc Ngo.
"Most landlords are not aware of or choose to ignore temporary residence registrations for their foreign tenants, and the language barrier makes it all the more difficult to question these suspects", he added.
Many traveling and tourism companies in Khanh Hoa province would mainly hire Chinese workers without following proper immigration procedures, according to SGGP's reporters.
In the first 6 months of 2019, the Khanh Hoa Department of Tourism has conducted unexpected inspections six times and managed to fine 35 business offenders a total of VND647 million (about US$28,000). Khanh Hoa police also prosecuted 279 cases involving foreign offenders in the field of immigration with a total fine of over VND3.1 billion (about US$134,000).
Most perpetrators would rent apartments in secluded parts of town or in uncrowded urban zones to avoid prying eyes. They would only make temporary residence registration for a few members of their gang while others are registered as tourists and would come to the rented places later, said a policeman.
The number of foreigners entering Ho Chi Minh City increased by 8.5% in the last 6 months, with about 120,000 individuals registered with Immigration Management, said the Head of Immigration Management, Senior Lieutenant Colonel Pham Ngoc Tien.
In the first 6 months of 2019, there have been 780 cases of foreigners failing to present their passports, or having no residence registration and expired visa, with 235 cases of actual criminal violations, Tien added.
To top it all off, there have been reports of deaf-mute or even mentally ill, homeless foreigners in HCMC. As Vietnam does not have laws concerning homeless people who are foreigners, especially the mentally ill, most of these people have to be put in hospital for treatment. With no means of identifying them, local authorities sometimes have to cover their medical expenses.
Vietnamese immigration law states that any visitor staying in Vietnam for less than three months are not required to apply for a visa. As a result, many foreigners are trying to cheat the system by leaving then re-entering the country before the three-month period ends.
Foreign workers in Vietnam are required to complete college level education, have two years of experience in their respective field of work, and have their criminal record approved by the Department of Justice of Ho Chi Minh City to be granted a work permit in Vietnam, said Director of Ho Chi Minh City Department of Labor, Invalids and Social Affairs Le Minh Tan. SGGP
Tan Nghia

Legislature discusses visa-free policy for foreigners entering certain coastal economic zones.  

Lawmakers today asked for more careful consideration of the draft amended law on exit and entry of foreigners, which would exempt visa for those who stay a duration of less than 30 days in a coastal economic zone.