Underground parking spaces at apartment blocks in Hanoi are facing serious fire risks as it is also where electric boxes and gas pipelines are stored.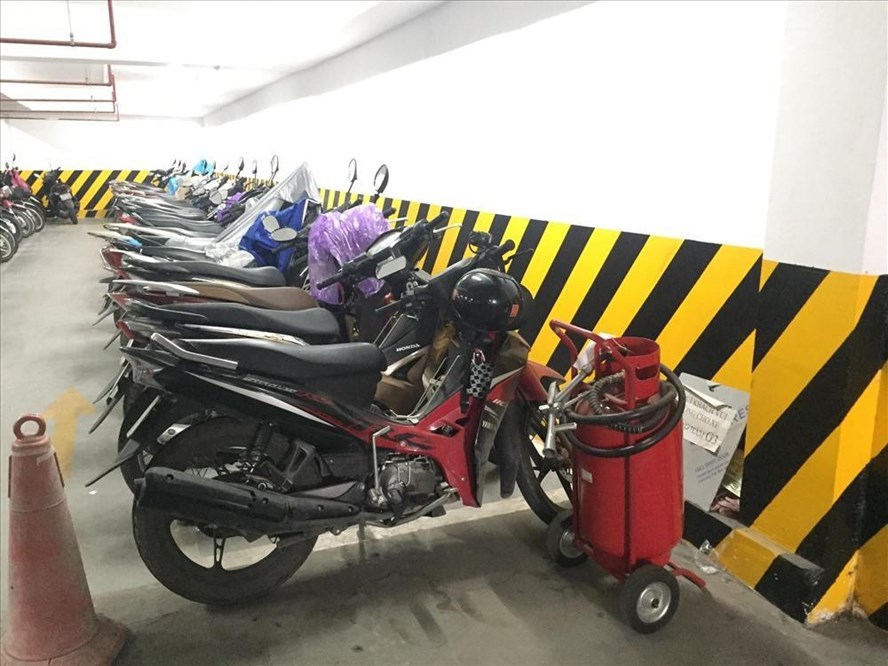 Fire risks in apartment building underground parking fears

On October 10, a resident at Green Start Apartment in Bac Tu Liem District had just started the motorbike's engine when it suddenly broke out in flames. Another resident quickly put out the fire. On May 6, a fire at the underground parking area of Capital Garden Building on Truong Chinh Street panicked residents.
Many apartment buildings were opened to residents despite lacking fire safety certification and many even ignored the order to install a fire safety system.
For example, the Discovery Complex in Cau Giay hasn't had a certificate for fire safety yet but many people already moved in. Several apartment blocks including the CT5A, CT5B, CT6 in Van Khe urban area in Ha Dong District have people moved in years ago but their fire safety systems are still incomplete.
Senior Lieutenant-colonel Pham Trung Hieu, Head of the Division of Fire Prevention and Fighting and Rescue (PC07) said there were regulations about underground parking lots. He disagreed with the proposal to ban vehicles from parking in the basement of apartment buildings made by some National Assembly deputies.
"I think the proposal is not suitable. Depending on the situation, the investors can build one to three basements to meet the needs," he said.
The former head of the Ministry's Fire Department, Major General Bui Van Ngan, said he understood that the National Assembly deputies worried about public safety since many fires had broken out. But instead of issuing a ban, the authorities should find a more a comprehensive solution to ensure safety.
Lao Dong/Dtinews

Many tenants at Phuc Yen Apartments in HCM City have questioned the Department of Construction's action in turning over the more than 1,400sq.m basement parking lot to Phuc Yen Real Estate and Investment JSC, the tenement's developer.

Eight more traffic hotspots have cropped up in Hanoi despite the city's efforts to improve infrastructure.