Two Chinese and three Vietnamese have been sentenced to 15 – 36 months in jail for operating a surrogacy network for commercial purposes at a recent trial by the Hanoi People's Court.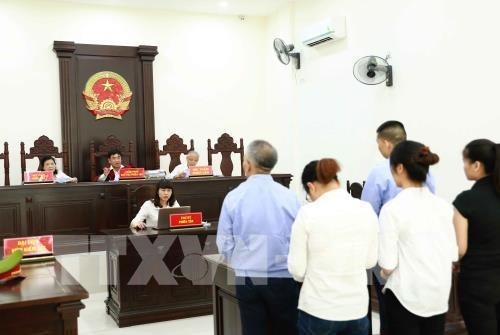 At the court
It was the first time thecrime has gone to the city's court.
The five defendants inthe case were Chinese nationals Cai Guolin, 37 and Cai Guofang, 54; Trieu Thi Hang, 41, from the central province of Thanh Hoa, Hoang ThiThu Trang, 27, from the northern province of HungYen; and Nguyen Thi Ngoc, 19, from Bac Ninh province.
Atthe first-instance trial, the two Chinese men received 36 months and30 monthsin prison, respectively, while Hang and Trang both got20 months. Ngoc will serve 15 months in prison.
Theymust also pay fines of 10 – 30 million VND (434 – 1,300 USD) perperson.
According to theindictment, Cai Guo Lin worked at a private hospitalproviding fertility treatment in China, which is owned by Guo Yong.
In early September 2018,Cai Guolin and Cai Guofang were sent to Vietnam to find surrogatemothers.
After arriving, Cai Guolinmet a Chinese doctor named Apo who introduced him to Trang, a nurse and also an interpreter at Thien Hoa Clinic in Hanoi's Cau Giay District.
Cai Guolin asked Trang towork as an interpreter for him and search for potential surrogate mothers.
The two met Hang who introduced a woman named Ninh Thi Thom, 31, from Hanoi'sLong Bien District.They arranged for Hang to get pregnant and then Cai Guofang took her to Chinafor the duration of the pregnancy.
In November 2018, Hang introduced Trang to six other women who were willing to besurrogate mothers, with Ngoc being one of them.
On December 11, 2018 CaiGuolin, Hang, and Trang and Ngoc took the potentialsurrogate mothers from Hanoi to HCM City before departing to Cambodia forembryo implantation.
When in HCM City, thegroup stayed at a hotel in District 3. In fear of being trafficked, one ofwomen called her family for help, leading to the arrest of the group./. VNA