The National Institute of Hygiene and Epidemiology reported six new SARS-CoV-2 positive cases during the night of April 2, which raised the total number of COVID-19 patients in the country to 233 as of 6am on April 3.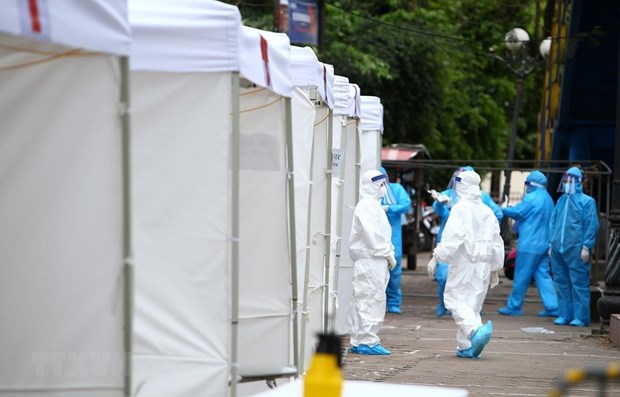 Medical workers in protective gears at a mobile COVID-19 testing station 
Among the six, case 231 is a staff member of Truong Sinh company which provides catering services for Bach Mai hospital in Hanoi. More than 20 positive cases have been recorded among the company's staff over the past few days. The 57-year-old woman is hospitalized at Ha Nam provincial hospital.
Five other cases, numbered 228, 229, 230, 232 and 233, are people returning from abroad.
Patients 228, 229 and 230 are receiving treatment in the northern province of Ninh Binh.
Patients 232 and 233 are hospitalized at the Central Hospital for Tropical Diseases, second branch in Hanoi.
By late April 2, a total of 75 COVID-19 patients were declared to have recovered. Most of the remaining cases are in a stable health condition. Three patients are in serious conditions, all at the Central Hospital for Tropical Diseases, second branch. Nearly 73,000 people are under quarantine or health monitoring, either at hospitals, designated facilities or at home.
On April 2 evening, the Health Ministry of Vietnam announced the detection of five new cases of COVID-19 as of 18:00 on April 2, bringing the total number of cases in the country to 227.
Patient numbered 223 was related to the cluster at Hanoi-based Bach Mai hospital, as she cared for a family member at the hospital since March 11.
Patient 224 was a Brazilian citizen who once lived together with patient 158.
Patients 225 and 226 returned from abroad.
Patient 227 was the son of patient 209.
Also on April 2, 12 COVID-19 patients were declared to have recovered, bringing the number of cured cases to 75.
Eleven more COVID-19 patients given all-clear on April 2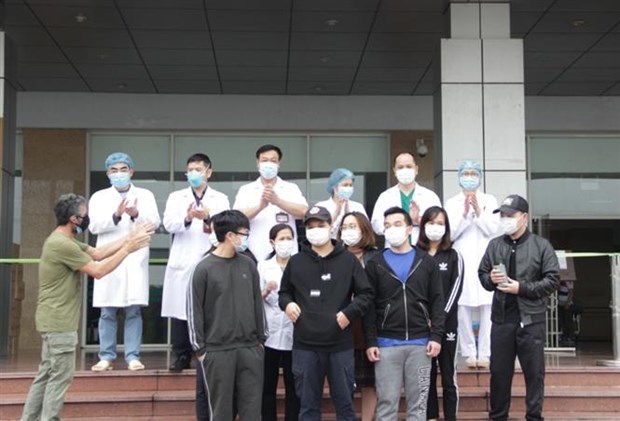 The patients who were declared to have recovered from COVID-19 on April 2
Eleven more patients were declared to have recovered from COVID-19 in the afternoon of April 2, according to the National Hospital of Tropical Diseases, bringing the total number of patients given the all-clear in Vietnam to 75.
The 11 patients were treated at the National Hospital of Tropical Diseases.
In the morning the same day, one patient (patient 73) who was treated at the medical centre of Thanh Mien district (Hai Duong northern province) was also said to be free from the coronavirus that causes COVID-19.
A majority of COVID-19 patients are in a stable condition.
As of 6am on April 2, Vietnam had 222 confirmed COVID cases.
No Vietnamese in Saudi Arabia positive for SARS-CoV-2
No Vietnamese citizens in Saudi Arabia had contracted the acute respiratory disease caused by the SARS-CoV-2 (COVID-19), the Vietnamese Embassy in the Middle East nation said on April 2.
As of that date, Saudi Arabia had recorded 1,885 confirmed cases, including 21 fatalities. There are currently around 10,000 Vietnamese people living in the country, mainly labourers and housemaids.
Since the country announced its first case on March 2, the embassy has taken numerous measures to support Vietnamese citizens and advise them how to prevent the disease.
The office has regularly provided updated information on the pandemic on its website https://vnembassy-riyadh.mofa.gov.vn and social networks, while making recommendations about countermeasures related to hygiene and disinfection, and advising them to avoid crowds and non-essential travel.
The embassy also asked Vietnamese to strictly follow the host country's curfew order from 3:00pm to 6:00am, reminding them of the fines to be imposed.
It has also set up a citizen protection hotline at 96 6567 290693 and the local health office's phone number 937, 997, as well as a list of 25 hospitals specialised in the COVID-19 designated by the Saudi Arabian government.
In addition, they have been informed of the host country's policy allowing a free three-month extension for foreign workers with residence cards or exit visa or re-entry visa which expire between March 20 and June 30.
They were also updated on King Salman's March 30 decree which says all COVID-19 cases will be provided with free treatment at public and private hospitals nationwide./.