Former journalist Truong Duy Nhat, who led the Danang office of Dai Doan Ket newspaper between 1998 and 2011, has been arrested for his alleged involvement in the high-profile case involving former business tycoon Phan Van Anh Vu.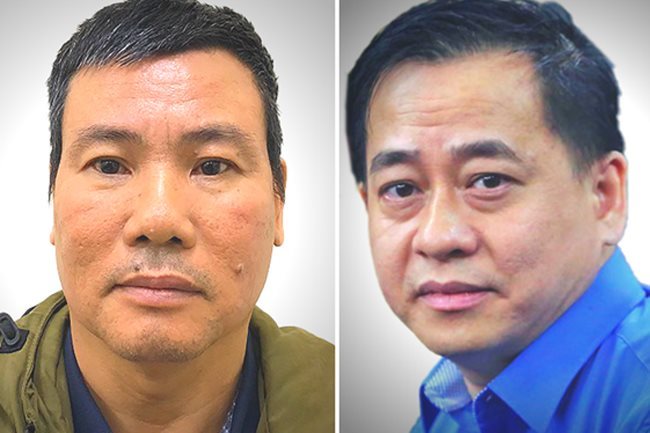 Former journalist Truong Duy Nhat (L) of Dai Doan Ket newspaper and former Danang-based business tycoon Phan Van Anh Vu, alias Vu Nhom, are seen in this combination photo – PHOTO: TNO
The Ministry of Public Security (MPS) said in a statement today, June 10, that the arrest is part of a broader investigation into the violations of regulations on the management and use of State assets leading to losses and wastefulness, committed by Phan Van Anh Vu, alias Vu Nhom, 44, and his accomplices in the central coastal city of Danang.
The 55-year-old is charged with abusing his position to misappropriate assets, based on the 2015 Penal Code. Earlier today, investigators searched his home.
He is accused of committing legal violations in selling public land and housing in Danang.
A source told Thanh Nien newspaper that Nhat had allegedly colluded with Vu Nhom to buy a public house at No. 82 Tran Quoc Toan Street. Currently, this property is part of a villa owned by Vu's family.
Tran Van Ve, head of the Office of the Investigative Police Agency under the MPS, told a press conference in March this year that Nhat had allegedly misused the files of Dai Doan Ket newspaper in 2004 to purchase the State house, which was not put up for auction, resulting in losses for the State.
In 2014, Nhat was sentenced to two years in jail for abusing the rights to freedom and democracy to infringe upon State interests and the legitimate interests of organizations and/or citizens, under the Penal Code.
After graduating from the Philology Department of Hue University, Nhat worked as a journalist for Cong an Quang Nam Danang (Quang Nam Danang Police) newspaper for several years before joining Dai Doan Ket newspaper in Danang.
In mid-2010, Nhat left the newspaper and launched his own blog, "Mot goc nhin khac" (A different perspective), which featured fake news affecting the prestige of the Party and State and raising grave public concern. SGT

The HCMC People's Court upheld a 17-year jail sentence for Phan Van Anh Vu, Chairman of the Board of Directors of the Bac Nam 79 Construction Company, during an appeal court on June 7.

The Hanoi-based High-level People's Court yesterday opened a trial to look into appeals of Phan Van Anh Vu, four former officers of the public security sector, and the Hanoi People's Procuracy.